The Most Controversial Award-Show Winners of All Time
Every award show is marked by some kind of controversy. And it's maddening to see your favorite actor, film, or TV show get robbed of a well-deserved award. These are the most upsetting Grammy, Emmy, and Oscar winners of all time.
1. Oscar Best Picture: Crash (2006)
Other nominees: Brokeback Mountain; Good Night, and Good Luck; Capote; and Munich
Starring Don Cheadle, Sandra Bullock, and Matt Dillon, Crash visibly stunned "Best Picture" presenter Jack Nicholson — and viewers everywhere — when it won "Best Picture." Expecting Brokeback to win by a landslide, critics thought Crash stereotyped people of color. Even Paul Haggis, the director of Crash, agreed the win didn't make sense.
Next: This Grammy scandal ended two careers forever.
2. Grammy Best New Artist: Milli Vanilli (1990)
Other nominees: Indigo Girls, Soul II Soul, Tone Loc, and Neneh Cherry
In 1989, Milli Vanilli won the Grammy for Best New Artist. Soon after, the German R&B pop duo gave an uncomfortable, lip-synced performance live on TV. A year later, Milli Vanilli admitted their debut album was a sham; they hadn't sung any of it and had faked performances all along. They returned the award. None of the other nominees would accept it.
Next: Mad Men and Breaking Bad fans were outraged.
3. Emmy Best Actor in a Drama Series: Jeff Daniels (2013)
Other nominees: Hugh Bonneville (Downton Abbey), Bryan Cranston (Breaking Bad), Jon Hamm (Mad Men), Damian Lewis (Homeland), and Kevin Spacey (House of Cards)
Not only was The Newsroom a polarizing TV show — people either loved or hated it — but Jeff Daniels faced some huge hitters in this category. After all, Mad Men and Breaking Bad are considered two of the best shows in modern television — a feat The Newsroom never achieved. Sorry, Jeff.
Next: A cringeworthy Oscar moment unfolded on live TV.
4. Oscar Best Picture: Moonlight (2017)
Other nominees: La La Land, Hidden Figures, Manchester by the Sea, Arrival, Fences, Hacksaw Ridge, Hell or High Water, and Lion
Perhaps the most awkward Oscar debacle ever, La La Land mistakenly won "Best Picture," after presenter Warren Beatty received the wrong card. The entire La LaLand cast and crew gathered on stage before the error was announced by the film's producer, Jordan Horowitz, who said, "I'm sorry, there's a mistake. Moonlight, you guys won best picture."
Next: This Grammy win shocked the youth of America.
5. Grammy Album of the Year: Two Against Nature, Steely Dan (2001)
Other nominees: The Marshall Mathers EP, Eminem; Midnite Vultures, Beck; Kid A, Radiohead, and You're the One, Paul Simon
Critics loved Steely Dan, which may explain why the band won four Grammys in 2001. Shockingly, the duo's "Two Against Nature" beat Eminem and Radiohead for Album of the Year. This accompanied two other crazy wins for Best Pop Vocal Album and Best Pop Performance by a Duo or Group, beating the Backstreet Boys, Madonna, NSYNC, and Britney Spears.
Next: A real travesty for comedy TV
6. Emmy Best Actor in a Comedy Series: Jim Parsons (2011)
Other nominees: Steve Carell (The Office), Larry David (Curb Your Enthusiasm), Alec Baldwin (30 Rock), Louis C.K. (Louis), Matt LeBlanc (Episodes), and Johnny Galecki (The Big Bang Theory)
The Big Bang Theory has a loyal fan following. However, most viewers weren't happy to see Parsons beat Carell for Best Comedy Actor for the second year in a row. The real zinger: This was the last time Carell was nominated for The Office — and he never won the award.
Next: Sexual harassment lawsuits couldn't stop this actor.
7. Oscar Best Actor: Casey Affleck: Best Actor (2017)
Other nominees: Ryan Gosling, Denzel Washington, Viggo Mortensen, and Andrew Garfield
When Brie Larson announced the "Best Actor" winner, she stated Casey Affleck's name but refused to clap for him. Viewers expressed support for Larson's actions, as the Manchester by the Sea lead won despite facing sexual harassment suits from two women. Many actresses expressed their disappointment in his win afterward.
Next: Rock legend versus rock icon
8. Grammy Best Rock Song: "Layla (Unplugged)," Eric Clapton (1992)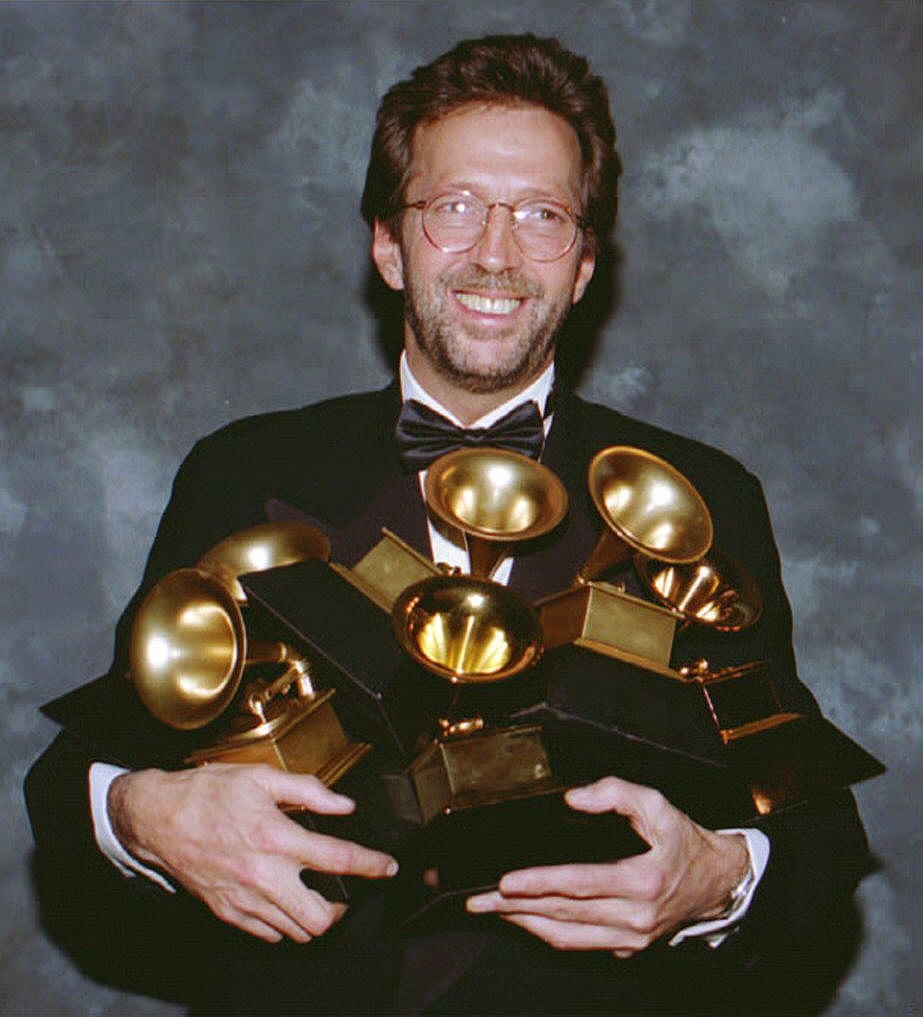 Other nominees: "Smells Like Teen Spirit," Nirvana; "Human Touch," Bruce Springsteen; "Digging in the Dirt," Peter Gabriel; and "Jeremy," Eddie Vedder and Jeff Ament
No disrespect to Eric Clapton; "Layla" is an incredible song. However, it beat out Nirvana's "Smells Like Teen Spirit," arguably one of the most iconic rock songs ever. (Nirvana wasn't nominated for Best Song or Album either.)
Next: A '90s romantic comedy beats the "serious" picks.
9. Oscar Best Picture: Shakespeare in Love (1998)
Other nominees: Saving Private Ryan, Elizabeth, Life Is Beautiful, and The Thin Red Line
Sexual assault charges make this Harvey Weinstein-produced film even more controversial. However, far before Weinstein faced the music, Shakespeare in Love beat out Steven Spielberg's Saving Private Ryan for "Best Picture" at the 1999 Academy Awards. Viewers were relieved to see Spielberg win "Best Director" later that night. However, this didn't change the fact that a romantic comedy beat the wartime epic.
Next: A jazz bassist beats out pop, rap, and folk stars.
10. Grammy Best New Artist: Esperanza Spalding (2011)
Other nominees: Drake, Justin Bieber, Florence and the Machine, and Mumford & Sons
The Best New Artist category may yield more success for losers than winners. As Vox explains, losers include Sonny & Cher, Led Zeppelin, Elton John, John Mayer, and Taylor Swift. However, Esperanza Spalding's 2011 win upset many. As a jazz bassist and singer, she didn't get the exposure of the other nominees. "I really wasn't expecting that at all," Spalding said backstage.
Next: Audiences wanted a more "modern" winner.
11. Emmy Best Comedy Series: Modern Family (2014)
Other nominees: Veep, The Big Bang Theory, Orange is the New Black, and Silicon Valley
Modern Family is funny, yes. But the series has won 21 Emmys, beating out acclaimed shows like Orange is the New Black, Veep, and Silicon Valley. Many people were ready to see new winners in 2014. And outcries online believed the show was past its prime.
Next: Two incredible female singers duked it out.
12. Grammy Album of the Year: 24, Adele (2017)
Other nominees: Lemonade, Beyonce; Views, Drake; Purpose, Justin Bieber, and A Sailor's Guide to Earth, Sturgill Simpson
When Beyonce released Lemonade, everyone lost their minds. The other nominees received praise for their work, too. But Beyonce … well, many assumed she'd win. When Adele won Album of the Year, Record of the Year, and Song of the Year — beating Beyoncé in all three categories — even the singer was surprised, saying she thought Beyonce should've won.

Next: A tone-deaf film wins "Best Picture."
13. Oscar Best Picture: Out of Africa (1985)
Other nominees: The Color Purple, Witness, Kiss of the Spider Woman, and Prizzi's Honor
The 1986 Oscars shut out The Color Purple even with 11 nominations. "Best Picture" may have been the most upsetting loss. The winner, Out Of Africa, was criticized for "vague portraits of tribal blacks who were trotted on screen for a touch of authenticity." Starring Robert Redford and Meryl Streep, the movie was a stark contrast to Purple, which had an entirely black cast.

Next: We love this actress, but this wasn't the right time.
14. Emmy Best Actress in a Comedy Series: Melissa McCarthy (2011)

Other nominations: Edie Falco (Nurse Jackie), Tina Fey (30 Rock), Laura Linney (The Big C), Martha Plimpton (Raising Hope), and Amy Poehler (Parks and Recreation)
Melissa McCarthy is a talented actress — we can all agree on that. However, the nominees in this category were so strong that many felt rewarding Mike & Molly, which has been criticized for regularly capitalizing on plus-size stereotypes, may not have been the best choice. Fey, Poehler, or Falco all seemed like better choices.