The Most Controversial Things Kim Kardashian Has Ever Said
From reality TV to social media to now politics, Kim Kardashian is seemingly everywhere we look. Considering she never hesitates to speak her mind, her constant presence in the media only provides more opportunities to spark controversy with her comments.
Whether she made comments about her own weight or lashed out at someone else, these are the most controversial things Kardashian has ever said.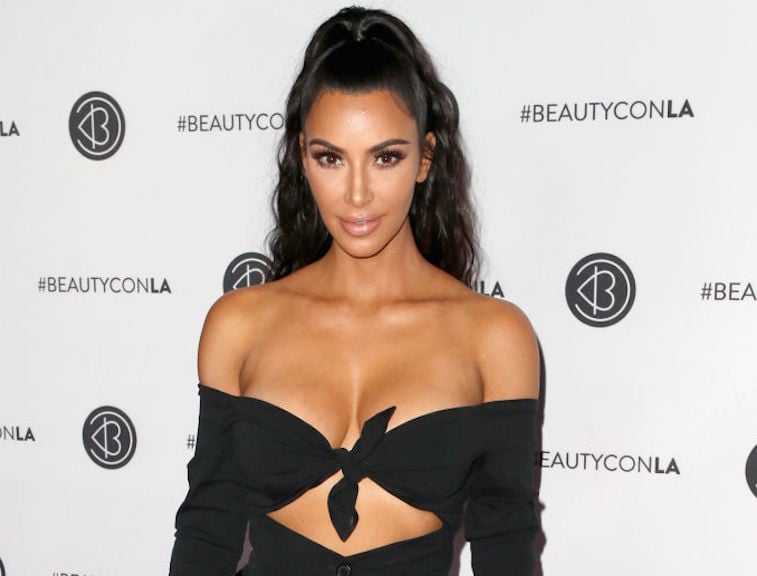 Her weight loss controversy
Kardashian rubbed a lot of people the wrong way with stories she posted on Instagram in July 2018. She shared a video in which her younger sister, Kendall Jenner, comments, "I'm really concerned, I don't think you're eating. You look so skinny." Kardashian excitedly thanked her sister and later exclaimed, "I'm not that skinny! I'm down to 119 pounds."
Celebrities and social media followers alike have been calling Kardashian out for her insensitive response to the anorexic comments. One Twitter user wrote, "When I was told I looked anorexic, I WAS anorexic. I hated myself. I hated my body. Unfortunately and inexplicably, there are people who look up to and admire you. Please do better for them."
Brooklyn Nine-Nine star Stephanie Beatriz took to her own Instagram stories to respond to Kardashian's message. "There's only one time in my life when I ever weighed 119 pounds," she wrote. "It was right in the middle of a terrible relationship, and intense eating disorder, and I thought that I could be thinner and look even better."
Beatriz added, "Everyone kept complimenting me on how I looked, and I felt desperate to stay at that weight. IT SUCKED."
Making suicidal comments while pregnant
During a 2013 episode of Keeping Up With the Kardashians, the reality star made some suicidal comments while dealing with a pregnancy scare. While experiencing horrible pain, she exclaimed, "If labor's worse than this, I'll hang myself. I'll literally take a knife and slit my throat."
Claiming she doesn't like anything on TV
Kardashian seemed to forget she's one of TV's biggest stars when she announced she doesn't like anything on TV. In July 2018, she tweeted, "Too many people have suggested Handmaid's Tale. I think I'm gonna start watching it. There's literally nothing on TV that I like."
One user jokingly suggested, "Keeping up with the kardashians is decent," which hopefully reminded her not to talk badly about all TV shows.
Wondering what sleeping with herself is like
Kardashian isn't shy about vocalizing her wildest fantasies. During a 2013 episode of the KUWTK spin-off, Kourtney and Kim Take Miami, Kardashian admitted, "If I was a man, I would want to know what it's like to have sex with myself."
Her Tyson Beckford clap back
Kardashian is known for her social media clap backs, but this time, she took it way too far. After the Shade Room posted a photo of Kardashian in a tight black ensemble, model and actor Tyson Beckford left some comments about her plastic surgery.
"Sorry I don't care for it personally," he wrote. "She is not real, doctor f*cked up on her right hip."
Kardashian responded, "Sis we all know why you don't care for it," in addition to the tea, frog, and painting nails emojis.
Many took her comment to be homophobic, as she appeared to accuse Beckford of being gay. One Twitter user criticized, "@KimKardashian is trash!! I liked her until she used being gay as a drag on the shade room ig pg. honey you do not get to imply that someone is in the closet just because he didn't like your outfit/body you don't do that girl since you employ an array of gay makeup artist/stylist."