The Most Embarrassing Awards Show Moments in History
Since awards shows are broadcast live, it's typically the case that the most memorable moments aren't the emotional speeches or toe-tapping musical number,s but rather the embarrassing screw-ups. At pretty much every major awards ceremony, from the Oscars to the Emmys, there's always at least one cringeworthy speech, one joke that horribly bombs, or one technical malfunction that we can presume got somebody fired.
Now that awards season is in full swing yet again, let's take a look back at the 10 most embarrassing moments in awards show history, — including one that was so painful, it still makes us wince to think about.
10. Producer bizarrely interrupts director's acceptance speech
Winning an Oscar is a big deal for a director of short films. Unlike those in the actual Best Director category, these filmmakers rarely receive recognition on a major level. So their acceptance speech is their one opportunity to take center stage. Roger Ross Williams was given that opportunity in 2010 when he won the Oscar for Best Documentary (Short Subject).
Williams seemed extraordinarily excited to be up there. But after speaking for only 10 seconds, his producer burst onto the stage and took the microphone. She proceeded to speak for much longer than Williams as he awkwardly laughed and never got to finish the speech he had probably been dreaming about delivering for years.
This was not joking banter between two close friends. It became clear in a subsequent interview with Larry King that Williams was legitimately upset about this and that there's no love lost between him and the producer who cut him off.
Next: This celebrity fell on her way to give her acceptance speech. 
9. Jennifer Lawrence trips on the way to the stage
Aspiring actresses come up in the industry, picturing the day when they accept their Oscar. But they probably don't imagine it playing out like this. In 2013, Jennifer Lawrence won the award for her performance in Silver Linings Playbook, only to fall down as she was walking up to to the microphone.
Lawrence ended up playing off the flub well, though. Upon receiving a standing ovation, Lawrence joked, "You guys are just standing up because you feel bad that I fell and that's really embarrassing, but thank you." Really, it's only embarrassing because everyone can relate to how mortified Lawrence must have felt, not because it was some monumental disaster or was Lawrence's fault.
In fact, this helped earn Lawrence a reputation for being lovably awkward and down-to-Earth. So it arguably ended up being a positive thing. And it wasn't even the last one of her awards show flubs. The very next year, she tripped and fell on the Academy Awards red carpet.
Next: This celebrity gave one of the weirdest acceptance speeches ever.
8. Jacqueline Bisset's rambling Golden Globe acceptance speech
Jacqueline Bisset delivered one of the strangest Golden Globe speeches of all time when she won Best Actress in a Supporting Role in a Series, Miniseries, or TV Movie in 2014. She didn't get off to a great start, beginning her speech with about 10 full seconds of silence. From there, she stumbled through thanking the Hollywood Foreign Press, after which she took another long pause.
When the orchestra began to play her off, Bisset yelled at herself, "I've got to get this together!" But it only got worse from there as she accidentally cursed on the live broadcast.
Bisset wrapped up with a random, seemingly irrelevant anecdote about forgiveness before finally getting off the stage. She later tried to explain what happened, saying that she didn't expect her category to be until later in the night and so she was not prepared. This speech became one of the most talked-about of the ceremony — for all the wrong reasons.
Next: A presenter attempts to announce a winner, but the whole thing ended in disaster.
7. Presenter messes up announcing BET winner
At the 2011 Black Entertainment Television awards, the producers decided to try something different: They selected a contest winner to announce one of the awards. Unfortunately for her, things couldn't have possibly gone worse.
The award in question was the Viewer's Choice Award, and the contest winner, Tiffany Green, announced that Chris Brown had won. Moments later, though, she corrected herself, saying that Rhianna had actually won.
Green reading out Brown's name instead of Rihanna's was already pretty awkward. But the trainwreck continued when it was discovered that Brown actually was the winner, and she was right the first time. After the show ended, a representative for the BETs had to put out a statement saying that after all this confusion, Brown was the true winner — for real this time.
Next: This celebrity almost missed her acceptance speech because she took a bathroom break.
6. Christine Lahti is in the bathroom when she wins a Golden Globe
Here's a tip: if you're ever nominated at a major awards show, make sure to not take a bathroom break when your category is read. That's what happened to Christine Lahti in 1998 when she won the Golden Globe for Best Actress in a TV Drama. Wanting to make sure Lahti had a chance to speak, her husband, Thomas Schlamme, took the microphone and began stalling. "Christine, I'm just vamping," he said. "Come out here."
The moment would have been even worse had Robin Williams not saved the day. Williams ran up on stage and began performing, bringing the house down without any preparation. This killed time until Lahti finally arrived on stage, still drying her hands from the bathroom.
History repeated itself at the 2001 Golden Globes when Renée Zellweger was in the bathroom when she won for Nurse Betty. Luckily, she made her way back to the stage fairly quickly.
Next: This is about as bad as awards show hosts can be.
5. James Franco and Anne Hathaway host the Oscars
It's difficult to pinpoint the most embarrassing part of James Franco and Anne Hathaway hosting the Oscars in 2011, seeing as it was all so very painful. All throughout the night, Hathaway was lively and excited to be there while Franco looked like he was falling asleep, barely committing himself to any of it. The jokes already weren't great, but they bombed even harder than they otherwise would, thanks to Franco's delivery.
The evening's strangest moment was probably when Franco took to the stage in a dress and wig. That's a gag you really have to go all in on in order for it to work, but Franco looked like he wanted to be anywhere else.
Years later, Franco said that what happened was that he was trying to be the straight man, but he went way too far with it. Since then, Franco and Hathaway's Oscars performance has become a thing of legend and a subject of ridicule at other awards shows.
At the 2013 Golden Globes, Tina Fey joked, "Anne Hathaway, you gave a stunning performance in Les Misérables. I have not seen someone so totally alone and abandoned like that since you were on stage with James Franco at the Oscars."
Next: You really can't mess up an introduction any more than this celebrity did.
4. John Travolta messes up Idina Menzel's name
At the 2014 Academy Awards, "Let It Go" from Frozen was up for Best Original Song, and so Idina Menzel performed it live. Introducing her performance was John Travolta, who famously mispronounced her name.
But he didn't just get it a little wrong. It's not like he stressed the wrong syllable or said something fairly close. The name Travolta said out loud in front of millions of people was "Adele Dazeem."
Travolta later tried to explain this, saying that at the last minute, Menzel's name on the teleprompter was changed to a phonetic spelling, which tripped him up. But he knew ahead of time who he was introducing. So why he didn't just say her name and ignore the teleprompter is anyone's guess.
Next: This is the worst musical opening in the history of the Academy Awards.
3. Rob Lowe sings with Snow White at the Oscars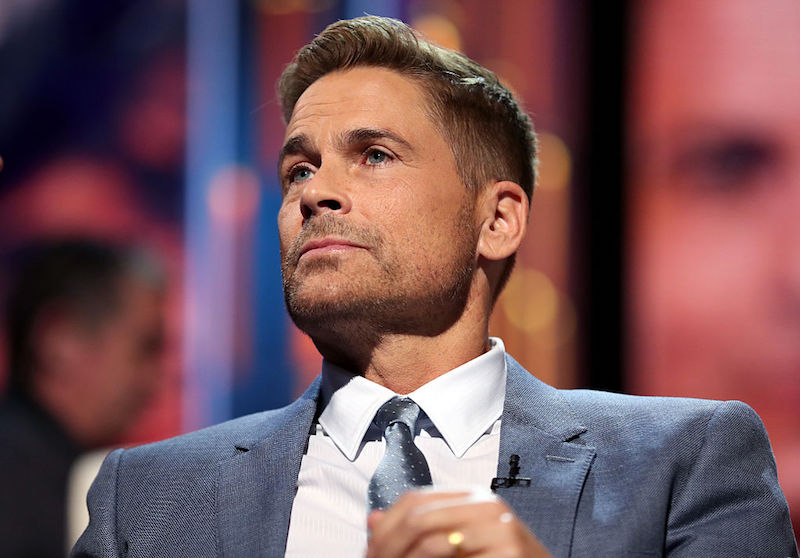 There has never been a worse musical number in Oscars history than the opening of the 1989 Academy Awards. The show kicked off with an excruciatingly long 11-minute song and dance, which, weirdly, revolved heavily around Snow White. The whole thing was rather strange, but the lowest point was Rob Lowe's duet with Snow White. His singing, to put it mildly, is not great. Then again, even if the singing wasn't off, Lowe and Snow White singing "Proud Mary" to open the Oscars would still be one of the weirdest awards show moments ever.
The next day, The New York Times declared, "The evening's opening number, which deserves a permanent place in the annals of Oscar embarrassments, was indeed as bad as that." As if the situation wasn't already enough of a catastrophe, Disney subsequently sued the Academy of Motion Picture Arts and Sciences for using Snow White without their permission.
This musical number was so reviled that the next year, Billy Crystal opened his monologue by saying, "Is that [applause] for me, or are you just glad I'm not Snow White?"
Next: This moment had a monumental impact on the careers of both celebrities involved. 
2. Kanye West interrupts Taylor Swift's acceptance speech
In one of the most infamous awards show moments of all time, at the 2009 Video Music Awards, Taylor Swift won Best Female Video, only for Kanye West to get up on stage, interrupt her, and yell, "Yo Taylor. I'm really happy for you. I'm gonna let you finish. But Beyoncé had one of the best videos of all time! One of the best videos of all time!"
The most uncomfortable part of the whole incident wasn't even when West was on stage. It was after West gave the microphone back to Swift, who had no idea what she was supposed to say in response to that and who, after quickly thanking her fans, just got off the stage. To her credit, when Beyoncé won Video of the Year later that night, she called Swift up to properly finish the speech.
It's difficult to overstate the impact of this; it would ultimately go on to become a major factor in the careers of both West and Swift. Swift later wrote a song, "Innocent," as a direct response to the incident. And in his song "Famous," West would say of Swift, "I feel like me and Taylor might still have sex. Why? I made that b*tch famous."
Next: This embarrassing Oscars moment might never be topped.
1. The wrong Best Picture winner is announced
There really is no competition for the most embarrassing moment in the history of awards shows. It happened at the 2017 Academy Awards, when Faye Dunaway announced the wrong Best Picture winner by mistake.
Here's what happened: At the end of the evening, Warren Beatty and Faye Dunaway were announcing the winner of Best Picture. Beatty opened the envelope and was reportedly confused to see Emma Stone's name. Stone had just won Best Actress for La La Land, so someone had handed Beatty a second copy of that card by mistake. Beatty fumbled on stage, not knowing what to do. Thinking he was joking around, Dunaway looked over, saw "La La Land," and announced that as the winner. In reality, the winner was Moonlight.
As the cast and crew of La La Land got to the microphone, chaos broke out backstage. What followed was two full minutes of the makers of La La Land giving emotional speeches about having achieved their dream, only to find out that actually, no, they lost. In the middle of thanking his family and coworkers, producer Fred Berger let out a defeated, "We lost, by the way," proceeding to shuffle away from the microphone.
From the producers of La La Land to Warren Beatty and Faye Dunaway to the accountants who screwed up behind the scenes, there are just so many people who felt embarrassed about this — the most legendary flub in the history of the Oscars.
Check out The Cheat Sheet on Facebook!