The Night Led Zeppelin Met Elvis Was About as Bizarre as You'd Expect
When The Beatles met Elvis Presley in August 1965, the King had reason to be wary. Since arriving in America a year and a half earlier, the Fab Four had managed to rack up eight No. 1 hits. During that stretch, the closest Elvis got was No. 3 on the Billboard Hot 100.
That trend would continue through the '60s. If Elvis had a feeling his days on top were numbered with The Beatles around, he was right. By the time Elvis saw Led Zeppelin take their place at the top of rock in the early '70s, he'd accepted that he was no longer the King.
In Stephen Davis's wild Zep biography Hammer of the Gods, it's clear Elvis wasn't kidding himself about his fanbase circa 1974. "Well, I may not be Led Zeppelin, but I can still pack 'em in," Elvis would tell his entourage.
When Zeppelin went to L.A. in '74 to launch their new Swan Song label, the band had a chance to meet Elvis between one of his shows at the Forum. According to Davis, it was quite the encounter.
Elvis seemed bored until Robert Plant sang 'Love Me' with him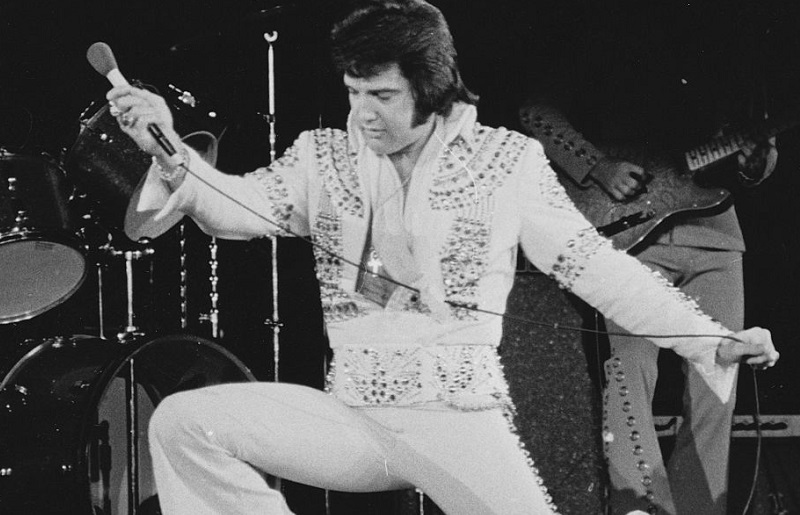 Led Zeppelin caught Elvis's show at the Forum during that trip to L.A. According to Davis, Elvis saw them in the audience and instructed his band to play their best that night. And since they had the same promoter (Jerry Weintraub), it wasn't too much trouble to arrange a meeting between them.
But when Zeppelin arrived, Elvis didn't seem very excited to see them. (Reports of the Beatles meeting noted similar behavior from Elvis.) Things didn't loosen up until Elvis asked if the stories about Zep's debauchery on tour were true.
Robert Plant fielded that one. "Of course not!" Plant said. "We're family men. What I like is to wander the hotel corridors, singing your songs." At that point, Plant started doing an Elvis impersonation, singing the opening line from "Love Me" (the King's 1956 hit).
'Treat me like a fool," Plant sang. "Treat me mean and cruel," Elvis answered. Then both sang, together, "But love me." Everyone laughed and began to socialize after that exchange.
Zeppelin's manager sat on Elvis's dad for more comic relief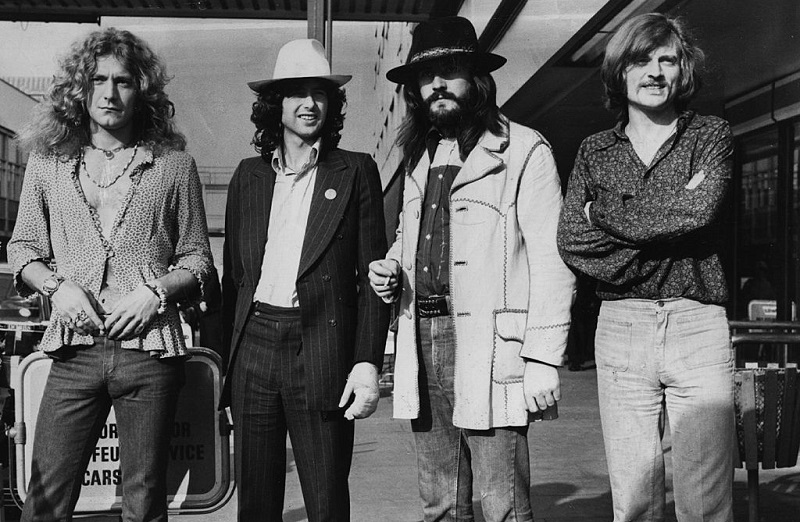 Once everyone had relaxed, Elvis paid his guests a compliment by saying he liked "Stairway to Heaven." (Davis wrote that it was the only Zep track Elvis had heard.) Then the King chatted with John Bonham about their car collections.
At one point, Peter Grant (Zeppelin's hulking manager) settled into a couch without realizing he'd sat on Elvis's father. Elvis reportedly got a big kick out of that moment. Beyond that, there wasn't much to report on the Elvis-Zeppelin summit. It ended a few hours later.
According to Davis, a high point for Jimmy Page and his bandmates came when Elvis asked them to sign their autographs for him. Apparently, his daughter Lisa Marie (then six years old) was a fan of the group. If that didn't suggest a changing of the guard to Elvis, nothing would have.
Also see: The Beatles Movie Jimmy Page Played Guitar On in His Pre-Zeppelin Days