'The Office': Are Jim and Pam Friends in Real Life?
The Office was one of the greatest sitcoms of its time. It kept viewers coming back for more each week with minimal issue. After all, watching the Dunder Mifflin crew get into all kinds of shenanigans became a highlight for many! It wasn't just the comedy gold that got fans going. Watching the relationships between the co-workers' shift and change over nine seasons was captivating. This was especially true for one of Hollywood's most iconic modern on-screen couples, Jim (John Krasinski) and Pam (Jenna Fischer). 
How did John Krasinski and Jenna Fischer meet?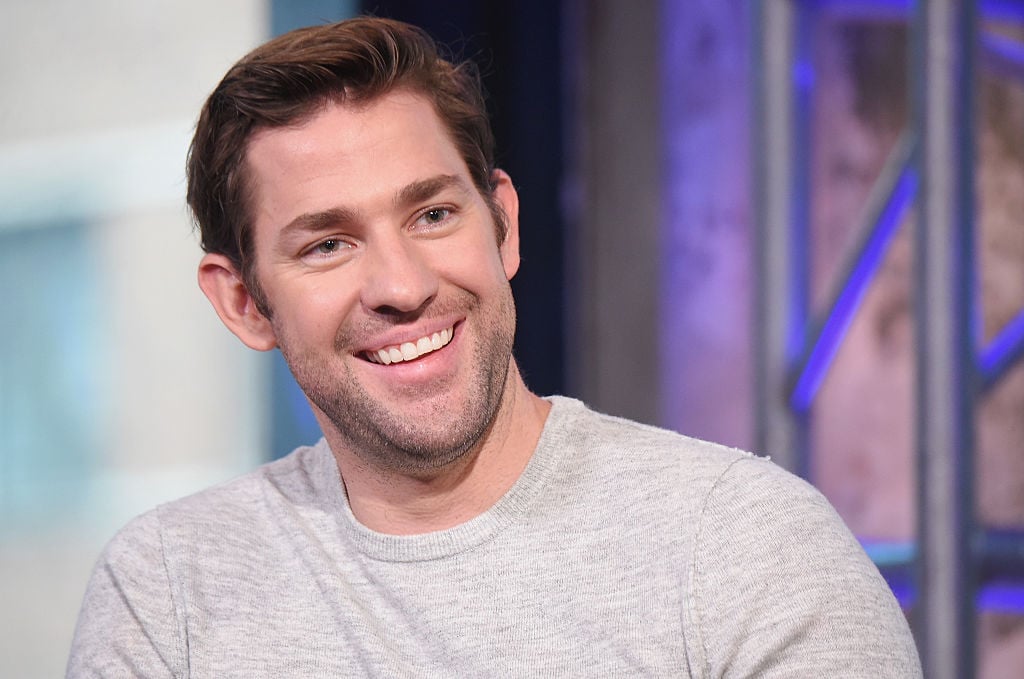 Fischer and Krasinski actually met before they were even on the show! After Krasinski managed to embarrass himself in front of the executive producer of The Office, he thought he blew the audition. Little did he know, his forthright behavior definitely had the opposite effect. The Jack Ryan star was called out to LA for auditions and that's where he crossed paths with Fischer.
He was told to run some lines with Fischer. Admittedly, as soon as he sat down with her, he knew she was destined to get the part. He told her as much once everything was wrapped up. Ironically enough, Fischer felt the same way about Krasinski. The story gets better though. When Krasinski found out he'd be playing Jim he asked if Fischer also got through the auditions. Fischer asked the same thing. Clearly, there was already some chemistry going on between the two on a professional level. Perhaps that's why they nail Jim and Pam's relationship effortlessly.
Jim and Pam's adorable on-screen relationship on 'The Office'
With an introduction like that it's no surprise that Krasinski and the Kiss Me star became best buds. Acting as Jim and Pam, the cutest sitcom couple, probably didn't hurt their relationship either. At the beginning of The Office, Jim was a single dude while Pam kicked the show off engaged to a warehouse employee. Their relationship was already very friendly from the start, and there were plenty of hints that they had genuine feelings for each other even if they weren't together.
By season four after a few on-screen smooches and plenty of drama, they officially became a couple. In season five they become roomies. The pair eventually elope and their relationship blossoms in full force on screen. Watching Jim and Pam go from goofy friends to the idealistic couple was so moving that fans were sure that the pair had really fallen for each other on set!
Fischer's comment on Andy Cohen in 2016 about their perfect chemistry certainly didn't help dispel the idea either. According to Fischer, the two were so closely aligned with their characters that there were parts of the IRL versions of themselves that were "genuinely in love with one another." Krasinski quickly corrected the statement, taking the tone down a notch by saying she was referring to their close bond, not actual love. Perhaps being with Emily Blunt caused the actor-turned-director to quickly nip the comment in the bud.
Are Jim and Pam friends in real life?
Jim and Dwight are pretty good friends outside of Dunder Mifflin universe and despite their icy relationship on set Pam and Angela have become besties IRL too. What about Jim and Pam? Did they manage to stay friends or did their spark fizzle out after The Office wrapped up? Fans of the iconic sitcom couple will be happy to hear that Jim and Pam have remained buddies.
Back in 2015, Krasinski told Glamour: "I see Jenna [Fischer] all the time. I love her husband, Lee [Kirk], and their kids are amazing, so we get together a bunch. And I'd say other than Jenna, the last person I saw that was actually at her house was Brian Baumgartner." Clearly, they are well acquainted with each other's family's and haven't missed a beat since The Office went off the air, but the cute friendship antics don't stop there.
Their friendship is so real that Fischer was hesitant to go check out Krasinski's directorial debut, A Quiet Place. The former The Office star admitted that seeing her on-screen hubby and his wife in such a dangerous situation would have been too much for her. How cute is that!