'The Office': The Biggest Challenges of Jim and Pam's Wedding Episode Revealed
Jim and Pam's wedding episode of The Office is iconic TV but it wasn't without its challenges.
The Office wedding episode "Niagara," which saw Jim and Pam tie the knot, is a solid fan favorite. The episode wasn't without its challenges, however, as some of the show's team recently shared in an oral history of making "Niagara."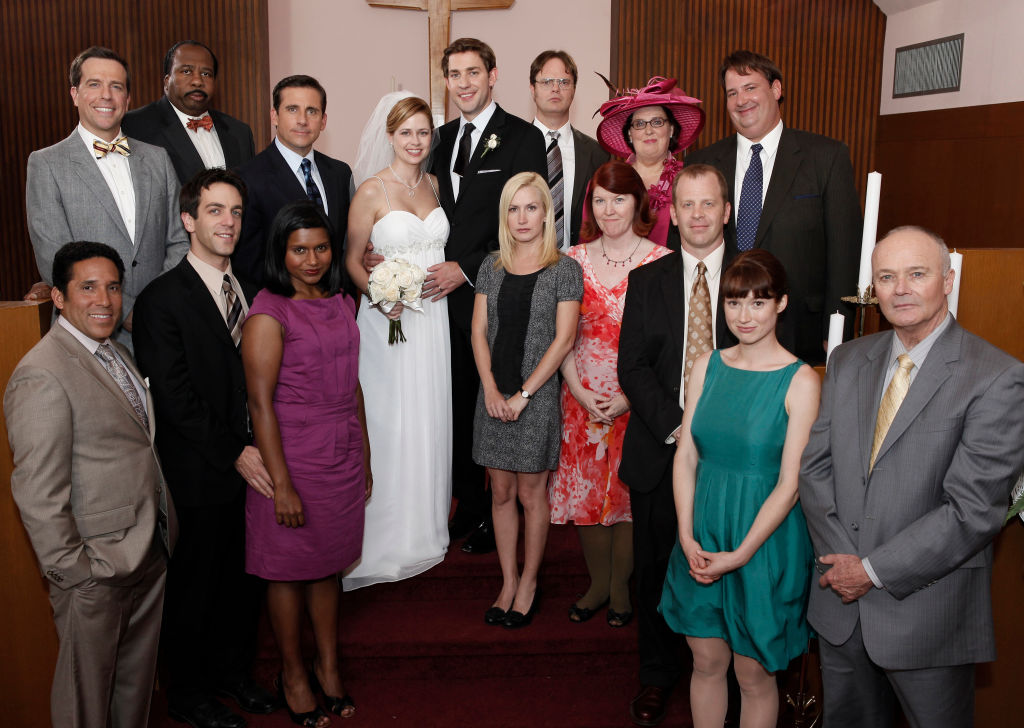 The making of the wedding episode
Mindy Kaling, a writer for The Office (who also played Kelly Kapoor) shared with Entertainment Weekly how, when she was assigned the episode, she thought, "'Wow, this is a doozy.'" She explained, "A lot of episodes will have a funny hook at the beginning, but this one just has a really happy thing. The Office is built on awkward situations, but with the wedding episode, I was like, 'There's nothing inherently funny about two people very much in love getting married.'"
Executive producer Greg Daniels also shared: "We wanted it to be like the Office movie. One of the great things about it was seeing the characters outside… It really opened up a lot of fun story pitches for all the different characters. And a wedding is a classic comedy setting; like, all Shakespeare comedies end with a wedding."
Kaling noted that it was a "very ambitious" episode in terms of the logistics involved, calling it "one of the biggest episodes that we've done."
The Office wedding episode almost had a different ending
Director Paul Feig dished on the original ending they had planned for the episode, which would see Roy riding into the church on a horse to object to the marriage. Pam would tell him to leave, with Feig sharing, "so he has to ride his horse back out of the church. But then, in an absolute insane thing, they had this crazy ending where Dwight [Rainn Wilson] gets the horse and rides it into the falls."
When things fell apart with the original ending (thankfully), they had to figure out another option and it turns out that the viral video of a wedding party dancing to Chris Brown's "Forever" came at the perfect time.
Feig shared: "This was right when that viral video came out. It was so popular that we went, 'Let's just re-create that.' It was a real last-minute addition."
Jim and Pam's secret wedding proved challenging
Kaling talked about the too perfect moment Jim and Pam slipped away to get married privately — but it wasn't without its challenges. She explained, "It was Greg's idea that they secretly get married on the Niagara boat, because the wedding itself was spinning out of control and no longer their private moment."
Kaling continued: "Going on the actual boat was so special. It was just me, Jenna [Fischer], John [Krasinski], Paul [Lieberstein], the script supervisor, and the cameraman. I was in my 20s and sitting in a parka, sweatpants, a hat, and sneakers and getting splashed on as I watched Jenna getting doused with water and mist from the actual falls, but I just remember how beautiful she looked."
Feig added: "That was very challenging because it's very wet. [Laughs] It was crazy because we weren't allowed to take over the boat, we just had to be on there with the public. We went in the morning and shot it and it was completely dry. It worked fine, but we thought we'd take another crack at it in the afternoon. That's the one we used because suddenly it was soaking wet. It was hard, everything was blowing around. We recorded the sound but we knew we weren't going to use much. It just felt real and pure."
Krasinski shared his perspective on the filming as well, noting: "That day was insane! We had to get it all done in a matter of an hour or so. We had to hide the fact that it was us and try not to let people see the actual wedding in case it got spoiled. On top of it all, I had the flu. So one of the most romantic kisses in the show… is actually just me giving her a huge kiss on the cheek because I didn't want to get her sick."