'The Office' Cast Is Teaming up for an 'Office' Themed Podcast
The Office will forever remain one of the best shows to ever grace the small screen. With plenty of ridiculous antics, the sweetest (and strangest) office romances, and the best friendships, it's a show that is still laugh-out-loud funny years later. One of the best things about the hit NBC show is its talented and star-studded cast. Now, part of The Office cast has reunited to bring fans of The Office a podcast which gives listeners a more in-depth look at the show.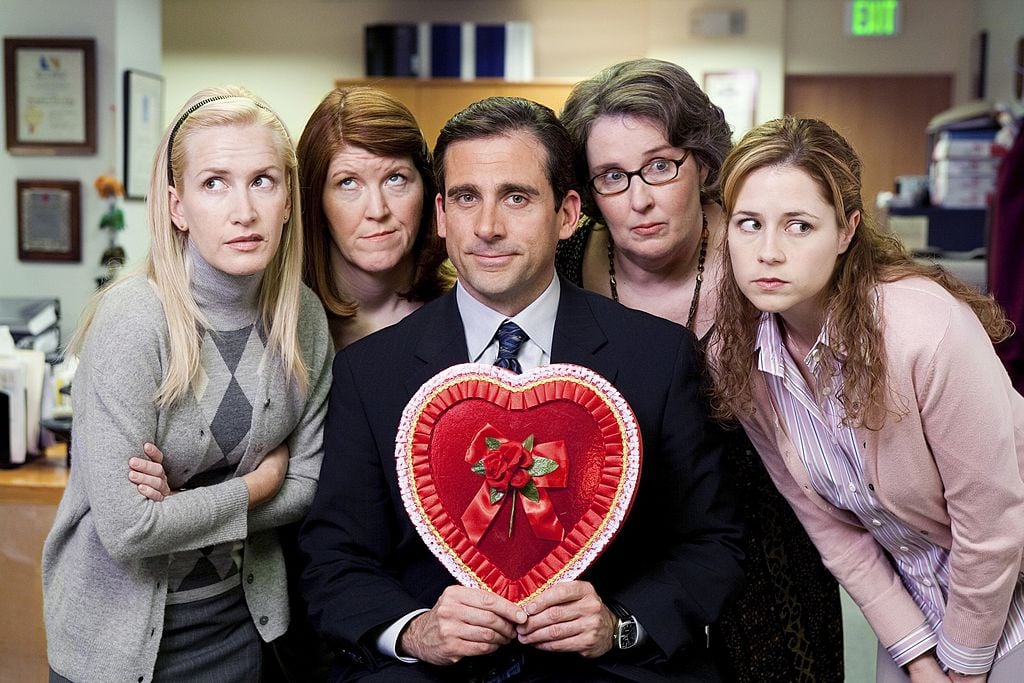 Recently, Jenna Fischer (who plays the lovable Pam Beesly Halpert on the show) and Angela Kinsey (who plays everyone's favorite shrew, Angela Martin Schrute) took to Instagram to announce that they were joining forces for a podcast all about The Office. Despite the differences between their characters on the show, Fischer and Kinsey have been real-life best friends since working together on The Office. Just last year, Kinsey even guest-starred on Fischer's show, Splitting Up Together prior to the show getting canceled.
Going behind the scenes of episodes
The podcast, dubbed Office Ladies, will air weekly and will be available anywhere podcasts can be downloaded. Each week, Kinsey and Fischer will watch an episode of The Office and then provide listeners with behind-the-scenes info about the episode. They are also planning to do Q & A's with listeners to answer any burning questions that superfans may have. Furthermore, as the pair are besties, listeners may get the chance to see how these two talented actresses navigate their friendship, careers, motherhood, etc.
Jenna Fischer breaks the news on Instagram
Taking to their respective Instagram pages, The Office alums broke the news about the podcast. "My bff @angelakinsey and I are excited to be teaming up with @earwolf to bring you our new podcast Office Ladies! Each week we will watch an episode of The Office and tell you all the behind-the-scenes scoop and trivia…the kind of stuff that only two people who were there can know. There might be some tangents about our lives, our friendship, our cats and our Target runs. We will also answer your questions," Fischer penned excitedly.
The Office cast member then went on to give information on when fans could begin. "It starts Wednesday, October 16th so get ready to watch The Office with us!! We can't wait! #theoffice#officeladies#bffs ("Office Ladies" will be available on Stitcher, Apple Podcasts, Spotify and anywhere you can download podcasts.) LINK IN BIO!," Fischer concluded.
Angela Kinsey shares her excitement
Kinsey also shared her excitement with her Instagram following. "Aaaaah!! I get to work with my bff again! I am SO excited to share with you all that @msjennafischer and I are doing a podcast with @earwolf ! Our show, Office Ladies, combines two of my favorites things The Office and getting to hang out with my real life bff! They'll be lots of behind the scenes stories and lots of us just being bffs. Office Ladies will be available on Oct. 16th on Apple Podcasts, Stitcher, Spotify and anywhere you can download podcasts," she wrote.
Fans react to the news
Immediately fans of The Office began to show support of the project. Lovers of the iconic show are thrilled that they will have a new way to interact with the show. "Currently on my 14th rewatch of this office. Glad that I'll have a new way to experience it," one superfan wrote. "This is literally the only podcast I've ever considered listening to," another commented on Fischer's post. "I'm freaking out. This is the best idea ever," one Instagram user chimed in.
Office Ladies
We can't wait to listen to Office Ladies ourselves. October 16 can't come soon enough. Until then, we will entertain ourselves with all nine seasons of The Office, now streaming on Netflix.