'The Office' Christmas Episodes: Guide to Watch All 7 in Order
The Party Planning Committee was busy on The Office. Throughout the NBC sitcom's nine seasons, there were seven The Office Christmas episodes. And these episodes have become some of the most beloved of the whole series, with memorable plot lines and The Office Christmas quotes that fans still remember.
Are you looking to watch all of The Office Christmas episodes in order? We've broken down every episode in our official guide.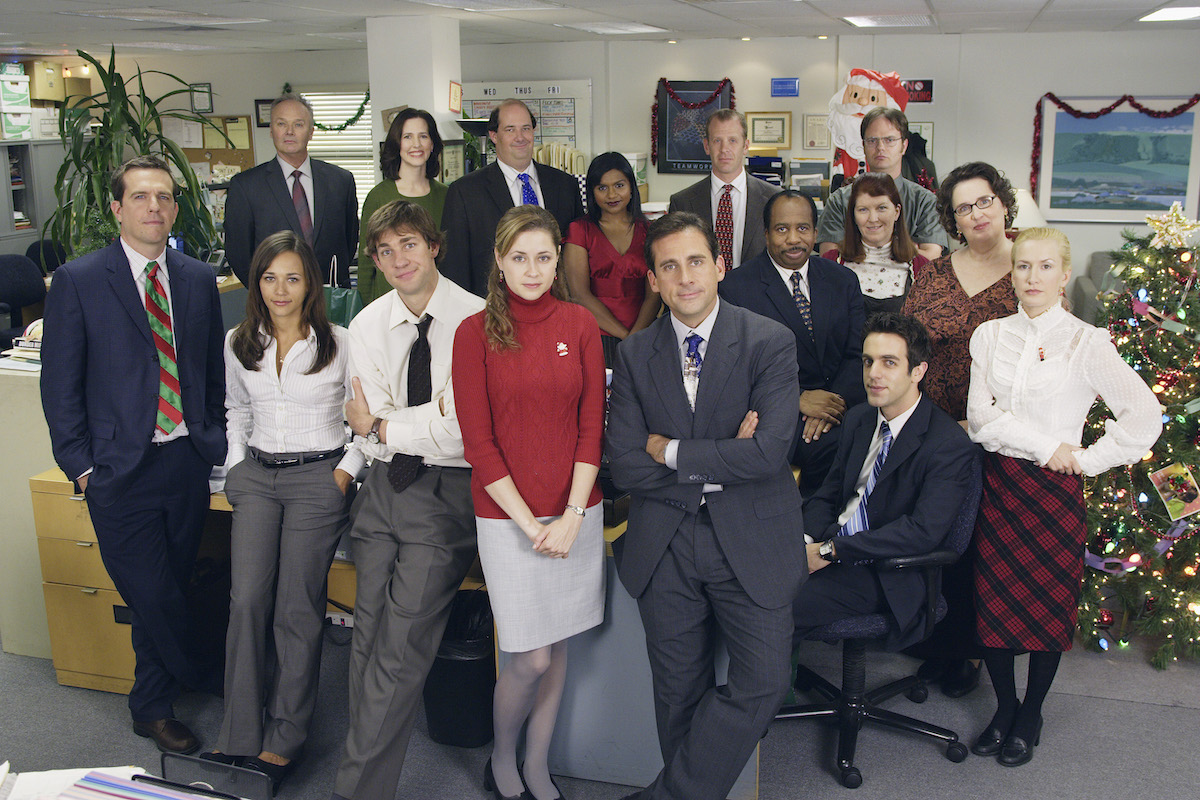 Season 2 Episode 10 'Christmas Party'
The Office Season 2 marks the show's first Christmas episode titled "Christmas Party." In the episode, the Scranton branch employees play Secret Santa at their office Christmas party. Ignoring the $20 price limit, Michael has gotten an iPod for Ryan. And after Michael is let down by the homemade oven mitt he receives from Phyllis, he decides to turn Secret Santa into "Yankee Swap." 
Michael makes everyone swap the gifts that have been personalized for them, which creates tension. And most of the employees fight over the iPod. Jim is upset because he's gotten an especially personal gift for Pam that ends up with Dwight. In the end, Pam trades the iPod with Dwight for Jim's gift, and the party ends up being a good time. "Christmas Party" has a rating of 8.9 out of 10 stars on IMDb.
Season 3 Episode 10 'A Benihana Christmas'
The Office Christmas episode in season 3, "A Benihana Christmas," is all about making Michael smile after Carol breaks up with him for sending out Christmas cards with his head superimposed over her ex's in a family photo. Andy decides to take Michael to Benihana, and Michael makes Jim and Dwight come along too.
Back in the office, Pam and Karen form a rival group to Angela's Party Planning Committee, and they throw dueling office Christmas parties. Angela is upset that Pam and Karen's party is better, so Pam offers to merge the parties. The employees return from Benihana with two servers and join the party. This episode has a 8.8 out of 10 rating on IMDb.
Season 5 Episode 10 'Moroccan Christmas'
Season 4 of The Office was shortened due to the writer's strike in 2007-08. So the next Christmas episode didn't come until season 5 with "Moroccan Christmas." This is one of the office's messiest Christmas celebrations. Phyllis is now head of the Party Planning Committee, and she throws a party with a Moroccan theme. Meredith ends up drinking so much that she lights her hair on fire by accident, and Michael pauses the party to stage an intervention. 
Enjoying her leadership role, Phyllis bosses Angela around in various party tasks. And Angela can't retaliate because Phyllis knows she's cheating on Andy with Dwight. In the end, Phyllis announces the affair to the office, though Andy isn't there to hear it. It probably wasn't the Christmas celebration the Scranton branch imagined, but isn't that how it always goes? This episode has an IMDB rating of 8.3 out of 10.
Season 6 Episode 13 'Secret Santa'
The Office Season 6 Christmas episode, "Secret Santa," kicks off with a Grinch-like moment. Jim has told Phyllis that she could dress as Santa for the staff Christmas party, and Michael is upset because he wanted to be Santa. Michael heckles Phyllis and even calls CFO David Wallace to complain. But then he finds out that Dunder Mifflin has been sold, and some people might lose their jobs.
Michael calls a conference room meeting to tell everyone they might be out of a job, but then David confirms that the branch employees are safe. Everyone goes back to the party, and Michael apologizes to Phyllis. This episode got an 8.5 out of 10 on IMDb.
Season 7 Episode 11 'Classy Christmas'
Season 7 had one of The Office Christmas episodes that did not disappoint in holiday cheer — along with some torture. In "Classy Christmas," Holly returns to the office to cover for Toby while he's on jury duty. And Michael wants to throw a "classy" office Christmas party to impress his former flame. Michael is upset when he learns Holly is still dating her boyfriend A.J. But he learns that their relationship might not be as solid as he thinks.
Meanwhile, Jim and Pam exchange meaningful Christmas presents. Darryl hosts his daughter for the holidays, and she has fun handing out snacks to employees. And Dwight pummels Jim with snowballs after Jim throws a snowball at him indoors. Dwight refuses Jim's surrender and sets up multiple snowmen in the parking lot after work that terrify Jim. This episode received 9 out of 10 stars on IMDb.
Season 8 Episode 10 'Christmas Wishes'
The Office Season 8's Christmas episode, "Christmas Wishes," was written by Mindy Kaling (who plays Kelly) and directed by Ed Helms (who plays Andy). It was another not-so-festive moment for the Scranton crew. In the episode, Andy is trying to make sure everyone's Christmas wishes come true. But Erin becomes jealous of Andy's new girlfriend and ends up getting very drunk. Andy makes sure both a drunk Erin and a drunk Meredith get home OK.
Andy also reprimands Dwight and Jim and tells them the next one to pull a prank will forfeit his Christmas bonus to the other. Both Dwight and Jim then step up their pranks and attempt to frame each other for them. This episode has 7.9 out of 10 stars on IMDb.
Season 9 Episode 9 'Dwight Christmas'
"Dwight Christmas" put yet another spin on the traditional office Christmas party. After the Party Planning Committee mishandles the celebration, Dwight steps in to stage a Schrute Pennsylvania Dutch Christmas. Dwight dresses up as the folklore figure Belsnickel, wearing furs and bearing gifts. He also cooks German food and encourages everyone to play the game "Impish or Admirable."
Jim has to leave the party early, upsetting both Dwight and Pam. Dwight even halts his celebration, and the employees rebound with a more typical Christmas party. Jim later returns. Meanwhile, Erin and Pete bond over the movie Die Hard. This episode is one of the highest rated on IMDb for season 9 with 8.4 stars. 
RELATED: 'The Office': This Is the Most Popular Christmas Episode of the Series