'The Office' Fans Can Get More of the Show's Content In Their Lives Soon
When The Office first came on TV, it was unlike any comedy audiences had seen before. Viewers immediately loved the show by the time it went off-air, it was a cult classic. The show's presence on Netflix introduced the fan-favorite series to a new generation that didn't watch the show when it first aired on NBC.
Now, all ages of fans of The Office will soon have more content to keep them busy. A new project by Angela Kinsey and Jenna Fischer, two favorites from the original cast, will give fans an inside look into the show. Here's all the information you need on this exciting new way to enjoy The Office.
'The Office' captured viewers hearts like no comedy before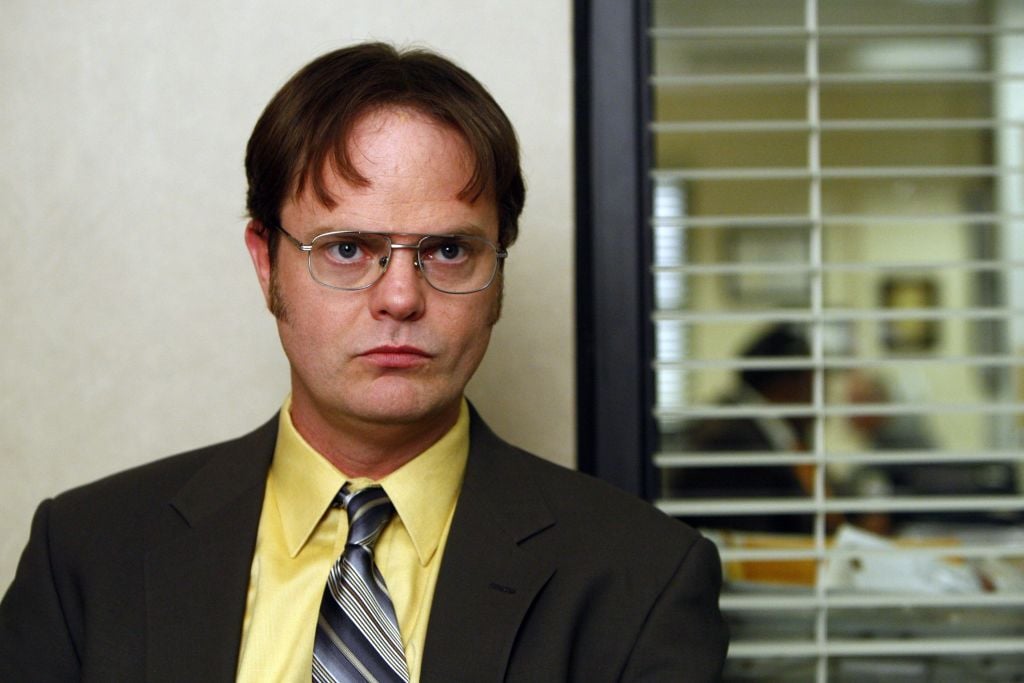 Fourteen years ago, The Office premiered on NBC and television comedy was never the same. Audiences fell in love with the unique documentary style, something that hadn't been seen in comedy before then. Jim (John Krasinski) and Pam's (Fischer) adorable love story, all the pranks pulled-over on Dwight (Rainn Wilson), and Angela's (Kinsey) uptight persona are just a few of the great aspects that helped The Office become an American favorite.
After nine seasons, fans mourned the show's end, although we were given a fantastic final episode that made us feel all warm and fuzzy inside. We all thought that would be it for The Office. It would sink into obscurity as viewers forgot about the once loved comedy. However, Netflix changed all that.
Netflix brought 'The Office' back to life
Once The Office began streaming on Netflix, new viewers started watching and falling in love with the show. Suddenly, an entirely new generation, who had missed The Office on network television, found the show and adored it. Now, The Office is constantly listed under the "Trending Now" tab and it has become a classic, loved by people all over the country.
Even Wilson, who did a fantastic job bringing the quirky character of Dwight Schrute alive, recognizes the role Netflix played in introducing The Office to a whole new audience.
"It's pretty amazing," Wilson told Cinema Blend. "Because The Office started to dwindle in its last several years on NBC. And the audience went down. It was super positive in 2008, 2009, and 2010. And then it kinda faded a little bit and went away. And then all the sudden it was two years ago that I started getting recognized more than before. And it's because of Netflix. And a whole other generation that has seen it."
Pam and Angela have a new podcast
Kinsey and Fischer, the actresses who played Pam Beasley and Angela Martin, are teaming up to do a The Office themed podcast together called Office Ladies. Each episode of the new podcast will feature the women sitting down to watch an episode of The Office. They'll dissect the show and give insider information, and background stories about what it was like to film. Fans can also ask questions for the ladies to answer.
Kinsey and Fischer are best friends in real life, so you'll also get to hear them chat about their lives, Target runs, and adventures together.
"I'm excited to be working with my best friend Angela Kinsey. So many memories are flooding in as we go back and watch the episodes – many of which I haven't seen since they aired," said Fischer in a press release about the podcast.
Kinsey also commented on how excited she was to start the new shows.
"This show combines two of my favorite things: The Office and getting to hang out with my real-life BFF, Jenna Fischer! The Office was such an amazing chapter of our lives and it means so much to us that we get to share some of our memories of filming it with our audiences," she said.
Office Ladies will be produced by Stitcher and available starting October 16 on Stitcher's comedy network, Earwolf. You can also listen to the podcast on Spotify, Apple Podcasts, or anywhere podcasts are available.
"Snuggle up next to me and Jenna on the sofa and let's rewatch The Office together!" said Kinsey.