'The Office': John Krasinski Demanded Writers Drop Plot Twist of Pam Hooking Up With Someone Else
When The Office aired on NBC fifteen years ago, introducing viewers to the main couple, Jim Halpert, portrayed by John Krasinski, and Pam Beesly, played by Jenna Fischer. Soon this fictional couple became couple goals for many.
However, Jim and Pam's relationship certainly had its ups and downs. Recently, an article in People discussed a new book that has come out about The Office, titled The Office: The Untold Story of the Greatest Sitcom of the 2000s, which tells stories of behind the scenes of the show. In the book, author Andy Greene reveals that writers wanted Pam to have an affair, then divorce from Jim, but John Krasinski put a stop to the story arch.
What is 'The Office' about?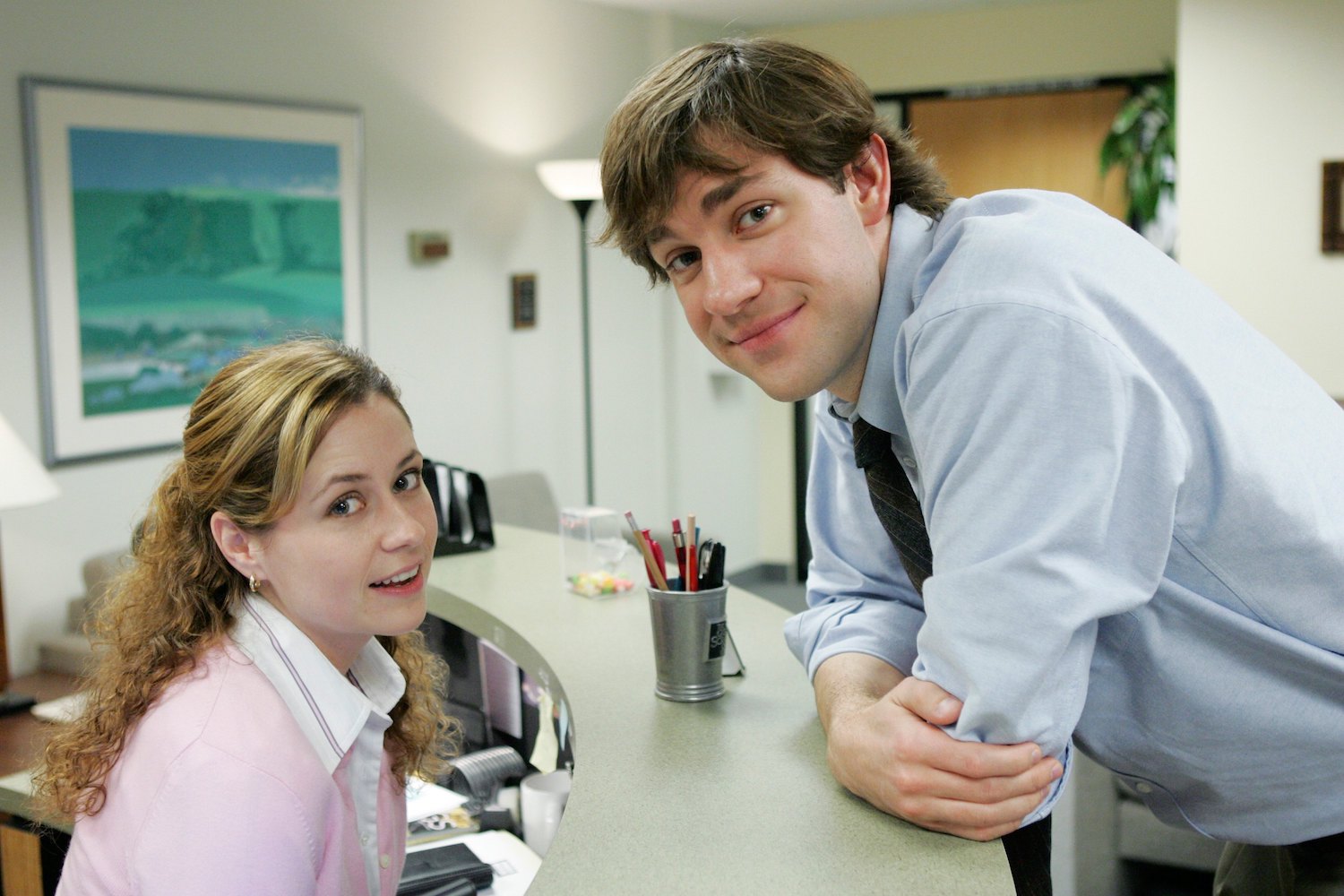 The Office is a show that originally aired on NBC from 2005 to 2013. It is a fictional documentary type show. A camera crew follows and films the everyday lives of the workers at Dunder Mifflin, a struggling paper company in Scranton, Pennsylvania.
It is an adaptation of a British show by the same name, and viewers were skeptical at first. It wasn't long before viewers were smitten with the variety of characters and their daily escapades.
During the nine seasons that the show aired, it won multiple awards such as a Primetime Emmy for Outstanding Single-Camera Picture Editing for a Comedy Series in 2013. There were all kinds of relationships throughout the show, but the most favored among fans was the romantic relationship between sales representative Jim Halpert and receptionist Pam Beesly. 
Jim and Pam's relationship on 'The Office'
Pam and Jim's relationship, like any relationship, had complications. When viewers first meet Jim and Pam in the first season, Pam is engaged to another man, Roy, who works in the warehouse. They have been engaged for three years, but have yet to set a date.
Jim is an excellent friend to Pam and finds any opportunity to flirt with her. Eventually, Pam and Roy set a date, and in the season two finale, Jim tells Pam how he feels, which leads to them kissing, but Pam tells him she's going to marry Roy. Her decision causes Jim to transfer to the Stamford branch. However, Pam ends up calling off her engagement for good. 
In season three, the Stamford branch closes, causing Jim to come back to Scranton, but his girlfriend, Karen, whom he met at Stamford, comes with him. Jim's relationship with Karen eventually causes friction between the three characters since Pam starts to realize she has feelings for Jim.
Jim and Karen go to New York for a job interview, but in the season finale, Jim comes back and asks Pam if she wants to go on a date.
In season six, they get married and go on to have two kids.
However, in season nine, Jim decides to start a sports marketing business in Philadelphia. He starts to split his time between Scranton and Philadelphia, which starts to cause friction between him and Pam.
Pam is comforted by a boom mic operator named Brian after arguing with Jim over the phone. Brian and Pam start to form a friendship, and he protects her from an angry warehouse worker.
Pam and Jim work through their issues and decide to move for Jim's new business, which relocates its headquarters to Austin, Texas.
John Krasinski convinced writers to drop a controversial plotline
Greene's book reveals that Jim and Pam were going to divorce in the final season, and the writers talked about Brian and Pam hooking up. According to writer Owen Ellickson, they just wanted to cause some worry for viewers.
An article in Vulture mentions that in the beginning, Krasinski was for the split. He said: "…there's a bit of a lull there, I think, for them about what they wanted to do."
Later, he changed his mind and convinced the writers not to have Pam get romantically involved with Brian. Also, a divorce between Jim and Pam would be devastating for fans.
The writers agreed and kept the couple together. You can watch The Office on Netflix until January 2021. Then, it's moving to NBC's streaming platform.