A New 'The Office' Opening Credits Sequence Stars 'Parks And Recreation' Actors
Parks and Recreation and The Office shared numerous recurring actors, a similar style, and plenty of workplace humor. What they didn't share were these two actors — but they're here to pretend regardless. Read on to learn which Parks and Rec stars recently appeared in a parody of The Office.
'The Office' aired on NBC
Chances are, you're familiar with the U.S. TV series The Office. The sitcom was a spinoff of a U.K. series of the same. It ran for nine seasons on NBC and starred actors like Steve Carell, John Krasinski, and Mindy Kaling, among many others.
The series became a worldwide phenomenon and won numerous awards. The opening credit sequence, along with the cast, changed over the course of the years, but never strayed from the music and look of the above. Because of its popularity and catchy tune, this became iconic.
Who starred in 'Parks and Recreation'?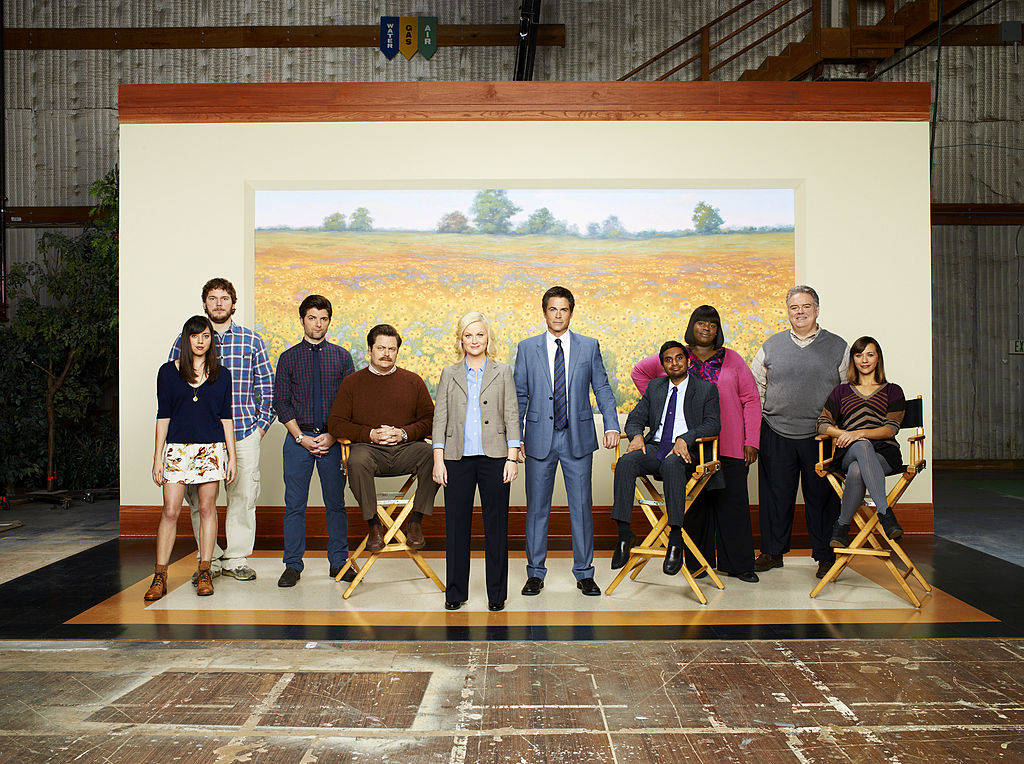 Greg Daniels, who adapted The Office for NBC, and one of the show's writers, Mike Schur, worked together on creating a spinoff. This eventually became the sitcom known as Parks and Recreation, which, while not tied directly to The Office, features a similar documentary style.
Parks and Rec starred Amy Poehler, Nick Offerman, Chris Pratt, Adam Scott, and many more. The series was similarly successful to its predecessor, airing for a total of seven seasons (also on NBC). However, the documentary crew was not worked into the plot of the show, as it was for The Office.
Amy Poehler and Nick Offerman's show 'Making It'
As often happens when starring in a long-running series together, the cast of Parks and Rec became friends over the years. They chose to work together when possible in subsequent years. But specifically, two of them remained close.
Offerman, like his character in the show, is very handy with crafting. So it makes sense that he and Poehler teamed up to co-host a reality TV series, titled Making It, in which craftspeople compete to be the "Master Maker." Season 1 aired in Summer 2018 on NBC.
Their 'The Office' parody
As they're gearing up for the second season (more on that to come), there has been plenty of exciting promotion for Making It. NBC certainly knows that many are interested in the show for the hosts because they were fans of Parks and Rec. Which makes the above ad hilarious.
In it, Poehler and Offerman are sitting in a room with the shades closed, much like the characters did for their "talking heads" in The Office. They then appear in a series of shots set to the show's theme music. Since Parks took much of its audience from The Office, this parody makes perfect sense, though both are quick to point out that they were not on this show.
'Making It' Season 2
If you're now intrigued by Making It, you're in luck: Season 2 begins on Monday, Dec. 2 at 10 p.m. on NBC. The next three episodes will air on Tuesday, Wednesday, and Thursday, and then pick back up with Episode 5 on Monday, Dec. 9. The two-hour series finale airs on Wed. Dec 11, at 9 p.m.
The second season will feature entirely new crafters, and, given the time of year, we can expect a bit of a holiday theme to it. However, if you're interested and missed out on the first season, all six episodes are available to stream on Hulu.