'The Office' Star, Jenna Fischer Responds to Chrissy Teigen's Poll Asking If Jim and Pam Are Divorced
Jim (John Krasinski) and Pam (Jenna Fischer) had a slow burning relationship for some time on The Office. That's probably why many fans love them together.
Years later, fans are still hoping for some kind of revival of the show. That's partially because they want to know what Jim and Pam are up to today.
Chrissy Teigen posted a poll asking if fans thought the married couple is still together or not. Find out her theory about their relationship and Fischer's response.
The last season of 'The Office' showed Jim and Pam having issues
Jim and Pam certainly had their cute moments getting together. However, their last season on the show was rough.
That's because Jim took a second job at a sports marketing company in Philadelphia without asking Pam. She was left to take care of their two children while he was away. They stayed together in the end, but it left a bad taste in the mouths of many fans.
Fischer has talked about being proud of the kind of relationship they had. "I'm really proud that we created this healthy version of a relationship and didn't wait until the last episode to see them get together," she said according to Entertainment Weekly.
She continued, "There's no cheating, there's no crazy weird breakups and makeups. They just gently weather the storm."
Chrissy Teigen tweeted that Jim and Pam are married but unhappy
Some people were still skeptical about the married couple's chances of staying together after the last season. Teigen tweeted a poll asking fans if they believed they would still be married or divorced.
A whopping 70 percent said they are together while 11 percent said they have an open marriage, and 10 percent say they're separated.
She then tweeted her own theory with "I think they're together but Philly Jim likes a taste of the high life and bottle service with athletes and Pam still can't figure out her phone so he never has to answer FaceTimes and he never gets caught."
Teigen added, "Pam is unhappy but content with their income and children so she's like whatever and draws things for Etsy like cozy home signs (wait is this me)."
There is another goal that Teigen believes they never reached. "They never went to Austin. You know it and I know it. I talk about moving to Austin every other day and here I am. Not in Austin," she tweeted.
Fischer said she thinks Jim and Pam are together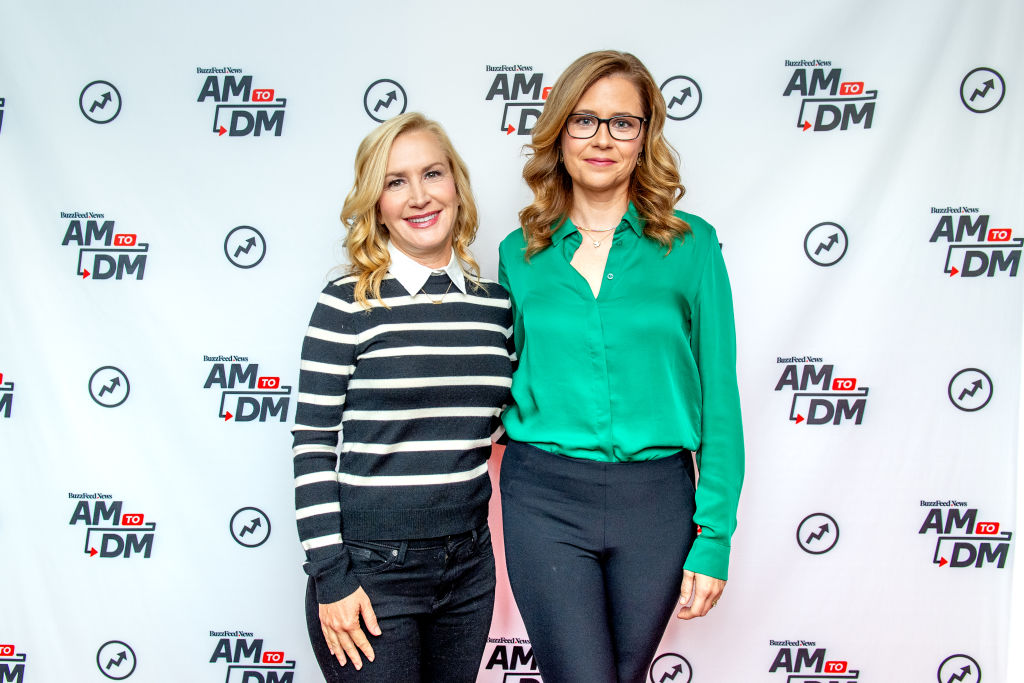 The actress was asked to respond to Teigen's tweet. She has a very optimistic take on the fictional couple's relationship.
"Together!" she said on Watch What Happens Live with Andy Cohen. "They are together." Angela Kinsey was also on the show and was asked if Dwight (Rainn Wilson) and Angela are still together.
"They're running the beet farm," answered Kinsey. "They've had many Schrute babies. They're everywhere!"
Sadly, The Office probably won't be coming back. But it's good to know that the stars believe their characters are still doing well.