'The Office': This is Not a Drill, Michael Scott's Homemade Movie is Now Available in Full
When it comes to American sitcoms, The Office is king. It remains one of the most streamed shows on Netflix. And while it will eventually disappear from the streaming platform at the end of 2020, there's still time to binge-watch before it does. And for those in need of a little extra Michael Scott goodness, NBC has you covered. Threat Level Midnight, Michael Scott's infamous homemade movie, is now available for full viewing.
Where 'The Office' fans can watch 'Threat Level Midnight'
Fans of The Office will remember that Michael Scott is an avid fan of action thrillers. He's also an aspiring movie director. And writer, and producer, and actor. After ten years of hard work, Michael Scott finally completed his first film, Threat Level Midnight. 
While fans were previously given only glimpses of the glorious film and its hysterical moments, that's no longer the case. The official The Office YouTube account uploaded the entirety of Threat Level Midnight for fans to enjoy. 
In case you forgot, Threat Level Midnight features special agent Michael Scarn facing off against his nemesis Golden Face. Goldenface, played by Jim Halpert, is notorious for attempting to blow up a variety of sporting events and arenas. And this time, he's going after hockey — and he's got hostages.
Fans are loving it. One YouTube user jokes, "If this doesn't get nominated for a dundie award we gonna have a problem."
Another adds, "Finally, a movie the critics can't criticize."
Steve Carrell actually changed Michael Scott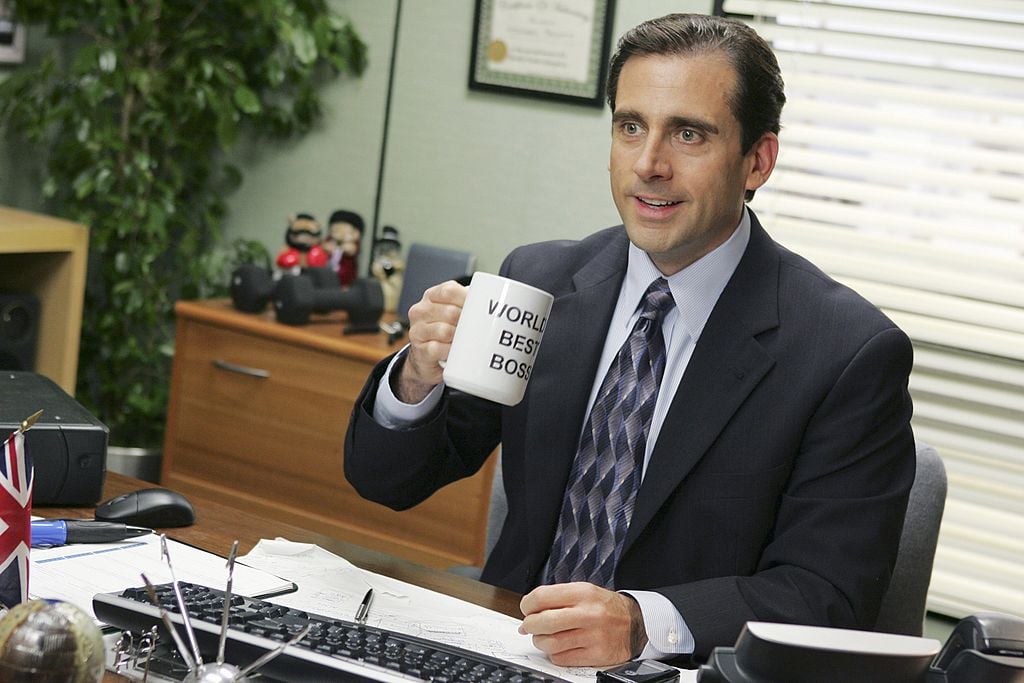 The Office fans might be surprised to learn that Steve Carrell actually added his own twist to Michael Scott, changing the character from how Scott was originally planned. It seems Carrell wound up making Michael Scott a more sympathetic character than was originally intended. 
On Office Ladies, director Paul Feig told Jenna Fischer and Angela Kinsey, "If you remember that was, sort of aside from the Olympics part of it, that was the episode that kind of started to turn everything. Because that's where you know Steve's character started to become slightly more sympathetic."
Feig added, "I don't know if you remember that kind of got found on the set. Because remember we were doing the whole thing where you guys are presenting Michael with the medal and Steve just made this decision to kind of start crying you know getting all choked up."
Feig revealed that it was a big change from Ricky Gervais' original interpretation of the boss. "And I remember just going like 'Oh my god, Steve that's so great like keep going with that.' And I think that was kind of the turning point where his character took that left turn from Ricky Gervais' character and became more sort of the lovable misfit who is trying too hard for everybody to like him," he added.
Michael Scott's most controversial cold open
Perhaps less surprising is the fact that there was one cold open that wound up being cut from many airings of The Office. One Halloween episode featured a joke that wound up being cut from some syndications and streaming versions of the show. 
In the cold open, Daryl Philbin is leading children through a haunted house the employees have prepared in the warehouse. Michael Scott reveals he has a surprise in store, and slinks off to get it ready. 
Just as the kids are about to finish their tour, Scott appears, hanging from a fake noose, swinging out from between the warehouse shelves. This is made worse by his choice of costume, Saturday Night Live's "d*ick in a box."