'The Office' Valentine's Day Episode Guide
The Office is one of the most iconic television shows of all time. The hilarious sitcom follows the ups and downs of the Dunder Mifflin Paper Company in Scranton, Pennsylvania and the antics of the employees who work there. Though the series is full of high jinks and foolishness –specifically from the regional boss Michael Scott (Steve Carrell) – the show also has a twinge of romance. If you want to snuggle up and watch some of The Office's most romantic episodes for Valentine's Day, we've got you covered.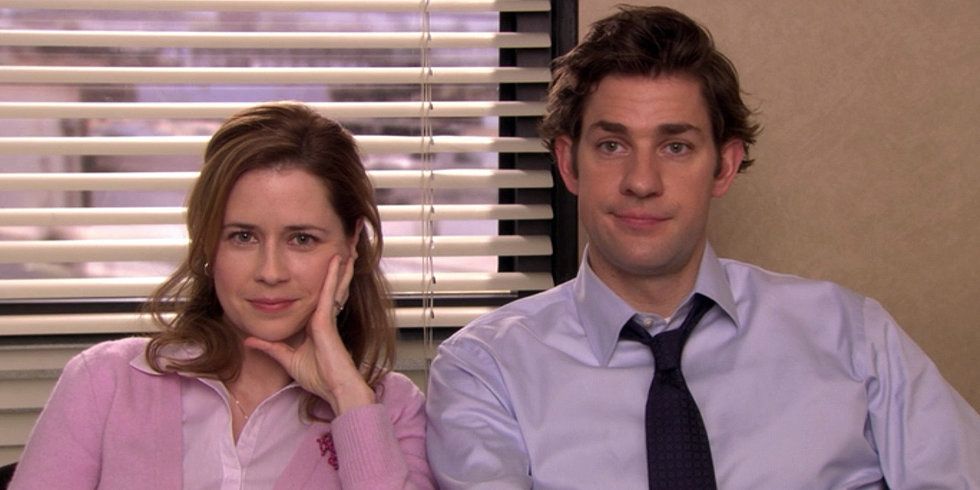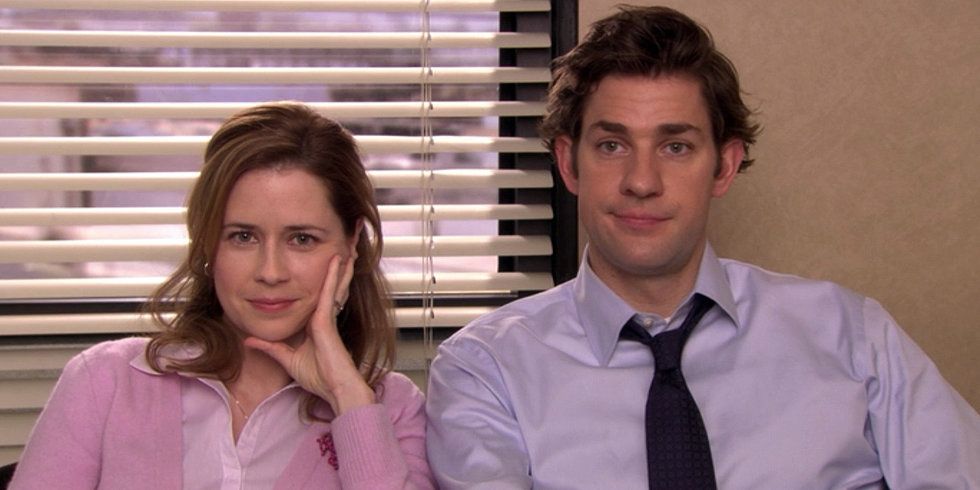 'The Office' Valentine's Day episode guide
Watch Pam, Dwight, Jim, Michael, and the rest of the gang fall in and out of love on The Office. We've compiled our favorite lovey-dovey episodes of The Office for Valentine's Day in our official guide, below. (Mostly it's just about Jim and Pam)
Season 1: "Pilot"
Every good love story needs an iconic beginning, and that's what we get with the very first episode of The Office. Not only do we meet our favorite cast of characters –the pilot introduces us to Jim and Pam. It's evident from the beginning that the two are good friends with a ton of sexual tension. Jim is hopelessly in love with Pam, and Pam is stuck in a horrible relationship with her sexist and disgusting beau, Roy.
Season 2: "Christmas Party"
Per usual, Michael ruins everything when he ignores the $20 Secret Santa limit and forces everyone to do a trade when he's offended by his homemade gift. It also destroys Jim's big romantic gesture for Pam. However, it's also the episode when Jim gives Pam that gorgeous yellow teapot.
Season 2: "Valentine's Day"
In this episode, Michael heads to Dunder Mifflin's New York City branch leaving the rest of the crew behind in Scranton to celebrate the holiday. Most importantly, its the episode where Dwight gives Angela a key to his place.
Season 2: "Casino Night"
After two full seasons of waiting, Jim finally declares his love for Pam at Casino Night. He tells her at the end of the episode "I'm in love with you" and it honestly makes our hearts soar. It literally changes everything between Jim and Pam and gets things moving in the right direction.
Season 3: "The Initiation"
At the beginning of Season 3 of The Office –Jim and Pam are apart with Jim working out of the Stamford branch. However, at the very end of "The Initiation," they share a perfect phone call that keeps us clinging on to what could happen between them moving forward.
Season 3: "The Job"
At the end of Season 3, it FINALLY happens! After literal seasons of build up and frustration, Jim finally asks Pam on a date, and she accepts. It's one of the best moments in sitcom history.
Season 5: "Weight Loss"
Ok, so admittedly, Jim's proposal wasn't the plushest thing we've ever seen. After all, in the midst of the pouring rain at a gas station, he didn't have much much to work with, but we think it was still perfection. The hour-long episode shows all the struggles in Pam and Jim's relationship and how they are so willing to overcome every single one of them.
Season 5: "Blood Drive"
During this episode, Michael is distraught because it's his first Valentine's Day since he and Holly broke up, so he donates blood and then tries having a single's mixer. Obviously, things don't quite pan out. Meanwhile, an engaged and loved up Pam and Jim head to lunch with Bob Vance and Phyllis and get WAAAYYY more than they bargained over what should have been a friendly meal.
Season 5: "Company Picnic"
By Season 5, Holly had entered the Dunder Mifflin clan and watching her and Michael together is a joy to behold. "Company Picnic" is full of some gems between them and it's also the episode where Jim and Pam find out they're expecting!
Season 6: "Niagara"
Finally, after six seasons Jim and Pam get married. Of course, because they're forced to invite all of their coworkers to their wedding, they have a Plan A, and a Plan B. Plan A will surely bring you to tears..
Season 6: "Delivery"
Though The Office lasted for nine seasons, the last true Jim and Pam episode occurred in Season 6 when Pam gives birth to the couple's first child. It's the perfect ribbon on the perfect love story.
Check out The Cheat Sheet on Facebook!