'The Office': When Was Jim and Pam's First Kiss? Jenna Fischer and John Krasinski Disagree About 'The Dundies' Smooch
When did Jim and Pam first kiss on The Office? While they technically kissed in "The Dundies" episode, there's a debate over whether that would be considered their first official kiss. Here's what the stars of the show have to say on the matter.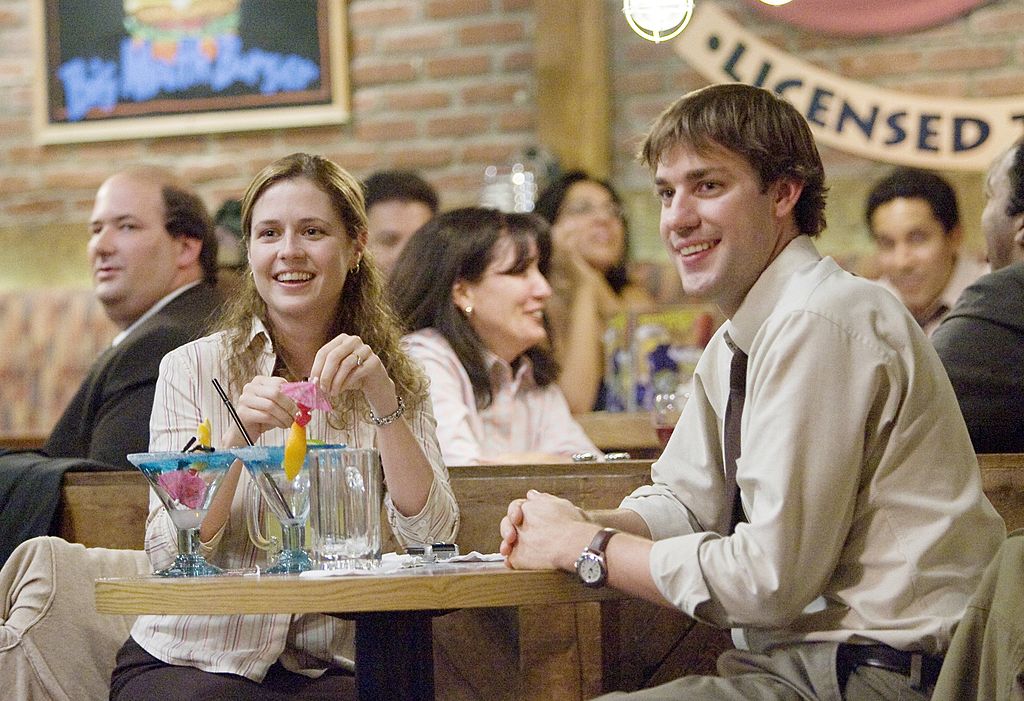 Inside "The Dundies" episode and that kiss
On the Office Ladies podcast, Jenna Fischer and Angela Kinsey do a deep dive into The Office Season 2 Episode 1 "The Dundies," in which Michael Scott has a Dunder Mifflin awards ceremony at a local Chili's restaurant.
Pam won the award for the whitest sneakers and uttered the most quotable line of all time, "I feel god in this Chilis' tonight" when she accepted her Dundie.
Then, after she got the award, she kissed Jim on the lips.
Is it their official first kiss?
Is this considered their first kiss or did it happen in the "Casino Night" episode? Fischer explains why she doesn't think so, explaining, "I did not consider this their first kiss." 
John Krasinski (who played Jim), Fischer explained, believes it totally is their first kiss (as does Kinsey, who says, "You planted one on him").
Fisher believes that since the intention was accidental, it didn't technically count. She noted: "The intention was that Pam was going for his cheek, and it was one of those moments where he moved his head in a way that I wasn't expecting and I'm drunk and I just followed through."
"That was what was in my head as Pam, so I wasn't thinking that I was intending to kiss his lips. Pam kind of doesn't register it," she added.
Fischer noted: "John said that Jim, who is not drunk, was very aware that they just kissed on the lips. This was a whole conversation that we had off-camera."
Kinsey added, "I see both sides. I see for you as a drunk person that you just kind of hug and you're a little bit sloppy, but I see for him as a sober person that this person he's in love with just kissed him."
As for why the moment didn't become office gossip, Fischer said that, in her mind, it's because "it wasn't really a kiss." Kinsey, however, thinks there would have been some chatter about it, explaining, "In my mind, everyone was talking about it at work. Trust me. Angela Martin was sitting with Phyllis in a booth when that happened and I'm pretty sure she was like 'mhmm did you see?'"
The kiss might have been more
Fischer also shared how she suggested filming an alternate ending for the episode because they thought the show might get canceled. She noted: "I said to Greg [Daniels, writer/producer] I think just in case we get canceled and this is the season finale I think we should film an alternate ending to this scene in the parking lot where Pam does tell Jim how she feels and they kiss for real. Not the Chili's kiss, but the real kiss, just so that we could air it and we don't leave people hanging."
Daniels, however, wasn't into the idea, saying, "No. If they want to see what happens with Jim and Pam they're just going to have to order more episodes. I don't want to give them a choice."
And the show did go on… and fans got the big payoff in "Casino Night."