'The Office': Who Was the Real Scranton Strangler?
The story of the Scranton Strangler was weaved effortlessly into the storyline of The Office over the course of three seasons. He first makes an appearance, at least in name, in Season 6, and his last mention occurs in Season 9. While George Howard Skrub is ultimately convicted of the crimes, his guilt is called into question several times. Where the writers of The Office trying to pin the crimes on someone else, perhaps someone employed by Dunder Mifflin? Fans have a couple of theories about it.
Was George Howard Skrub innocent?
Skrub is presumed to be the Scranton Strangler because he's caught, tried, and convicted for the crimes. His guilt, however, is pretty questionable. Toby Flenderson, who serves on the jury insists that he thinks Skrub is innocent and even visits him because he's wracked with guilt.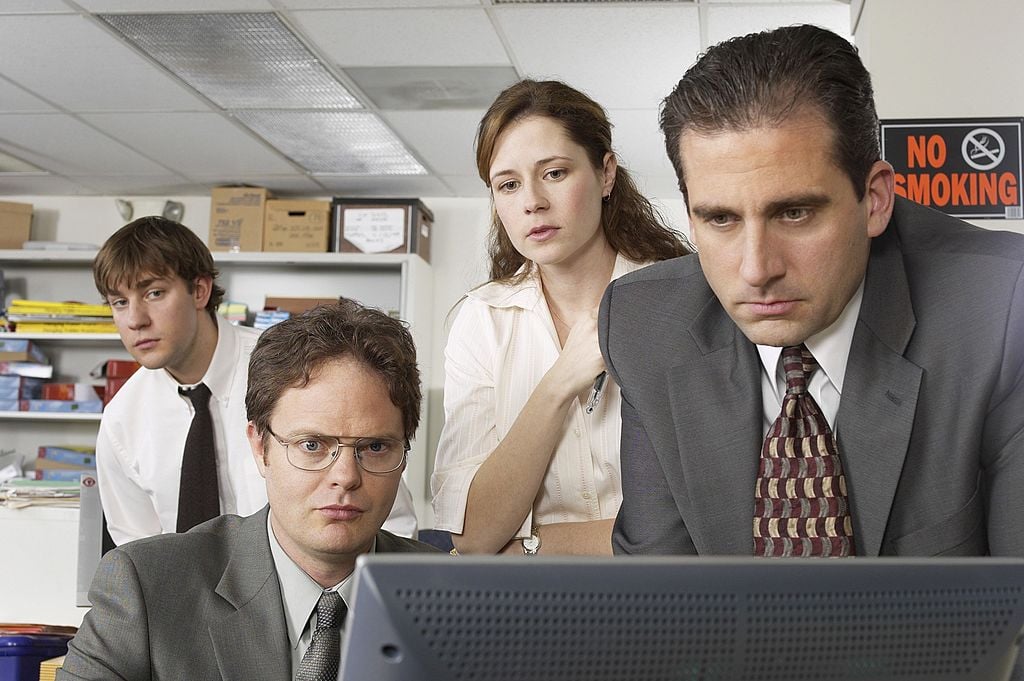 Skrub wouldn't be the first person wrongfully convicted, and it appears as though the writers of The Office want everyone to believe that Skrub isn't the actual perpetrator of the crime. If Skrub is innocent, though, that means the real strangler is still out there, and it's very possible he might be employed by Dunder Mifflin.
Did Jim and Pam's relationship send Toby over the edge?
Plenty of internet sleuths believe that Toby is the actual Scranton Strangler, and there is some serious evidence to back up the hypothesis. Toby is pretty miserable when fans are introduced to him, and things don't get better for him. In fact, Toby's life gets way worse. He hates his job, he's suffered through a painful divorce, and then he watches the object of his affection move on with a different man who seems to have a whole lot more going for him.
Toby tries to change things up and head to an island to start anew, only to end up right back where he started. His life circumstances are only circumstantial evidence, though. Plenty of people hit a rough patch in life without turning into serial killers. Toby, however, is missing during the police department's high-speed chase of the potential killer, and the car looks similar to one that sits in the Dunder Mifflin parking lot. We don't know for sure it's Toby's car, though. After all, he ends up on the jury, so clearly, the police weren't chasing him. After serving on the panel, Toby is allegedly attacked by the Skrub after a visit.
Sure, some people would suggest the attack proves that Skrub is the killer, but one Twitter user has another theory. What if Toby confessed to the convicted killer, thus revealing he's the reason the poor guy is in jail? That seems like a pretty good reason to attack someone.
Does Creed's assertation that he's killed before mean he's the strangler?
While there is a reason to believe Toby could be the Scranton Strangler, there is another office employee who looks like he could be guilty. Creed Bratton is kind of an odd duck. Sure, he's not really a main character, and little is known about him, but isn't that how a serial killer would want to work?
Creed says some crazy stuff during his time in the office, but he also makes assertions that suggest there is something weird in his backstory. Elite Daily argues that the mystery behind Creed is precisely what would make him a perfect candidate for the strangler. If he's claimed to have killed before, it's possible that Creed isn't Creed at all. He may be a serial killer who has just assumed the identity of one of his victims.