'The Office's' Jenna Fischer Said She Instantly Knew Who Should Play the Part of This Character
Jenna Fischer, alum of NBC's previous hit show The Office, is still enjoying all things Dunder Mifflin with her podcast "Office Ladies" alongside former co-star Angela Kinsey. Fischer played central character Pam Beesly on the sitcom, who falls in love with and marries co-worker Jim Halpert, played by John Krasinski.
The actress has previously shared that she felt instant chemistry during initial readings with Krasinski, and knew he would be perfect for the part of Jim from the get-go. Fischer revealed she had the same reaction regarding an audition for another character on the show.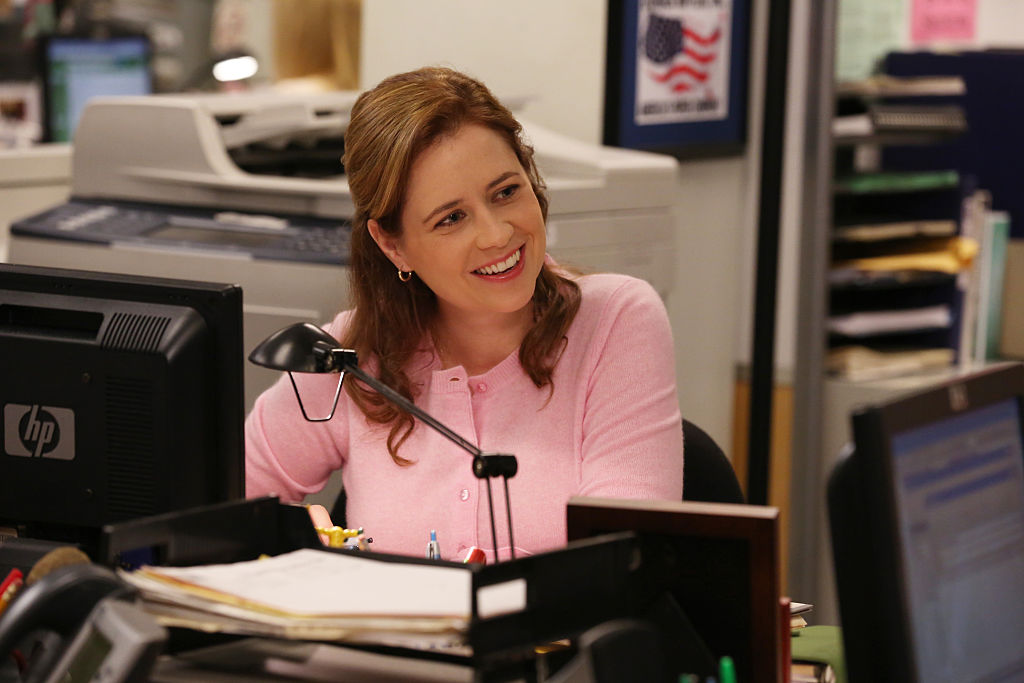 Knew Krasinski was Jim
The relationship between Jim and Pam on The Office lives on in television history as one of the sweetest romances to ever hit the airwaves. Fischer revealed she knew as soon as she met Krasinski that he was meant to play her onscreen love.
"I've been in situations of what you'd call the chemistry read with another actor," she told the Hollywood Reporter in 2017. "They sort of boil a role down to a few choices. And then they ask you to come in and read with other actors. I did chemistry reads with the various people… When I met John and I was reading with John, everything was easy. It was effortless."
The actress shared that reading with Krasinski helped her embody her own character. "I just felt the most like Pam in the easiest way. All of our work together felt so honest," Fischer said. "Chemistry between actors, it's a very elusive thing. To me what it means is it's easy and effortless to access your character with that other actor. I did feel that immediately with Jim. I mean with John! I was relieved that they cast John because it made my job so much easier."
Helped pick 'the other woman'
Fischer also had the opportunity to read with actresses trying out for the part of Karen Filippelli, Jim's love interest in Season three. Once again, Fischer got an instant vibe with one particular person out of all the applicants, just like she did with Krasinski.
"I had the same reaction when I did my chemistry read with Rashida Jones. I was like, 'That's Karen. This is her,'" the actress said. "And the producers asked me my opinion after the chemistry read… once I was on the show and they had me read with the Karens, I just said, 'It's Rashida! I don't know, what did you guys feel?' And they were like, 'Well, that's what we think, but it's confirmed.'"
Jones became a series regular for Season three, then came back for guest appearances during the fourth, fifth, and seventh seasons.
Started in the office … literally
Fischer had some training for her receptionist role while trying to make it in show business and incorporated some aspects of that experience into her character on the NBC sitcom.
"I earned my living as an administrative assistant for seven years as a struggling actress, so I had many office jobs," she shared. "When I got my job on The Office, one of the things that I did was I went to an office supply store and I bought my own pot for my desk and I bought the things that I used to really like having on my desk when I was a real administrative assistant. And I think that it just made the whole world feel more real, because I had that real-life experience when I got The Office job."
Looking back, she commented on her previous position as being invaluable to portraying Pam. "I could never have anticipated that I was going to end up playing a receptionist or a secretary on a television show at the time," Fischer said. "But ultimately, having worked in an office I think gave me details to my character and world that I wouldn't have had if I'd never worked in an actual office."
Fischer's podcast  "Office Ladies" is now available online.