The One Thing Serena Williams Refuses To Give Meghan Markle
Meghan Markle has received some negative press due to her close relationships with various celebrities, but there's little doubt that she is loved and supported by her bevy of Hollywood buddies.
From throwing her an extravagant baby shower earlier this year to speaking out in support of her to the world's media, Markle's friends have regularly shown up and stood up for her.
Now that Markle is a new mother, she will definitely be needing all the support that she can get. Still, one of her high-profile friends recently spoke out and mentioned that there's one thing that Markle can definitely not expect to receive from her.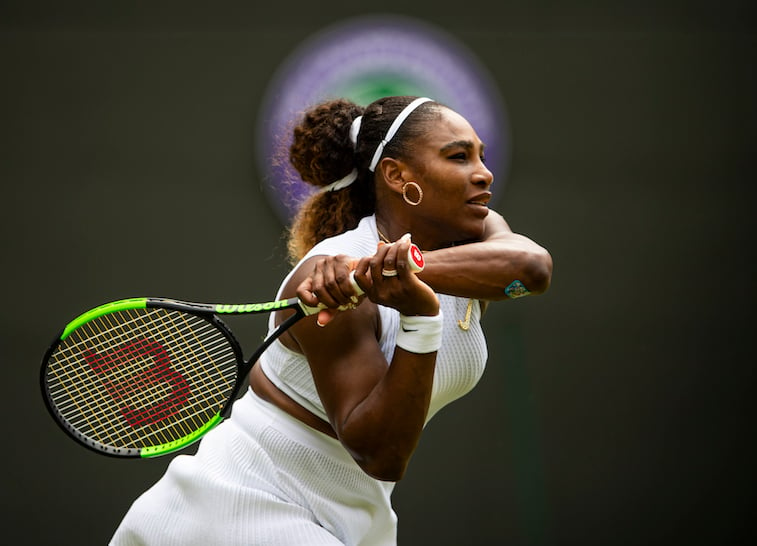 What celebrity friends does Meghan Markle have?
Meghan Markle is a self-made woman and had a thriving career as an actress before she met Prince Harry. During her time in Hollywood, Markle made a number of close connections that she would treasure over the next few years of her life, including several very famous celebrities.
One of Markle's closest friends is Bollywood actress Priyanka Chopra – the two used to spend a great deal of time together and have remained friends even though they now live on opposite sides of the world. Chopra even gifted Markle a present from the jewelry house Tiffany when Archie Harrison was born in May. 
Meghan Markle can also count George and Amal Clooney among her circle of friends. George Clooney even publicly defended Markle when the press was targeting her during the early days of her pregnancy, and both Markle and Prince Harry are known to be good friends with Amal Clooney. In spite of all these big-time Hollywood connections, Markle's closest celebrity friend seems to be a famous sports star.
How long has Meghan Markle been friends with Serena Williams?
Serena Williams, an award-winning tennis pro, first met Meghan Markle in 2010. The two first met at a Super Bowl party, when Markle was still in the fledgling stages of her career. The two hit it off immediately and have been spotted together at many events in the years since.
Williams has spoken out to the press in support of Markle, and when Markle's relationship with Prince Harry first went public, Williams was a staunch supporter of the pair.
Of course, Williams was one of the celebrity guests at Markle and Prince Harry's 2018 wedding ceremony and has continued to stay in touch with her friend ever since. Although Williams doesn't shy away from singing Markle's praises in public, during a recent interview, she revealed that there's one particular area of conversation that she tries to avoid when talking to her longtime friend.
What did Williams say about giving parenting advice?
In early July, Williams gave a revealing interview about the nature of parenting and where her relationship with Markle stands these days, now that Markle is in the throes of babyhood with Archie Harrison.
Williams said that when it comes to offering parenting advice, she follows one rule – don't do it. The tennis pro admitted that the first few months of parenthood are so difficult as it is that hearing any additional suggestions, however well-intended, might be overwhelming for a new mom. 
Williams, who has a one-and-a-half-year-old daughter with her husband, Alexis Ohanian, also stated that she feels like Markle is a natural at giving advice and that all the knowledge she needs, "will come."
There's no doubt that as the two friends grow into their roles as parents, they will continue to lean on each other more than ever before. A friendship like Serena Williams' and Meghan Markle's is truly a rare gem in the world of celebrity culture – but here's hoping it continues to grow and evolve!