'The Other Woman' Beats the Superheroes at the Box Office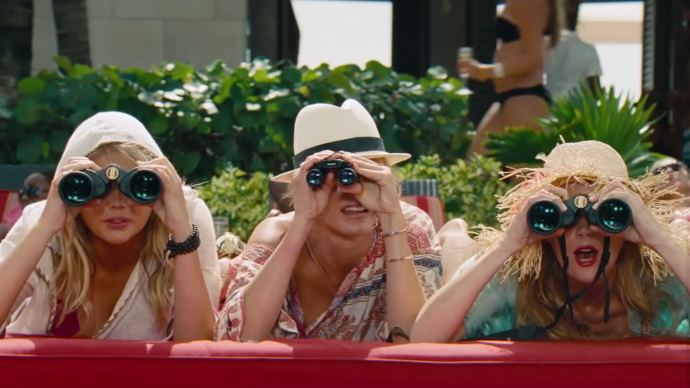 This weekend, the box office saw Captain America: The Winter Soldier's three-week reign ended by The Other Woman, a chick flick starring Cameron Diaz that benefited more from its star power than from critical acclaim. The Other Woman took in $24.7 million in its opening weekend, unseating the latest movie in the Marvel Avengers franchise, according to data from Box Office Mojo. The Winter Soldier came in second place, still earning a respectable $16.2 million in its fourth week in theaters. All the big movies the debuted this weekend suffered from lackluster reviews, but poor critical reception wasn't enough to dampen the turnout for The Other Woman.
The faith-based film Heaven Is For Real came in third place with $14.3 million, a 36.3 percent drop from the previous week but still a strong performance for a movie with a targeted Christian audience. Faith-based movies have shown increasing popularity as of late. Recent films based on Christian themes — including Noah, Son of God, and God's Not Dead – have performed well at the box office. Son of God made $25.6 million in its opening weekend in February; God's Not Dead surprised in March when it took in $9.2 million at the small number of theaters in which it opened; and the big-budget flood story retelling Noah grossed $43.7 million in its opening weekend.
The animated Rio 2 came in fourth for the weekend, earning $13.8 million, a 37.4 percent drop from the previous week. Aside from The Other Woman, the other big openers over the week were the action movie Brick Mansions and the horror flick The Quiet Ones. Brick Mansions, which stars the late Paul Walker and features impressive parkour stunt work, debuted in fifth place earning $9.5 million.
The Quiet Ones, which doesn't have much star power to work with and has received poor reviews, debuted in seventh place, earning $3.8 million. Box Office Mojo said that The Quiet Ones had the worst opening of 2014 for a movie playing in over 2,000 theaters and overall had the worst ever debut of a supernatural horror movie playing in that many locations.
Johnny Depp's science fiction flop Transcendence came in sixth place, dropping 61.2 percent from its opening last week to make just $4.2 million over this past weekend. The movie opened over Easter weekend to make just $10.8 million, a failure among critics and audiences alike. Venerable Rolling Stone film critic Peter Travers even went so far as to call Transcendence "one of the biggest disappointments of the year." The movie, which co-stars Morgan Freeman and Rebecca Hall, will likely have trouble making back its $100 million production budget.
This coming weekend will see the release of The Amazing Spider-Man 2, which based on its critic-proof formula and strong performance in foreign markets, will probably clean up at the box office. The Sony reboot of the franchise starring real life couple Andrew Garfield and Emma Stone as Peter Parker and his first love interest Gwen Stacy has a mediocre 69 percent fresh rating among critics on Rotten Tomatoes, but 98 percent of 128,616 users of the site said they want to see it.
Spider-Man 2 has basically no competition for its opening weekend, but could see some push-back the following weekend when the raunchy comedy Neighbors starring Zach Efron and Seth Rogan debuts. Ninety-eight percent of 32,317 Rotten Tomatoes users have said they want to see Neighbors, and interest will likely grow as the film's opening approaches.
More From Wall St. Cheat Sheet:
Follow Jacqueline on Twitter @Jacqui_WSCS