The Pre-Fame Gig Chris Hemsworth 'Secretly' Loved
Today, Chris Hemsworth is known worldwide as the man responsible for portraying the God of Thunder in the MCU. By the time the worthy actor (pun intended) finishes his run as Thor, presumably in 2021's Thor: Love and Thunder, he will have spent a decade climbing into that skin-tight suit and swinging his iconic hammer.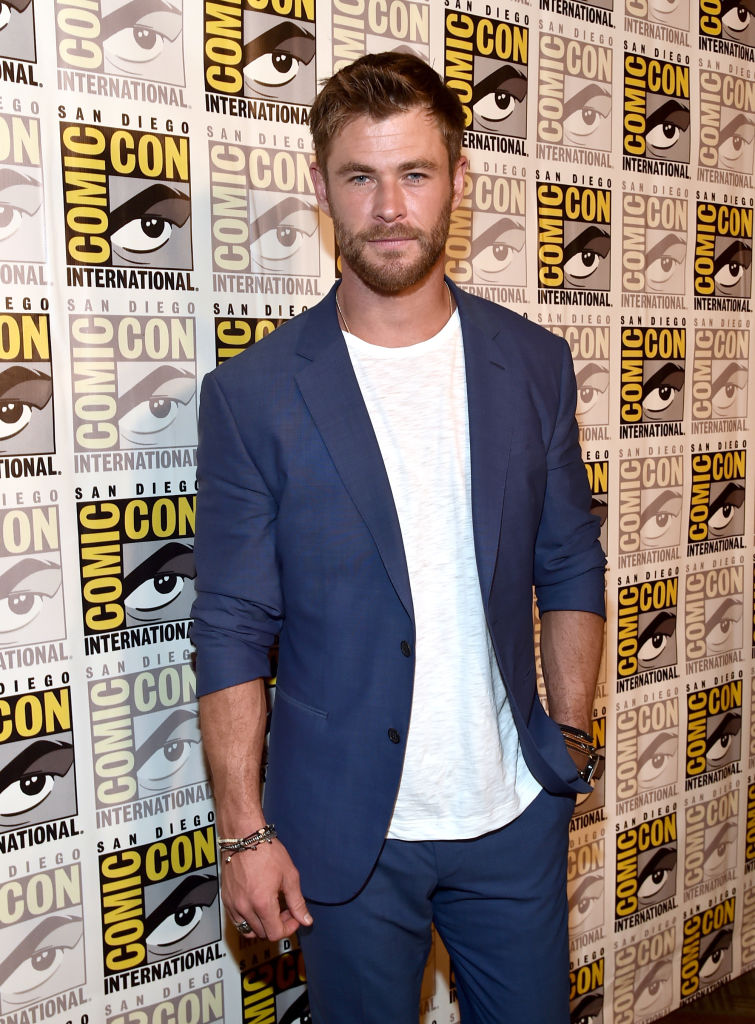 Chris Hemsworth may be one the biggest actors currently working in showbiz — set to star in a Hulk Hogan biopic, What If…?, Dhaka, and the Jay and Silent Bob reboot — however, he did not miraculously become the A-lister he is today. Before becoming one of Hollywood's most desirable, he acted in the Australian soap opera Home and Away, and found himself in one of the most famous competition shows currently on the air. 
Chris Hemsworth, when he was just beginning to ascend the entertainment ladder, found his way to reality TV. And, if it's not clear already, remember he is a "star;" how many competition shows do stars appear on?
MCU star Chris Hemsworth 'secretly' loves that he was on Australia's 'Dancing With the Stars' 
While promoting Men in Black: International alongside Tessa Thompson, Chris Hemsworth got to talking about his movie career, and past experiences in the industry. He would up revealing why he brings up his turn on Dancing with the Stars so frequently. For those of you who did not know, he starred on season six of Australia's version. 
While chatting with E! News, Hemsworth was asked if he ever wishes he had the ability to take someone else's memory away, which his character is able to (with the neutralizer) in Men In Black: International. Chris Hemsworth responded, "Yeah. Probably Dancing With the Stars. Maybe on that show…be a great pleasure to erase that from their minds." 
Tessa Thompson goes on to note that, if Hemsworth wants people to forget about it, he should stop mentioning it. Hemsworth says, "No, because, secretly, I love it."
While Chris Hemsworth may pretend to be embarrassed by his run on Dancing With the Stars, deep down, he seems grateful for the opportunity. He simply tries to convince people he wasn't about it when he loved every second of it (as you can tell in the video below). Chris Hemsworth did not win Dancing With the Stars, but at least he picked up some stellar moves along the way.
If there's anything Hemsworth regrets about his time on the show, it's likely that it almost kept him from landing the role of Thor in the MCU. According to ComicBook.com, Chris Hemsworth discussed how Kevin Feige felt about the actor's participation in the competition show, and it created a little hesitance. Kevin Feige reportedly said the following: 
We all saw your audition, we were passing it around the office, and everyone was really into it. And then a few of the girls started Googling your name and up came this dancing video and I thought, oh no, Thor dancing? I don't know, the fans are gonna eat us alive.

ComicBook.com
Chris Hemsworth goes on to joke that his participation in DWTS made him quicker on his feet, and maybe even aided his performance in Marvel's Thor. In the end, everything happens for a reason, right?