'The Predator': Which Actors Abandoned Olivia Munn After Casting Scandal?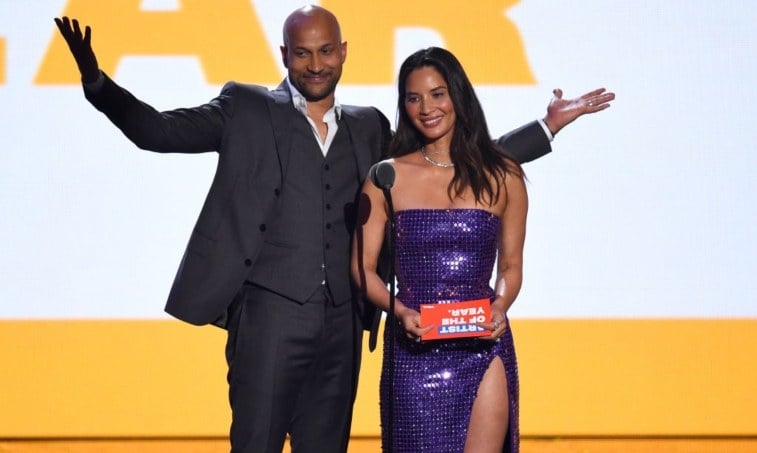 Director Shane Black has been in hot water for casting a registered sex offender named Steven Wilder Striegel in a small role in The Predator. Striegel reportedly played a jogger who hits on Munn. After Munn found out about Striegel, who pled guilty to luring a 14-year-old girl into a sexual relationship via online, she alerted the studio and the scene was cut. She has also spoken out against Black for not notifying her about Striegel's past, and she has claimed some of her cast members have abandoned her by leaving her to do interviews by herself at the Toronto International Film Festival (TIFF).
In an interview published Sept 8., Munn told The Hollywood Reporter, "It's a very lonely feeling to be sitting here by myself when I should be sitting here with the rest of the cast." So who are the cast members who ditched the scheduled interview? Here is every statement the cast has released so far.
Keegan-Michael Key wasn't scheduled to do the interview
The Hollywood Reporter wrote that Keegan-Michael Key wasn't scheduled to do their interview with Munn. His representative gave them a statement about his schedule.
"His last interview was scheduled after lunch, which he completed," said the representative. "He was always departing TIFF early so he could be home to spend the Jewish holiday with his wife. Furthermore, Keegan reached out to Olivia privately last week to let her know how proud he was of her and echoed that sentiment in many interviews since then."
Munn has since tweeted her response to this statement. In one tweet she wrote, "this public statement by his rep addresses the situation inaccurately by citing a text that was sent a week before the story came out."
She then tweeted, "This doesn't have to be a neverending discussion. Talking privately to fully understand what the issues are before putting out a public statement would be helpful. It's not ok to distort facts in an attempt to counter the feelings I've expressed. (For the record, I love Keegan.)"
Sterling K. Brown tweeted that he was not at TIFF to be with Munn
Since Munn's interview with The Hollywood Reporter, Sterling K. Brown tweeted a response. He wrote,"[email protected] I'm sorry you're feeling so isolated, my dear. And I'm sorry you've been the only one to speak up publicly. I was not at #TIFF so I didn't have an opportunity to be there with you."
He then later tweeted, "Our studio was not given that opportunity, and neither was our cast. Especially @oliviamunn who was the only member of the principal cast who had to work with him. I so appreciate that you "didn't leave well enough alone," & again, I'm sorry you feel isolated in taking action."
Trevante Rhodes did an interview with Munn and said he wasn't disappointed in Shane Black
At TIFF, Rhodes did do an interview with Munn and co-star, Augusto Aguilera. This interview was released the same day Munn did her interview with The Hollywood Reporter where she claimed a co-star dropped out of their interview.
He gave his reaction to the situation. "I wasn't disappointed in Shane," he said according to the Los Angeles Times. "I was disappointed in the situation, and I'm happy that Liv spoke up."
Aguilera said 'it takes a lot of courage' in response to Munn in an interview with her
In the same interview, Aguilera gave his response. "I thought about the possibility of this continuing to happen," he said, "and where it happens — and also to Liv, for speaking up on such a subject, because it takes a lot of courage to be able to say that."
Boyd Holbrook admits to dropping interviews on Sept. 8
Boyd Holbrook eventually released a long statement through his representative to Vanity Fair. In it, he admits to dropping interviews the same day Munn revealed someone dropped out of an interview with her. However, specific interviews that were dropped weren't named so it's unknown whether he was scheduled to talk to The Hollywood Reporter. The statement reads:
It is true that I pulled out of a small amount of press on Saturday, as this type of social commentary is new to me and given the nature of the originating crime, I felt further discussion could cause unwanted trauma and pain, neither of which I wanted to incite to the anonymous young woman. I now realize that my understanding of the situation was not the full picture and the last thing I want is for Olivia to ever feel abandoned or alone. We are in the midst of a very crucial and important time and it is imperative that we keep listening.
It took some time and pressure with Munn's comments to get more of the cast to give some kind of response to the scandal. The rest of the cast has yet to do the same.
Read more: 'The Predator': Everything We Know About the New Sequel
Check out The Cheat Sheet on Facebook!