'The Property Brothers': Dark Secrets You Never Knew About Drew and Jonathan Scott
Even if you've never picked up a hammer in your life, we bet that there's something about HGTV's home renovation shows that draw you in. From Fixer Upper to The Property Brothers, there is something on the home improvement network for everyone. Twin brothers Drew, and Jonathan Scott, also known as the Property Brothers, certainly have a massive following.
The Canadian natives launched their series almost a decade ago, and since then they've had a ton of spin-offs, some exclusive events, and a ton of other fascinating projects. Still, the upbeat duo haven't always had the picture perfect lives. Here are some dark secrets you probably never knew about The Property Brothers.
A terrible error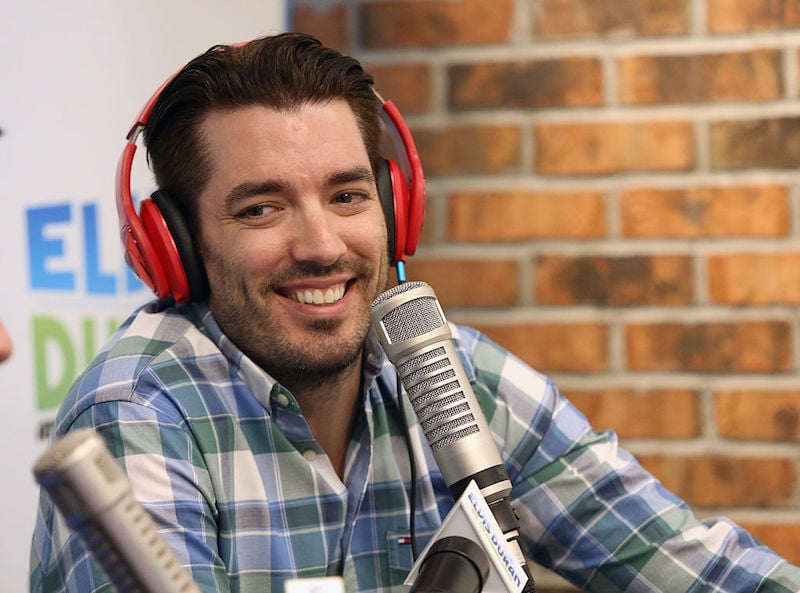 Before he began pursuing home renovations, Jonathan desperately wanted to be a professional magician, but his plans failed miserably. In fact, things got so bad that he had to file for bankruptcy. Not only did he invest way too much money in training equipment, but his finances also took a massive hit when he was robbed of everything he had.
Unfortunately, the bankruptcy led Jonathan into a downward spiral of depression. He later said that it was, "the worst mistake, financially, of my life because I think I really could've held out and over maybe five or six years paid that off."
Next: $70,000 upfront 
A massive fee
If we're honest, we know that The Property Brothers is a show geared toward the upper and wealthier classes. After all, folks can only apply to be on the series if they have a budget of at least $70,000. However, we bet you didn't know that The Property Brothers also have a 25% percent contingency fee.
This essentially means that folks have to fork over even more dough if things go wrong during their renovations. If you've watched even one episode of The Property Brothers, you know that things always go wrong. Basically, you probably shouldn't apply unless you have an endless budget.
Next: This is why the Scotts are so good with kids.
Their first career
It's not easy to be likable TV show hosts who also know the ends and out of their craft, but we now know why Drew and Jonathan have such sunny dispositions. Back in the day, one of their first jobs was as clowns.
In an interview with Parade, Drew explained, "Jonathan and I used to design floats when we were younger. We used to actually be clowns. One of our first entertainment gigs – we were clowns at parades and birthday parties."
Next: Drama for the ratings 
Scripted tension
Who doesn't secretly live for the moments when couples are fighting over layouts or money on The Property Brothers? We know we do. However, it looks like all of the bickering and tense moments on The Property Brothers might be all for show. Like any good reality TV program, the producers wade through their applicants' paperwork and mark any red flags.
To get the best show they can, they make sure to have Jonathan and Drew spotlight any differences or disagreements couples may have had in the past when it comes to homeownership and renovations. Who knew they were that messy and lived for drama?
Next: A secret relationship
A hidden marriage and divorce
Though the Property Brothers seem approachable on TV, fame has certainly prompted them to protect some aspects of their personal lives. In fact, Jonathan went as far as to hide his first marriage and divorce. In the brother's book, It Takes Two: Our Story; he revealed that he was married from 2007 to 2013.
The two married on July 7, 2007, but things started going downhill after the newlyweds moved to Las Vegas the next year. With Jonathan pursuing magic and real estate and his wife working as a waitress and model, the couple gradually grew apart, especially when his then-wife removed him from her relationship status on Facebook.
We can see why Jonathan wouldn't exactly want to discuss this relationship.
Next: A fake sense of friendship
No real bond with their homebuyers
Though it looks like Jonathan and Drew share a close relationship with the homebuyers on The Property Brothers, that's not actually true. In fact, couples only see the Scotts eight times during their six weeks of renovation.
The show's application states that applicants must be available for filming eight days out of the 6-week construction process. What bonds could possibly be formed in that short amount of time?
Next: A humilating moment 
A cringe-worthy nude scene
While Jonathan was pursuing magic, Drew had his sights set on Hollywood. Determined to make it as an actor, the Property Brother was hired for a role in a zombie movie and even had a nude scene that the film's director promised would be tasteful. Spoiler alert! It was not.
Drew later reflected on the scene saying, "The cinematography was on a par with proud parents shooting their kid's recital with a video camera that requires them to hiss, "Is it on?" back and forth for an hour. My bare a** made its screen debut right in the middle of this terrible film."
Next: For couples only
Shunning singles
We've all seen couples, newlyweds, and even family members pop up on The Property Brothers. But there has never been any episodes with single folks buying their first home for themselves. In fact, the show doesn't allow singles at all.
Apparently, The Property Brothers want couples because they feel it gives the show a more unique and memorable appeal.
Next: Jonathan the brawler 
A very naughty bar fight
No one said The Property Brothers were angels, but we also didn't expect Jonathan to be caught up in a bar fight. In 2016, Jonathan was visiting Fargo City, North Dakota. Around closing time, a bartender took Jonathan and his friends' drinks away, which got them all rilled up.
TMZ even got footage of the fight, which showed Jonathan being held in a headlock by one of the bouncers. Luckily, all he got, in the end, was a bit of embarrassment since he avoided any fines or jail time. This is why if we were a celebrity, we would stay home.
Next: Keeping their hands clean
Not the actual renovators
On The Property Brothers, we've all seen Jonathan get his hands dirty with sledgehammers and drills for the renovations. But in reality, he doesn't do any of that work himself. Instead, the show hires local construction crews to complete the upgrades, while the brothers sit pretty in the background.
One Redditt user complained, "They use local contractors in the areas they are working in. They get referrals (not sure from whom) and then narrow down the crews they use to 4 different ones. I'm assuming we won't get to choose which crew is working on our home."
At least the Scotts are giving jobs to the folks in the communities they enter.
Next: An HGTV war
The Property Brothers v. Fixer Upper
Fixer Upper stars Chip and Joanna Grimes recently hung up their hammers, stepping away from the mega-popular HGTV show to focus on their family and other projects. However, when the couple was on HGTV they apparently had a feud with the Scott brothers. The New York Times reported that the tension began when "The Scotts claimed the Gaines were offered a guest appearance on Property Brothers but turned it down."
Drew later tried to smooth things over when he said, "We're one big family, which is why we love bringing [fellow HGTV stars] in to judge us… We know a lot of the [HGTV] talent really well. Our show started airing in 2011 and over that time we've met [Chip and Joanna] once or twice. They were really nice."
We guess it really doesn't matter now.
Next: Doing your own groundwork
Staged house hunting
On The Property Brothers, we watch participants bicker over buying their home, but apparently, this is all for show. In fact, before folks even apply, they should already have a house that they want in mind.
Real estate agents are required to be licensed in the state where they are involved in the purchase or sell of a home. Seasons 9 and 10 of the show were filmed in Greater New York, yet Drew is not listed as holding a NY real estate license. Additionally, general contractors are required to be licensed by the state they are working in. Well, Jonathan is not listed as holding a NY Home Improvement Contractor license or General Contractor license.
Um.
Next: Mastering shock and awe
Fake reactions
The only thing more dramatic than reality TV is staged reality TV, and that's just what The Property Brothers is. In fact, the show has been known to recreate reactions until they get the perfect shot.
Jonathan told The New York Times, "At the end of the day, it has to be interesting television. But when we find a load-bearing wall, we are really finding a load-bearing wall."
Next: Return to sender 
Smoke and mirrors
Don't you love all of the fancy decor on The Property Brothers? We do as well, but apparently, it might not be for the couples to keep. It just might be for the camera.
E! Online said it best, "There probably aren't a bunch of families all over North America still enjoying the immaculate décor picked out by Property Brothers' contractor-interior designer Jonathan Scott, either. Boo."
Next: Very little bang for your buck.
Only four rooms allowed
The best part of The Property Brothers is the big reveal — only sometimes, it's not so big. All this time. we thought that contestants got their entire homes renovated, but apparently it's only four rooms.
It gets worse. Participants are forced to choose between their bathrooms and their kitchen. So really what is the point?! Also, that's a lot of money for four measly rooms!
Follow Aramide Tinubu on Twitter @midnightrami.
Read more: 15 Things You Didn't Know About the 'Property Brothers'
Check out The Cheat Sheet on Facebook!