The Real Alex From 'OITNB' to Share Her Side of the Story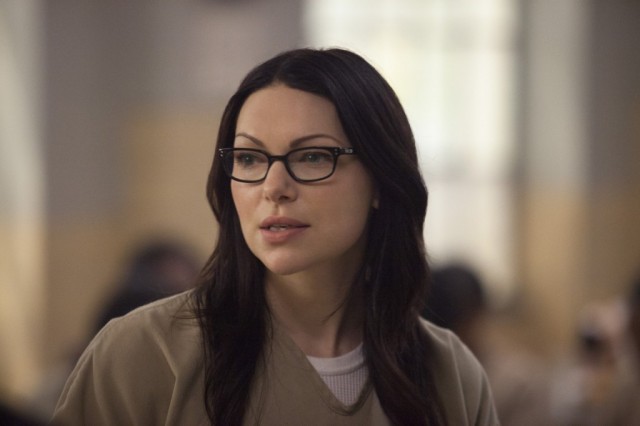 Orange Is the New Black fans are about to hear a whole new side of the story. Though the Netflix hit series is definitely an entertaining and well-written show, there have been questions over how accurate a portrayal it is. After all, though the series is known to depict mostly fictionalized version of real-life events, it is (at least loosely) based on Piper Kerman's best-selling memoir of the same name. But it looks like we're about to hear another perspective on the matter as Kerman's ex-girlfriend, Cleary Wolters—the woman who inspired Laura Prepon's character on the show, Alex Vause (seen above)—is reportedly working on her own memoir.
According to the Hollywood Reporter, Wolters has inked a deal with HarperOne to tell her side of the story in a book entitled Out of the Orange. The memoir will cover her "complicated relationship with Kerman" and the time she spent in prison. It will also detail the events leading up to her arrest, including her growing involvement in an international money laundering and drug trafficking scheme that landed her in all sorts of dangerous situations.
"Alex [the character] and Piper have inspired me to tell my whole story — an unbelievable saga that takes place all over the world: Africa, Europe, Asia, and the U.S. both in prison and out," Wolters said in a statement. "I think people may be surprised at what happened to me after I turned myself in — and where my life is now."
Given the wide success of the series and the popularity of the Alex Vause character, it's safe to say plenty of people will be interested in hearing her perspective–especially since Wolters has had no problem pointing out the discrepancies in the show's retelling of the story in the past. In April, she told Vanity Fair that she and Kerman were never even girlfriends, just "friends with benefits." Kerman later wrote to the magazine to express her disagreement, saying, "If Cleary believes we were never girlfriends, that is startling news to me, though it's certainly not the first time she has surprised me."
Of course, it's not a surprise that the show has taken liberties with the story for dramatic effect. As has been previously stated by Kerman herself, it's a fictional series. In real life, Kerman and Wolters weren't even in the same prison together, except for when they had to testify (an event that was illustrated during the second season of the series).
Still, hearing the true story from Wolters won't undermine the show or make it any less entertaining. If anything, it seems as if it will only provide more juicy details for fans to dissect and obsess over. Plus, it means audience members will finally get some long-awaited answers to the questions many have been wondering about since the show's debut (including exactly how she got involved in her fast-paced, dangerous life), as well as some help distinguishing between what's fact and what's fiction (What was the brief prison time they did share together really like?).
The memoir is to be published in May 2015, about a month before the show's highly anticipated season three will arrive on Netflix.
[mediagraph-partner content_url="8486264a437fe65e7f9c63ac"][/mediagraph]
More from Entertainment Cheat Sheet: