The Real Reason Donald and Ivana Trump Got Divorced
It makes us chuckle when we think about it now, but Donald and Ivana Trump were a massive A-list couple in the late '70s and '80s. The pair were married for 15 years and had three children together, Donald Jr., Eric, and Ivanka. Their marriage, which began in 1977, came to a screeching halt in 1992. Trump would go on to wed Marla Maples and have his daughter, Tiffany. After divorcing Maples in 1997, he would eventually marry his third and current wife, Melania, and have a son, Barron.
Though they've been divorced for over 25 years, Ivana and Trump remain extremely close. The duo often chats on the phone for long stretches of time, and they generally only have good things to say about one another. After Trump became president of the United States, Ivana even jokingly said that she was the real first lady.
Since the former couple is so tight after all these years, we wondered why they got divorced in the first place. It turns out, the moment Ivana knew her marriage was over was intense (page 5).
New York, 1976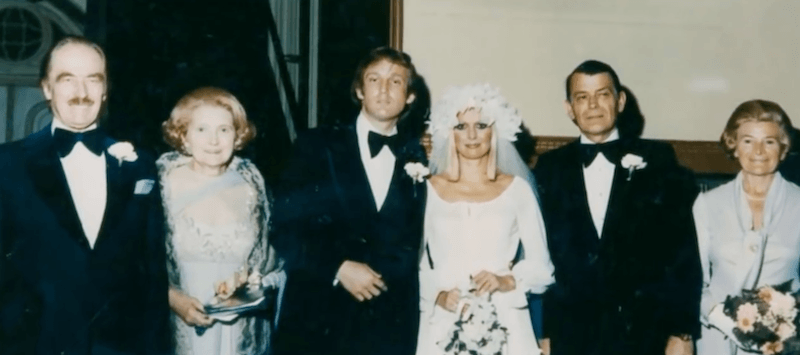 Ivana and Trump crossed paths for the first time on New York's Upper East side one day in 1976. Ivana was visiting the Big Apple for a fashion show and decided to stop at the now-closed Maxwell's Plum, for a meal. Trump was already in the restaurant and made a beeline for the former model as soon as he spotted her.
Ivana told The New York Post, "[There's] this tall blond guy with blue eyes. He said, "I'm Donald Trump and I see you're looking for a table. I can help you." I look at my friends and said, "The good news is, we're going to get a table real fast. The bad news is, this guy is going to be sitting with us."
The rest was history. After the meal, Trump paid the tab and waited for Ivana outside of the restaurant. The duo began dating and wed less than a year later.
Next: Raising Trump
The CEO of the home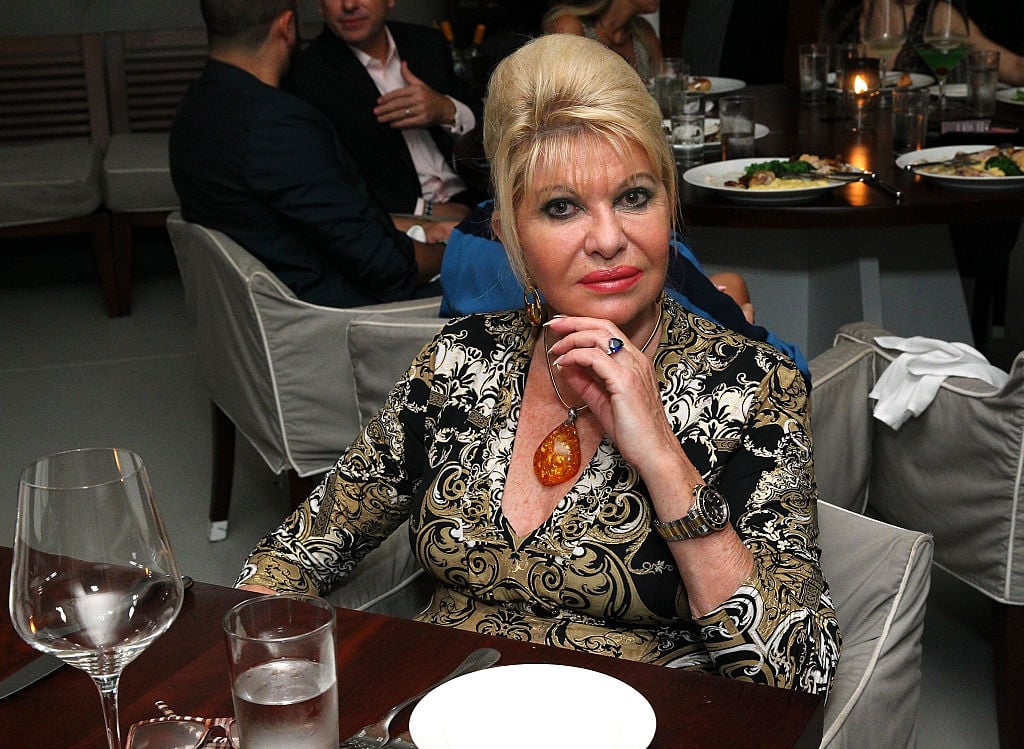 Throughout his years in the spotlight or even now as the President of the United States, Trump has been vocal about being a hands-off father. Ivana verified that information. In an interview with ABC News, the businesswoman recalled,
There can be only one chef in the kitchen. I would go and call Donald, I said, "Ivanka is going to Chapin, or she's going to go to the Georgetown University. Eric is going to go to Hill School," and he said, "OK." I was in charge. I just told him where they're going to go, and he said, "OK." He trusted my judgment because I know the personality of my kids.

He was a loving father, don't get me wrong, and he was a good provider, but he was not the father which would take a stroll and go to the Central Park or go play to baseball with them or something. It was only until they were about 18-years-old [that] he could communicate with them because he could start to talk business with them. Before, he really didn't know what conversation to strike with the little kids.
Next: A picture-perfect life
A bowl of cherries
Not only did Ivana run the Trump household, making all of the decision concerning her children, she also worked outside of the home helping to build Trump Tower and the Commander hotel. In fact, things between the pair were going swimmingly throughout much of their marriage. Even Trump agreed.
In 1994, two years after their divorce was final, Trump gave an interview to ABC's Primetime Live. He said, "Well it's interesting because it's possible that you know, maybe it would still be going on. I'm not sure. My life was so great in so many ways. The business was so great… a beautiful girlfriend, a beautiful wife, a beautiful everything. Life was just a bowl of cherries."
Next: Increasingly sloppy about his indiscretions 
A history of infidelity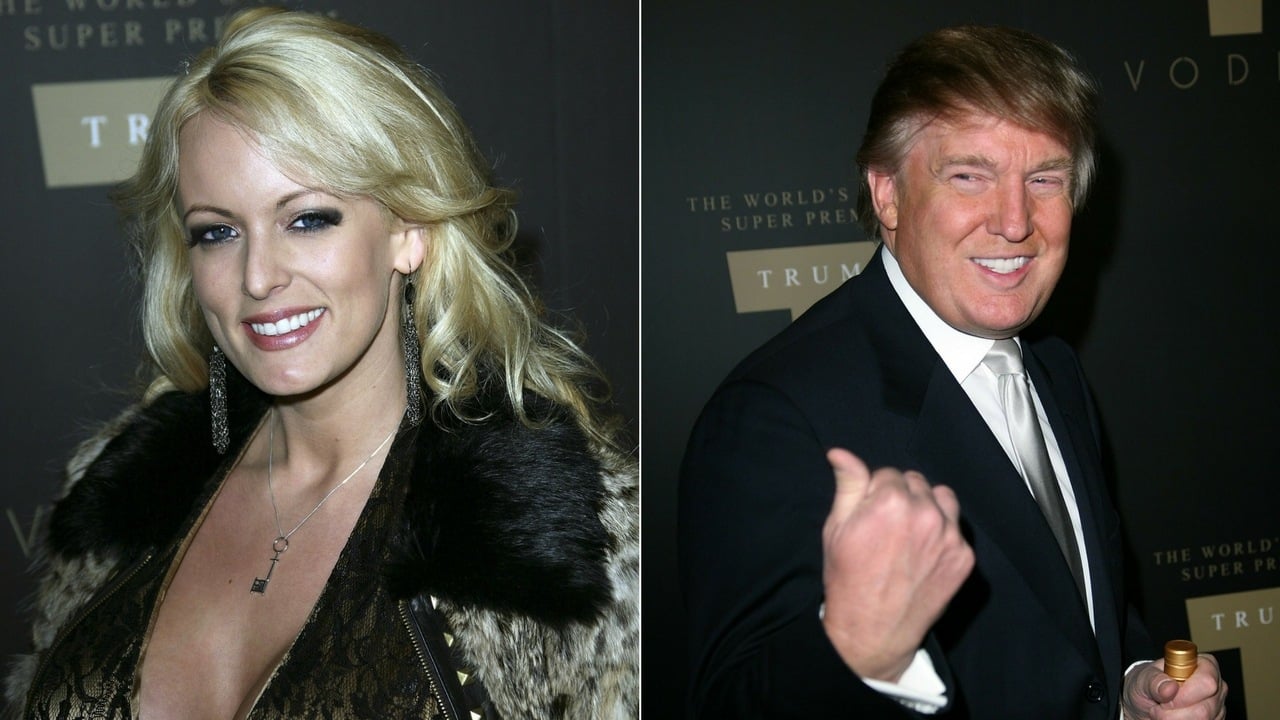 Adult film star Stormy Daniels' claims about President Trump should come as no surprise to anyone. In fact, Trump has a history of infidelity and alleged sexual misconduct. When he met Maples in the late '80s, Trump started to get even sloppier about his extramarital affairs.
According to Vanity Fair, the pair met on Madison Avenue. Maples told Vanity Fair, "I had seen him at different places throughout the years, and just said hello, I was just somebody he shook hands with." The article goes on to say that Maples would frequently visit Atlantic City in the late '80s where Trump did business.
Roger Gros, at the time the managing editor of the magazine Casino Journal, told Vanity Fair, "Donald was not really very discreet about it. He had her stay on the Trump Princess all summer except when Ivana came."
Next: The Aspen incident 
A blonde explosion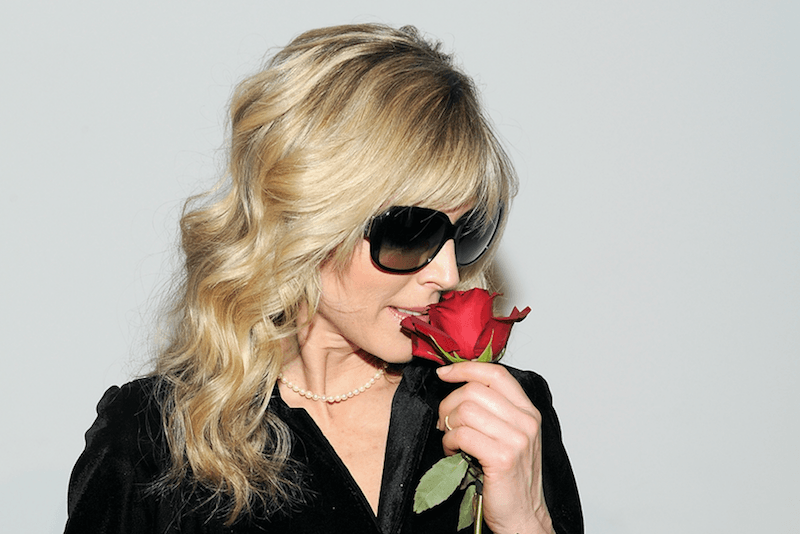 Everything came to a head in 1989 during an incident between Ivana and Maples in Aspen during the week between Christmas and New Years. Though his family was also visiting the city, Trump invited Maples to Aspen to stay at a penthouse.
Maples and Ivana crossed paths at an upscale restaurant in the resort town and began arguing. In Raising Trump, Ivana writes, "This young blonde woman approached me out of the blue and said "I'm Marla, and I love your husband. Do you?" I said, "Get lost. I love my husband." It was unladylike, but I was in shock."
It was after her encounter with Maples that Ivana knew her marriage was over.
Next: A $14 million payout
Paying up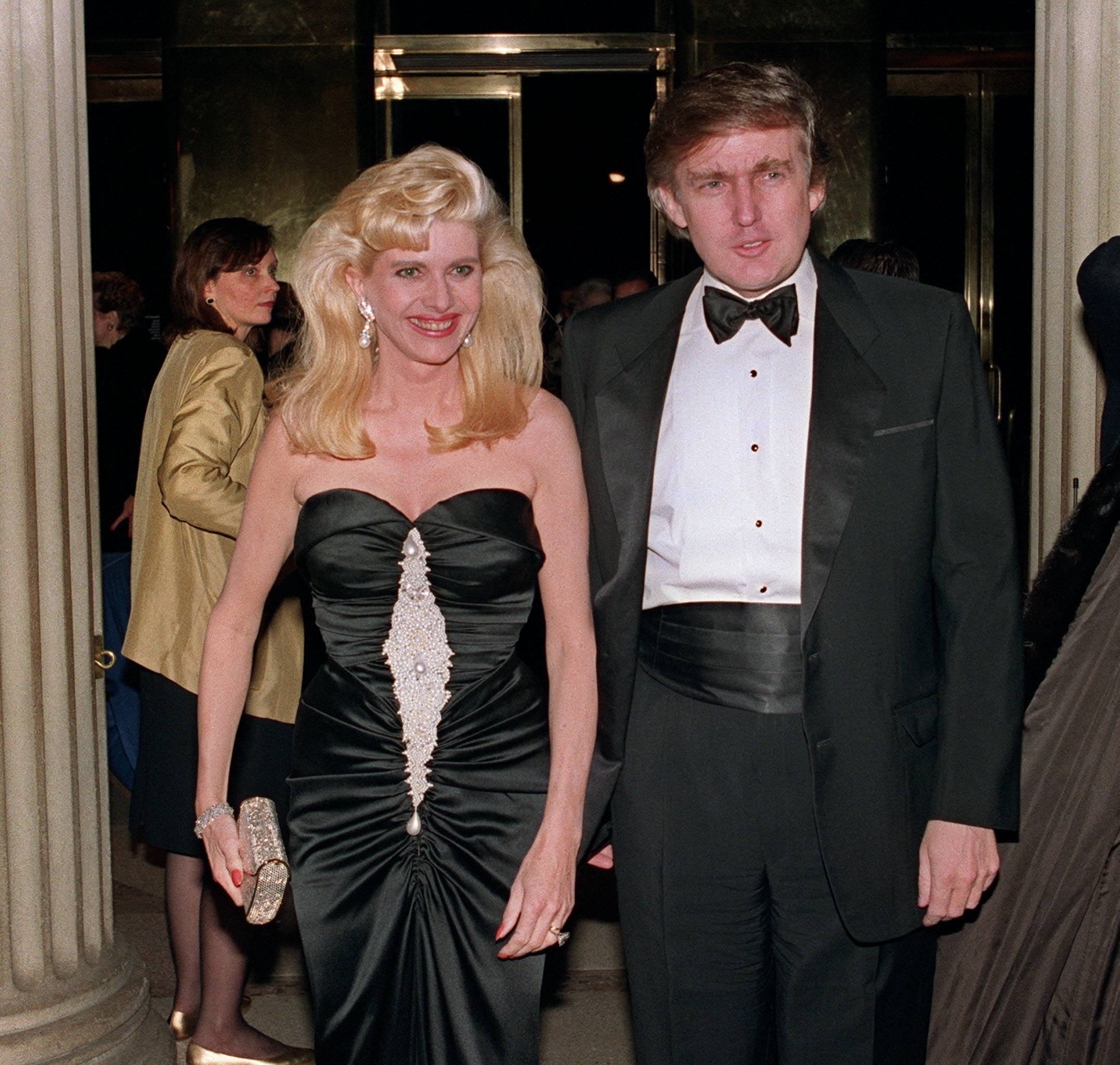 Though there was a prenuptial agreement in place when they wed in 1977, fifteen years and three kids meant that Trump still had to give Ivana what she was owed. Trump had to pay Ivana $14 million in cash. He was also required to pay $350,000 in annual alimony, as well as child support payments of $300,000 each year for their three children.
Ivana also left the marriage with the couple's Greenwich, Connecticut mansion and a Trump Plaza apartment.
Next: A tabloid disaster 
A ton of pain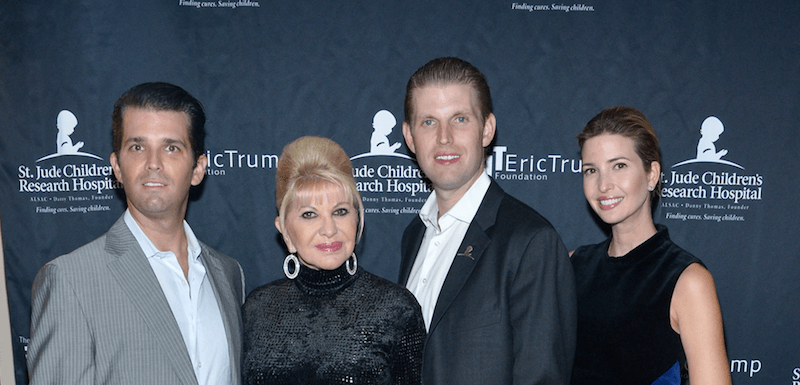 Though we know their antics now as adults, the Trump children were just kids when their parents divorced. Ivana recalls the tabloids and media coverage causing them a great deal of pain. In Raising Trump, she remembered, "I can only shake my head at how it insane it was. I couldn't turn on the television without hearing my name."
Donald Trump, Jr. the oldest of the children was just a tween at the time and refused to speak to his father for a year after the divorce. He told New York Magazine, "Listen, it's tough to be a 12-year-old. You're not quite a man, but you think you are. You think you know everything. Being driven into school every day and you see the front page and it's divorce! THE BEST SEX I EVER HAD! And you don't even know what that means."
Next: First lady wars
A warm relationship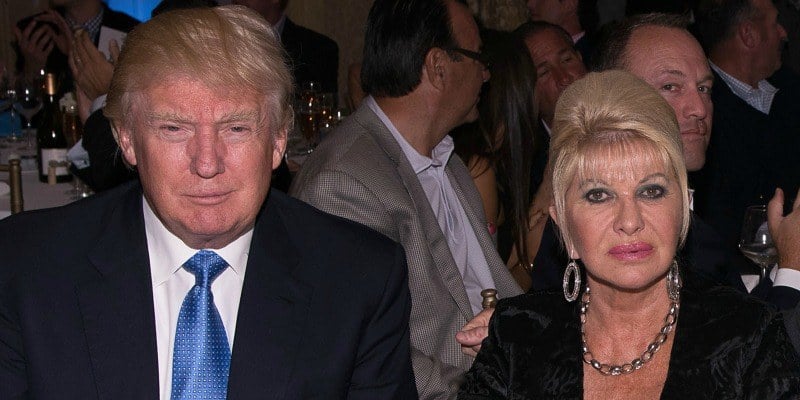 These days, things are much chummier between Ivana and Trump. In fact, the mother of three has a direct line to the White House and speaks to Trump on a weekly basis.  The president even offered Ivana a role in the White House.
She told ABC News, "I [don't] really want to call him there, because Melania is there and I don't want to cause any kind of jealousy or something like that, because I'm basically first Trump wife. OK? I'm first lady."
Next: Some thoughts on Marla Maples.
Forgiving Marla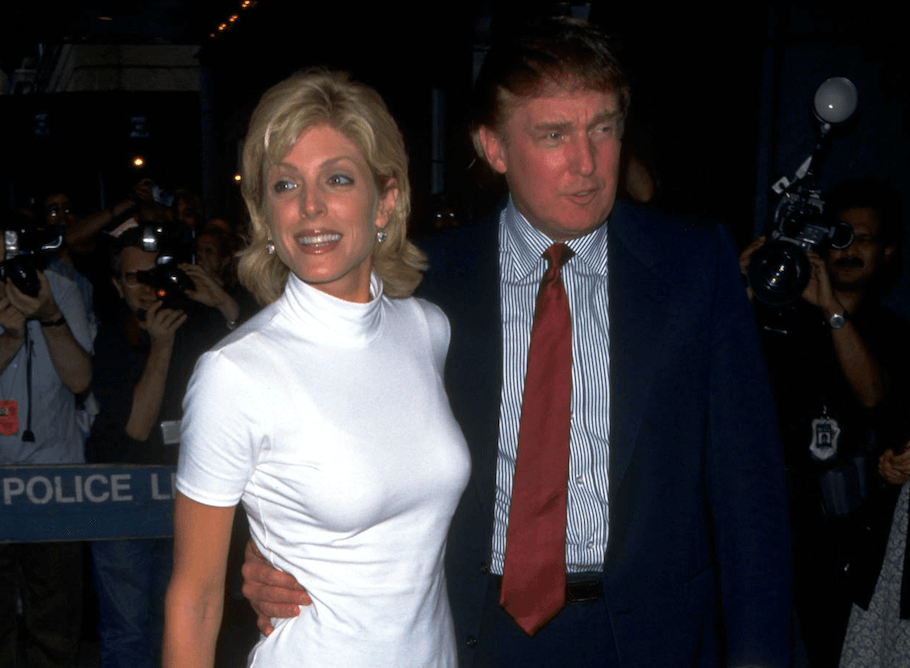 Ivana told ABC News that she forgave her former husband for his indiscretions a long time ago, but she will never forgive Maples for her role. She explained, "I never accepted her apology. She ruined my family and my marriage."
Other than her ability to hold on to a grudge, it looks like Ivana is out here living her best stress-free life.
Follow Aramide on Twitter @midnightrami.
Check out The Cheat Sheet on Facebook!