The Real Reason Farrah Abraham From 'Teen Mom' Is Joining the Cast of 'Ex On The Beach'
No matter how familiar with MTV, there's a good chance you've heard Farrah Abraham's name thrown around once or twice. When she got her start on 16 and Pregnant, fans of the series were instantly captivated with the story of her pregnancy and her dramatic family life. Then, when she was on Teen Mom OG, the drama continued to spiral — and she's been on a variety of other reality TV programs since then.
As for Farrah's latest ventures, she'll be joining the cast of MTV's Ex On The Beach. But why is she making her return to TV now? The following aspects may have something to do with it.
Farrah may be ready to look for love again
No matter how you feel about Farrah, there's no doubt she's quite the independent woman. She's prided herself on being a self-starter in the past, and she's also made it clear she wants to instill the same drive, passion, and business-savvy attitude in her young daughter, Sophia. And after her breakup from Simon in 2017, People reports she said, "My relationship status is single. Living the dream. I'm back to my good old self."
Despite her independent nature, Farrah may actually be going on the show to give love a chance, however. She's tried to find love before by enlisting the help of Million Dollar Matchmaker Patti Stanger, but to no avail. Now, she's looking for a partner who's understanding and allows her to be herself. "If I find somebody who is just understanding of adversity and I find a man who is equally adverse, then that is the best thing for me to be partnered with. They can't be jealous and they can't stop my career," she told People.
The payout for the show is also great
Even if Farrah doesn't find love, the pay is certainly enough to get anyone on board for Ex On The Beach. Radar Online reports she'll be earning $300,000 for appearing on the show, and filming only took 11 days. That means Farrah was paid over $27,000 a day for the show. She may have had to spend those days with her ex, but even so, many wouldn't pass up the opportunity to earn cash so fast.
This is around how much money she was earning for her appearances on Teen Mom, too. Farrah was reportedly getting paid around $30,000 per episode of the show. No matter what bitter feelings Farrah and MTV may harbor for each other, it seems they're still very willing to do business.
Will she get back together with Simon? Probably not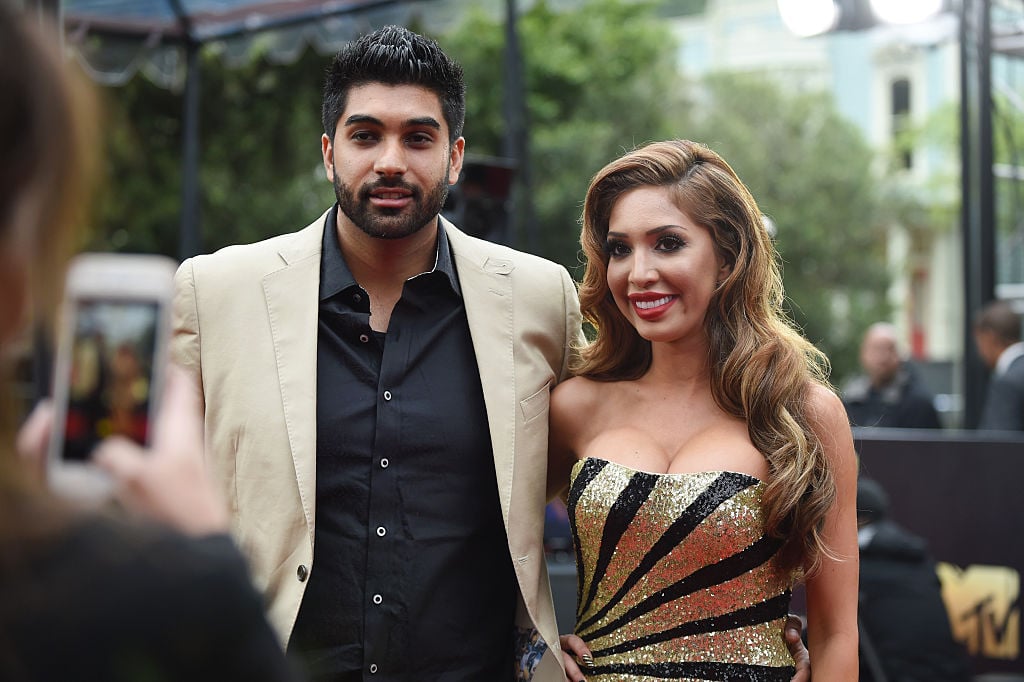 Here's the question on everyone's mind: Is Farrah looking to go on the show so she can get back together with Simon? Given their sordid history, we doubt it. Given what we saw on Teen Mom, Farrah and Simon never seemed like the perfect fit. And we can't forget the moment in 2016 when Farrah unleashed on Simon multiple times during an Easter celebration. People reminds us their verbal spat escalated to the point where Farrah rolled his suitcase out into the driveway and told him to leave her house.
They've also had public feuds on social media. E! News reminds us Farrah served Simon with a cease and desist order in the past, and Simon took to the media to talk about it. Simon told the publication, "She can say what she wants, but we all know who the real one is and who the fraud is," but Farrah wasn't having any of it. She called Simon "pathetic" on Twitter and accused him of just using her for money.
Are the two in contact today? We're not sure — but we'll certainly get to see how it plays out on the beach.
Check out The Cheat Sheet on Facebook!