The Real Reason Jordyn Woods Will Fully Recover From the Cheating Scandal
Trying to understand what's reality and what's halfway publicity stunt can make your head spin when watching Keeping Up with the Kardashians. Most of us know the reality show world is a potpourri of reality clashing with a situation writer's script. Whether this is the case with the recent Tristan Thompson and Jordyn Woods cheating scandal is still anyone's guess.
One thing we do know is the formula the Kardashians use to create publicity almost always generates money. A lot of people will question the ethics behind such a thing. Yet, it doesn't stop the inner circle from profiting off the scandal.
Jordyn Woods stands to benefit exponentially. Let's look at how and whether it'll help or hurt her.
The PR Jordyn Woods has received is substantial
Who needs a PR team when a scandal does all the work for you? All the media attention Jordyn Woods has received since the Khloé Kardashian/Tristan Thompson brouhaha has been considerable.
Just look at all the interviews Jordyn has done in the last month or so. She's been on nearly every entertainment-related show saying she and Tristan only kissed and didn't become passionate.
This still wasn't enough to repair the feeling of betrayal with Woods' best friend, Kylie Jenner. The latter has basically disowned Woods for even going so far as a kiss with Thompson.
Whether you think this is real or not, the money Woods continues to make is only going to take her on a new path.
Fans will move on to the next scandal, but Woods set up a new career
The brand Jordyn Woods has shaped in the interim will allow her to possibly become a successful businesswoman. It's trajectories like this the Kardashians and those in their orbit frequently use to find a path toward other business opportunities.
Case in point is the ongoing reporting of Woods being flooded with business offers around the world. Many of these "deals" will be in places like London and the Middle East, possibly working as an online influencer for various top brands.
It's obviously good news for Woods since she initially thought the Kardashians would decimate her life and career. On a larger level, it seems to prove the arguably depressing point that when you receive huge media attention (no matter if it's a scandal), brands will want to use you to promote products.
Does Woods profiting off the scandal have an ethical side?
Let's look at all angles of this scandal. Most people seem to blame Tristan Thompson for starting it anyway since he's been known for cheating before. Public support for Woods has been tremendous, which still makes many wonder if this was a setup to help her become better known.
More than a few might admit they didn't really know a lot about Woods before the scandal broke. She did appear on KUWTK, despite always being on the sidelines and never embroiled in the big moneymaking side of the Kardashian empire.
If you choose to believe the scandal was real, then Woods using it as an opportunity to better herself is certainly worthy. Those still skeptical may think it's just another cliched Kardashian tactic to further the interests of their family and friends.
Will Woods repair her friendship with Kylie?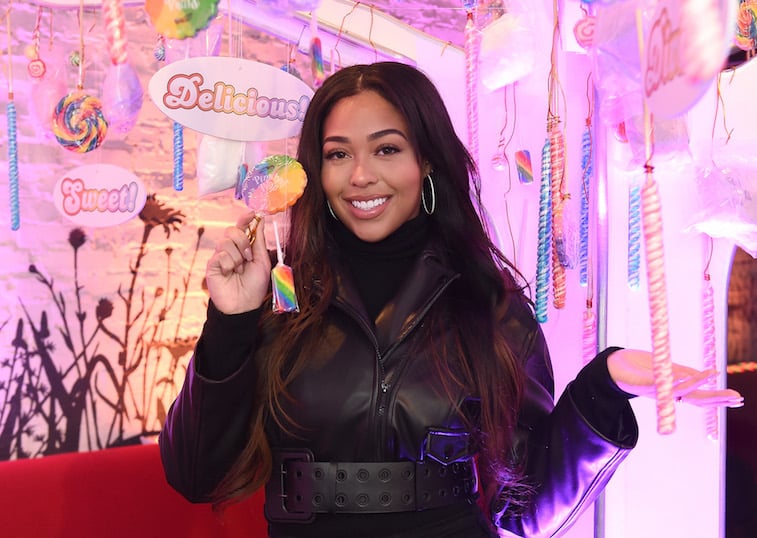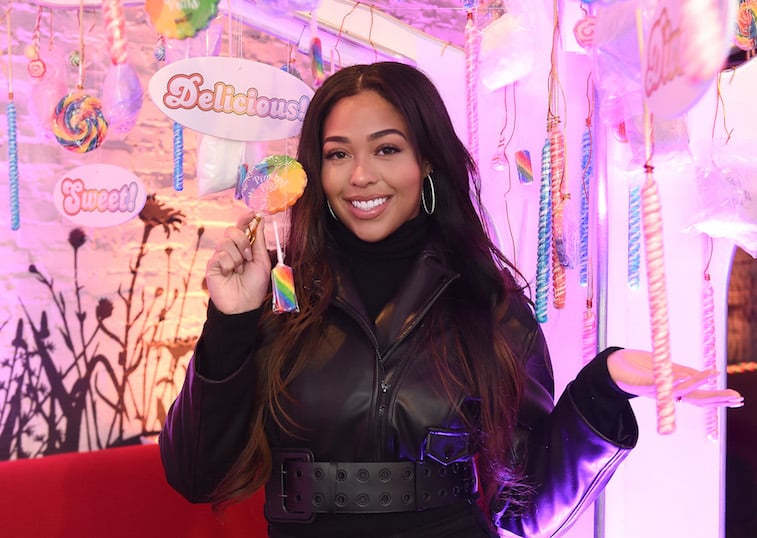 Once Woods starts becoming a successful businesswoman, maybe she'll be able to repair her longtime friendship with Kylie Jenner. The latter reportedly asked Woods to move out of her home after the scandal broke.
From this perspective, it seems all too real, leaving some to ponder if Jenner can really trust Woods again.
You can still say one positive thing about the Kardashians and their friends: They do mature over time and learn a lot of harsh lessons. Bettering yourself to repair friendships is probably a more notable life guidepost than knee-jerk reactions to the Kardashians jumping on every scandalous opportunity.