The Real Reason Lindsay Lohan's 'Beach Club' Is Her Final Lifeline
Lindsay Lohan's Beach Club may very well be her final lifeline in Hollywood. The once promising star has a troubling track record a mile long that makes her a risk to work with. Many people have taken a chance on her over the years, and many of them have complained about her work ethic. Considering her trouble keeping movie roles over the years, working on a TV show might be the key to keeping the fallen star out of trouble.
MTV's new show 'Lindsay Lohan's Beach Club'
Lohan's new project is rated one of the top five new shows this season among young adults. It's is an hour-long docu-series that follow the Disney alum and her partner, Panos Spentoz, as they work on launching her new restaurant-club. The show is filmed in gorgeous Mykonos, Greece, the place to be if you love partying.
Considering the perfect locale Lohan's Beach House should definitely be a success from a restaurant and club standpoint. The affordable pricing, delicious looking food, and Hollywood headliner make it a shoo-in for a mainstay on the island. On the other hand, a party hard locale may not be the best place for Lohan to be spending a lot of her time.
Taking the rating into consideration, it looks like the show has a chance at being successful too so long as Lohan can stay on the up and up. If she can continue to boost MTV's ratings this might be exactly what she needs to carve out her own niche in Hollywood. Let's look at why she needs this to work out if she wants to create her place on the red carpet.
Lindsay Lohan has a crazy long rap sheet
In the video @LindsayLohan pokes fun at her past legal troubles: "https://t.co/o4OE6abLXC is about protecting people. From getting a DUI — let's not pretend like I didn't get one … or two or three or some others." Watch here: https://t.co/vzJYgHsefb

— The Hollywood Reporter (@THR) March 21, 2018
Lohan has been in more than her fair share of trouble. The former Disney star's first run-in with the legal system was in February 2005 when she was sued by two individuals who claimed she injured them in a car accident. Like clockwork Lohan is than taken to the hospital several months later after crashing her car into a vehicle in West Hollywood.
In May 2007 the troubled star was arrested for suspicion of DUI. Lohan hit a curb with her convertible, and upon an investigation, cocaine was found in the car. Two months after her first arrest Lohan is arrested again, this time for DUI, possessing narcotics, and operating a vehicle with a suspended license.
Four months after her first arrest Lohan is charged with seven misdemeanor counts for her two DUIs. She manages to reach a rather lengthy plea deal, but the star just couldn't stay out of trouble.
Ultimately a Beverly Hills judge had to put out an arrest warrant for her in June 2010 after she consumed alcohol during her probation. After posting her $200,000 bail, the warrant was dropped, but a month later due to another violation, she is served 90 days in jail and 90 days in rehab. Unfortunately, the rap sheet doesn't end after here.
The beloved brunette encounters the law several more times due to probation violations, flunked drug tests, aggravated assault, theft, and more.
Lindsay Lohan's drug reputation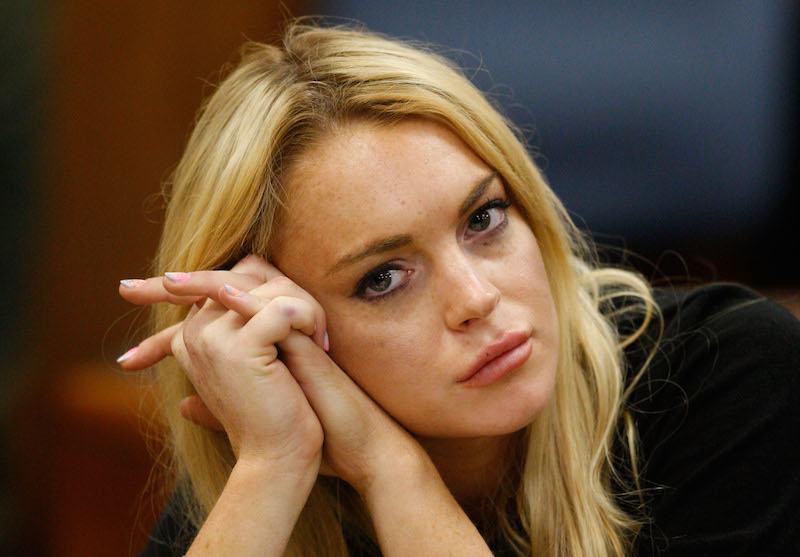 Lohan's first stint in rehab was in January 2006, for alcohol consumption. She checked herself in after deciding to make a positive change in her life. After being arrested in May 2007 for a suspected DUI, she checked herself into rehab again. Two months later she checks herself out after more than six weeks of sobriety. After a crash just two weeks after her successful sober period Lohan once again voluntarily checks herself into rehab.
Once her past DUIs caught up with her Lohan then had her first mandatory rehab stay which she checked out of after two months. Failure to complete her programs resulted in an additional year of probation. This was just the beginning as the beloved Parent Trap star found herself in rehab time and time again over the next few years.
Lindsay Lohan can't keep a role
Every time I see Lindsay Lohan's name in another headline I think of this harrowing piece on The Canyons and how the movie nearly broke Paul Schrader https://t.co/y17DwLhdNd

— Hilary Hughes (@hilmonstah) August 4, 2018
The young stars reckless behavior and substance abuse made it practically impossible for her to keep a role. There have been tales of the actress stirring up trouble on set, arriving late, missing call times and failing to deliver her lines on cue.
The trouble started back in 2006 when the CEO of Morgan Creek Productions sent her a letter threatening legal action because of her lack of professionalism during the production of Georgia Rule. Lohan was just as bad in 2012 on the set of Glee where she would arrive late and unenthusiastic. Her work on Anger Management a year later was also questionable. On the set of The Canyons in 2013, Lilo continued her unprofessional streak with no-shows and delayed call times.
With her unbelievably long rap sheet and sordid Hollywood history, Lilo needs something to finally work in her favor. Now that she's ready to turn over a new leaf hopefully it's her own personal project that will finally get her state on the right path.