The Real Reason Meghan Markle and Prince Harry Make a Perfect Match
People have argued about whether Meghan Markle and Prince Harry should be together. They've debated on whether or not Markle is "good enough" to be a member of the royal family period. Even her family threw tons of shade in her direction to help dissuade the Prince from wedding her, an astounding and bewildering reaction.
Markle still gets hate, not just from the public, but from her estranged family to this very day. But no matter what anyone says, Markle and Prince Harry really are a match made in Heaven.
Markle is a strong independent woman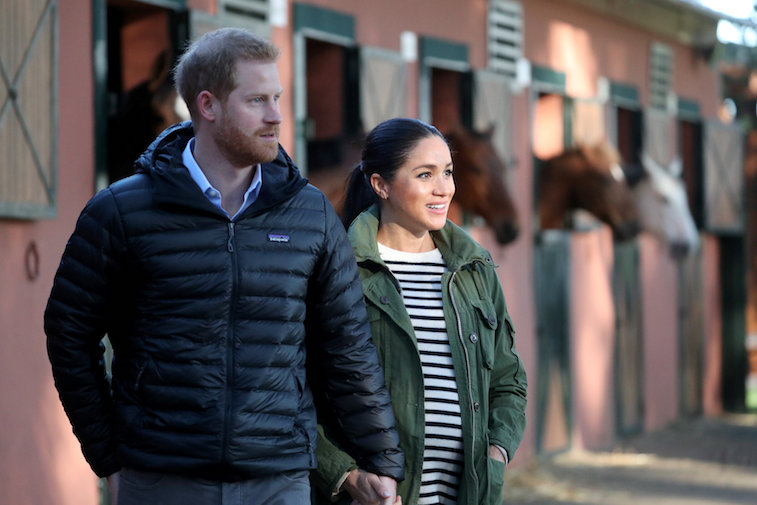 The Duchess of Sussex is known for being strong-willed and outspoken. Years as an actress have helped harden her exterior, allowing her to handle living in the public eye. While being a Duchess has come with an impressive amount of commentary from the masses, being a Hollywood starlet meant Markle's name was already plastered all over tabloids.
How does Markle show her strength? For one, she has done a fantastic job of dealing with the aggressive behavior exhibited by her family and strangers alike. She also hasn't been afraid to bend and break a few Royal rules showing she stands tall when it comes to her roots and what she knows to be best.
Markle truly is a modern-day Duchess, one that isn't afraid to speak up. She may very well be the face of the future when it comes to the British Royal family. Her strong independent streak is one that makes her an amazing wife, will make her a fantastic mother and makes her more than suitable as an ally to charities and Patronages across the globe. She can use her platform just as good, if not better, than any British born royal!
She's also self-made
The controversial Duchess gets a lot of criticism for doing things that a typical British royal wouldn't do. Those people seem to forget that she wasn't born in Britain, or into this lifestyle. Her upbringing was vastly different and she still exhibits behaviors that match up perfectly with a celebrity superstar. For some, her celeb extravagance and outspoken ways don't fit a royal, but for others, it just makes her a force to be reckoned with!
Being a self-made woman means the Duchess of Sussex isn't afraid to work hard. When she was just 11-years-old, she convinced a company to change a commercial she thought was sexist. Let thank sink in. Before even becoming a teenager, she was strong, independent and ready to fight for what she believed was right!
At first, Markle worked as a calligrapher to support herself in between acting jobs. Once she made her big break in Suits she was able to really throw herself into acting. She remained on the show between 2011 and 2017, only leaving when there were bigger and better things on the horizon. She did so wonderfully on the show that the producers begged her to come back, but at that point, she was already knee deep in royal duties.
The Duke and Duchess of Sussex share common ground
It's not just Markle's amazing personality that makes her a perfect wife to Prince Harry and an intriguing addition to the royal family. The Duke and Duchess also have a few things in common, especially in regards to their pasts. When Prince Harry and the former Suits star met they bonded intensely over heartbreak. Both come from families where their parents divorced. Their similar struggles as children led to a level of understanding that wouldn't exist otherwise.
The two are also very passionate about charity work, something easy to spot on the Kensington Royal Palace Twitter. Markle dabbled in philanthropy long before becoming a Duchess and Prince Harry has been an ally to many causes thanks to his upbringing. Both care deeply about children, education, the environment, and women's rights just to name a few.
Meghan Markle and Princess Diana also have things in common
The Duchess of Sussex also shared some similarities with Prince Harry's mother, Princess Diana. It's some of these similarities that leads Prince Harry to believe his mother would be ecstatic with his wife. Another thing that makes them a perfect pairing.
Both the Duchess of Sussex and the Princess of Wales are fashion icons for their respective times. Similarly to her childhood connection with her husband, both had parents who opted for divorce during their formative years. Princess Diana was also not afraid to break the rules, just like Markle is today! In 1995 Diana released a statement, one that seems to match up perfectly with her daughter-in-law.
"I don't go by a rule book, because I lead from the heart, not the head, and albeit that's got me into trouble in my work, I understand that."
These words that could have easily come from Markle, showing the two really would have been peas in a pod. The new Duchess definitely could have counted on Princess Diana to have her back and Prince Harry would have had his mom's blessing in a heartbeat!