The Real Reason Meghan Markle's Bodyguard Is Resigning
From Princess Diana's death to Sarah Ferguson's scandals, we've been keeping up with details regarding the royal family for years. And, of course, Meghan Markle and Prince Harry are currently top of mind. While Meghan has made history as an American woman marrying into the royals (and we all can't wait for her and Harry's baby to arrive, either), she's certainly brought plenty of drama along with her. Her previous life as a movie star and family members who won't stop vying for the spotlight seem to dominate her life as royalty.
Along with family drama, it appears Meghan has a new issue on her hands — and that's that her bodyguard has just called it quits. Here's the speculation why.
Meghan Markle allegedly wanted a female bodyguard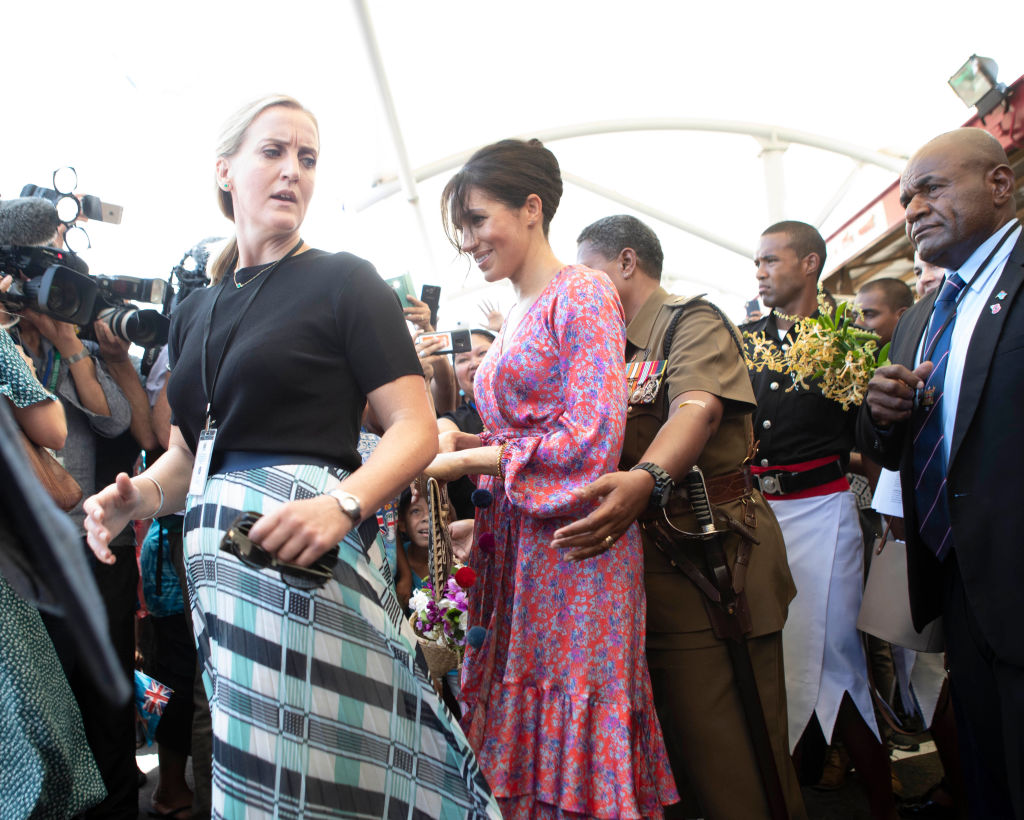 Though being followed around with a bodyguard may be new to Meghan, the royals have also ensured they take serious security measures. And Meghan seemingly wanted a female bodyguard after Prince Harry's head of security, Sergeant Bill Renshaw, retired after 30 years of service, Daily Mail reports. While the publication wouldn't give up the name of the female officer protecting Meghan when she started the job merely six months ago, they did say she came from a police background and achieved the rank of inspector.
The bodyguard seemed to perform her duties quite well, too. We remember Meghan's scare in Fiji, where the crowds were huge and difficult to control. She swiftly moved Meghan through the crowds and unfortunately cut the visit short. We're not sure exactly what went down at the event, but it seemed like it may have created serious stress for Meghan and her guard.
There are conflicting reasons as to why she may have left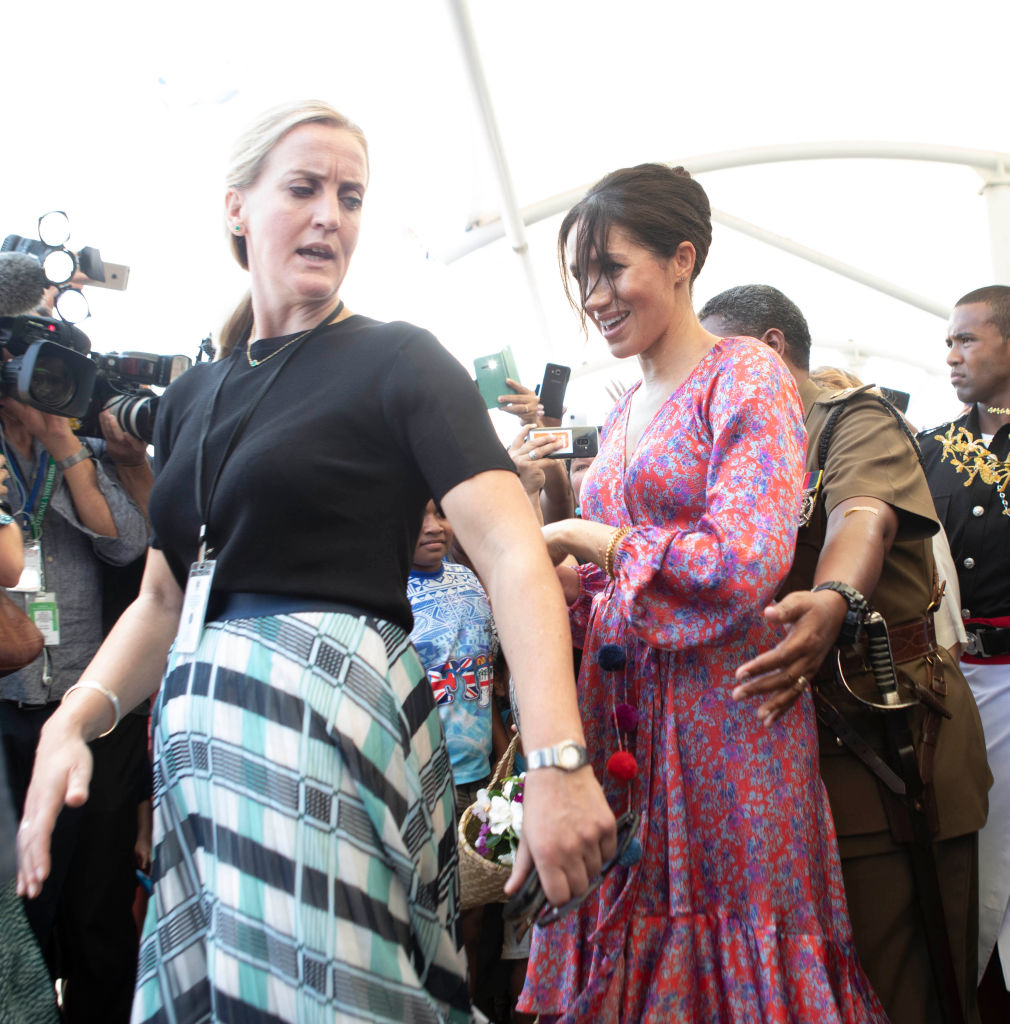 Bodyguards are used to protecting high-profile celebrities — so why would Meghan's leave? It seems there are conflicting stories in regards to the reason for her early departure. In some instances, it seems Meghan's attitude and ill-adjustment to royal life may be the cause. As one insider told The Sunday Times, Meghan would rather act like "one of the people" than royalty — and this has made protecting her particularly difficult, Daily Mail reports. "Unlike someone who has grown up in the royal family and has been used to having close protection from an early age, it can be quite constraining. … But in her current role she can't go anywhere without her protection team and that's a massive constraining force on an individual like her," they said.
This conflicts with what another source from Scotland Yard had to say, however. Daily Mail reports this source claimed the bodyguard's leaving has little to do with Meghan and instead is "for personal reasons. She has made a decision to leave the Met Police. It's a real shame as she was a great addition to the team and hugely liked." The source went on with, "It came as quite a shock. Everyone was very sad at the news. As was she. It was clear it was a decision she hadn't taken lightly."
Other workers have also left Harry and Meghan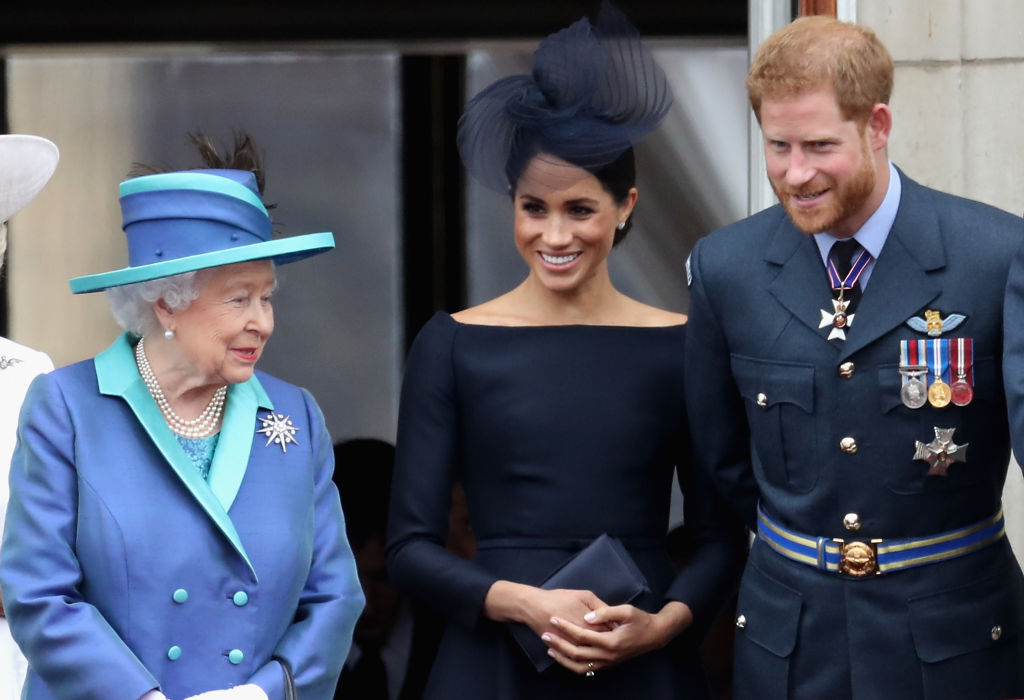 Whatever the reason behind Meghan's bodyguard leaving the royal family behind, she follows in the footsteps of many others. Meghan's personal assistant, Melissa Touabti, left the job just six months in and shortly after the royal wedding, Daily Mail reports. Sources were allegedly shocked by her departure, but it seems like the drama of Meghan's father before the Duchess' big day may have been part of the reason as to why she chose to leave.
Meghan and Harry's private secretary, Samantha Cohen, also quit shortly after being hired — but Cosmopolitan reminds us this isn't as dramatic as many believe. Her job was always temporary, as she was just hired in the interim and actually stepped in to help Meghan longer than was originally intended.
Check out The Cheat Sheet on Facebook!