The Real Reason Travis Scott Agreed To Perform At The Super Bowl Halftime Show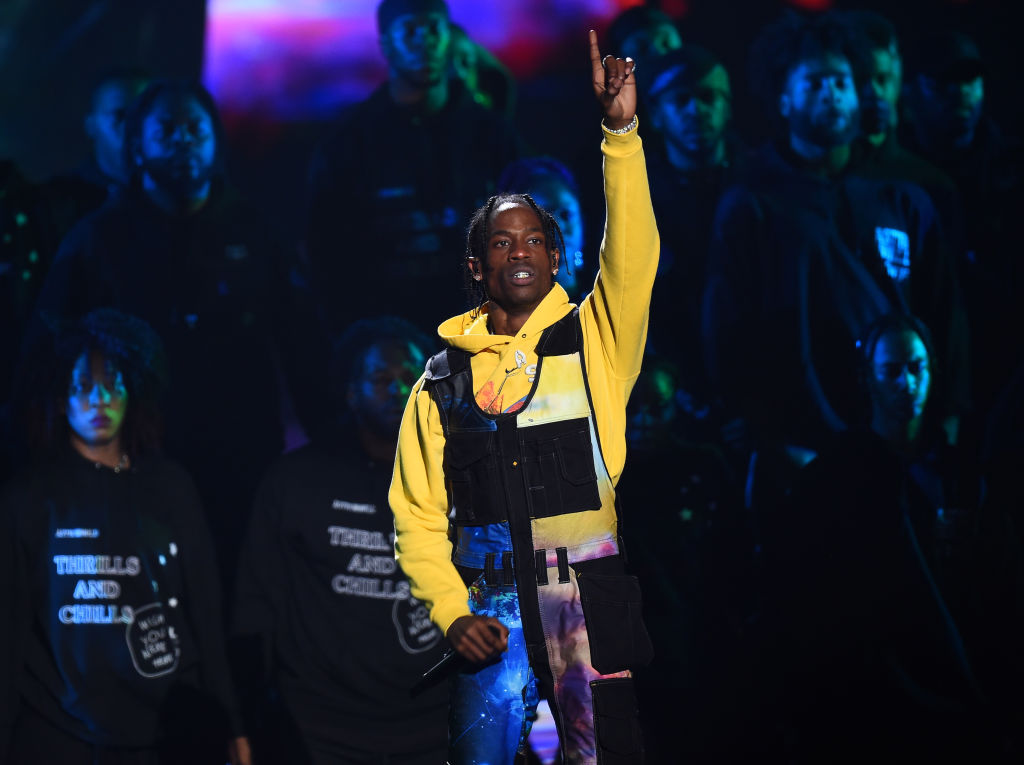 Looks like Maroon 5 won't be performing by themselves at this year's Super Bowl Halftime Show.
It has finally been revealed that the band will headline the show alongside rappers Big Boi and Travis Scott.
Even though Travis Scott has agreed to perform at this year's show, he is only doing so under one condition.
Travis Scott has partnered with the NFL
After many weeks of contemplation, Maroon 5 has finally agreed to headline the Super Bowl LIII Halftime Show.
The band has had a difficult time finding other musicians to join them. They initially wanted Rhianna to perform at this year's show but the singer turned down the offer to protest the NFL fining players for taking a knee during the National Anthem.
Maroon 5 also wanted P!nk to join but she turned down the offer as well.
Rapper Travis Scott was in the talks of performing but never confirmed his decision until this past weekend.
Travis Scott agreed to perform alongside Maroon 5 under one condition: The NFL has to donate a sum of money to a charity of his choice in order for him to perform.
Scott has partnered with The NFL and donated $500,000 to The Dream Corps, a social injustice charity that supports many different causes, from education and technology to environmental protection.
The rapper is sticking by this decision in order to show his support for Colin Kaepernick, 49ers quarterback who was blackballed by the NFL because of his political statements during football games.
Not only is Travis Scott supporting Kaepernick but other NFL player who have taken political stances.
"I back anyone who takes a stand for what they believe in. I know being an artist that it's in my power to inspire. So before confirming the Super Bowl Halftime performance, I made sure to partner with the NFL on this important donation," the rapper said in a statement. "I am proud to support Dream Corps. and the work they do that will hopefully inspire and promote change."
Many disapproved of Scott's choice
Since it was confirmed that Travis Scott would be performing, the rapper has received some criticism for his choice.
Back in December, activist Rev. Al Sharpton voiced his disapproval towards Scott for agreeing to perform at this year's Super Bowl Halftime Show.
The civil rights activists expressed to TMZ, "I think anyone that goes into the halftime show is in effect directly violating those that want to raise the question that the NFL should come to terms with what they have done and continue to do to Colin Kaepernick and those that protest on criminal justice issues."
Even actor Micheal B. Jordan found Scott's decision to be unethical by stating "That's something I'm not that happy with…We're still trying to stand behind something right now."
Many celebrities have expressed their disapproval with the NFL for how they treated Colin Kaepernick.
Jay-Z and Cardi B. turned down offers to perform this year to show their support for Kaepernick.
Comedian Amy Schumer personally told her reps that she would not do any commercials during this year's Super Bowl to stand in solidarity with Kaepernick and wanted Maroon 5 to back out of the Halftime Show.
The Super Bowl LIII will air on February 3 on CBS.
No one knows what to expect at this year's Halftime Show but we're certain it is not going to be like any other.