'The Reaper' Aims to Bank Off 'American Sniper' Success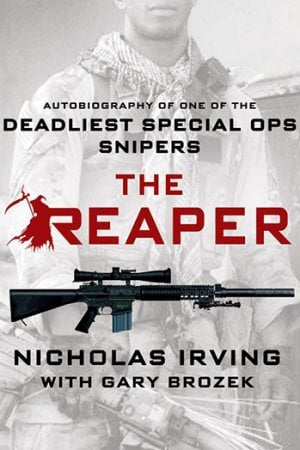 Following the huge box office success of Warner Bros.'s Clint Eastwood-directed war drama American Sniper, the story of another real-life special ops sharpshooter is now also headed to screen. The Weinstein Co. has just announced plans to adapt Nicholas Irving's book, The Reaper: Autobiography of One of the Deadliest Special Ops Snipers, into a television miniseries.
As Deadline reports, the company is preparing to turn the memoir into a five-part series. The book, which was only just released earlier this year, follows Special Operations Direct Action Sniper Irving, who became known as the first African American to serve as a sniper in his battalion. The story chronicles the events of his active service, including a four-month period in Afghanistan in mid-2009 during which Irving tallied 33 kills as a master sniper. By the end of his military career, Irving became the United States Army's 3rd Ranger Battalion's deadliest sniper and had earned the nickname "The Reaper." Aside from setting records for enemy kills on a single deployment, Irving also has an AR-15 rifle named after him, as a result of his reputation as one of the most skilled military snipers ever.
"The Reaper is a gripping story about a great American soldier that we are so proud to be a part of," The Weinstein Co.'s co-chairman Harvey Weinstein said in a statement. "Nick Irving's true bravery and heroism will make for some of the most riveting television ever seen and inspire patriotism in anyone who experiences it."
Per Deadline, Marc Resnick, Irving's editor at St. Martin's Press, and Brendan Deneen are set to serve as executive producers on the forthcoming miniseries, on behalf of Macmillan Entertainment.
The company's pickup of the novel comes only weeks after the release of American Sniper, which chronicles the story of one of the deadliest military snipers, Chris Kyle. Upon hitting theaters last month, the movie earned $89.2 million within its first three days, quickly setting a new record for a January release. In the weeks since, the film has made close to $250 million domestically, topping Saving Private Ryan to become the highest-grossing war flick in North America and Eastwood's most successful film to date.
Aside from its commercial success, American Sniper also earned plenty of award season attention, nabbing six Academy Award nominations (including Best Picture, Best Adapted Screenplay and Best Actor for star Bradley Cooper). Despite this, the film has fueled its fair share of public debate, with some labeling it as war propaganda and pointing out inaccuracies in its portrayal of Kyle.
The controversy clearly hasn't put off Weinstein, though. The film producer and executive recently defended the film against its detractors. "How about all these pieces of junk our kids are seeing? Let's go after them instead," he said at a panel this month, per The Hollywood Reporter.
With so much attention circulating one real-life sniper tale, it's no surprise that the Weinstein Co. would want to jump on the opportunity and develop its own adaptation. The Reaper miniseries does not yet have a network attached, but production on the show is already scheduled to begin this coming summer.
More from Entertainment Cheat Sheet:
Want more great content like this? Sign up here to receive the best of Cheat Sheet delivered daily. No spam; just tailored content straight to your inbox.