The Reported Reason Liam Hemsworth Finally Filed For Divorce From Miley Cyrus Is So Sad
When Miley Cyrus and Liam Hemsworth announced their separation on Aug. 10, sources made it clear that the stars were merely taking a break and did not have immediate plans to file for divorce. 
"They both agreed it's better to spend time apart, but this doesn't mean their relationship is completely over," one source told People magazine on Aug. 13.
But it looks like things have changed. 
On Aug. 21, the Hunger Games actor reportedly filed divorce documents in Los Angeles, citing irreconcilable differences. Fans are shocked, ugly-crying, and wondering what exactly prompted the actor to make the move. Here's the reported reason Hemsworth finally decided to officially split from Cyrus.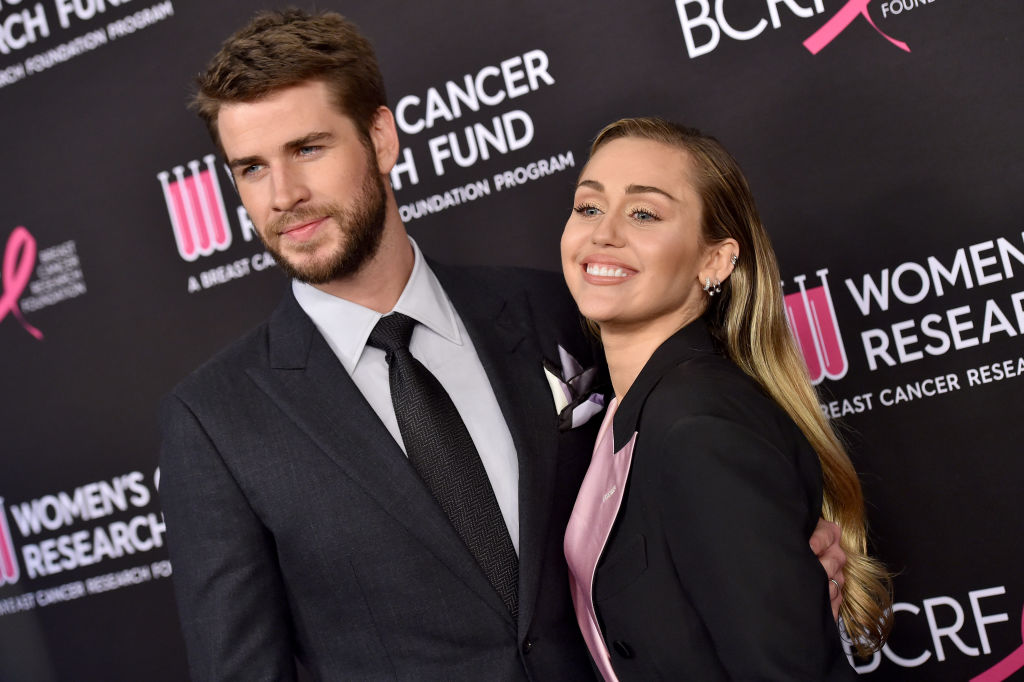 Hemsworth reportedly had a wake-up call
A source told Entertainment Tonight on Aug. 21 that the actor has realized that it's "time to move on." They also said that Hemsworth did not want to "share Miley with anyone." While the source did not say a name, it seems like they were referencing Kaitlynn Carter, who has recently been seen making out with Cyrus amid their separation.
"Liam's decision to file for divorce is sad, but in the end, it was never going to work," the source said. "They are too different. Liam never wanted to share Miley with anyone. He loves her and he is far too traditional. He finally realized he just wants to start fresh."
"Liam has come to terms that it was time to move on," the source continued. "Liam's family has been incredibly supportive. They are relieved it's over."
Cyrus' reaction to the filing 
A source told People on Aug. 21 that Cyrus was shocked to learn that Hemsworth filed to end their seven-month marriage. 
"She didn't expect it and is a bit disappointed, but she is still doing well and has obviously moved on as well," the insider explained.
The pair has a prenuptial agreement in place, so the divorce should be easy.
Although they're splitting up, Cyrus will reportedly always treasure the memories she and Hemsworth created throughout their decade-long relationship.
"What she and Liam had for a long time was very special," the source continued. "It's just hard for her to think that she will never have this again with Liam. There are really so many things that she loves about him."
Why they separated in the first place
According to multiple reports, there are several reasons why these two initially separated. Some sources said that Cyrus grew tired of Hemsworth's alleged hard-partying ways. But others said she wanted to get back into music, while he wished to live a quieter life.
His latest moves might make it easier to believe the latter. In addition to his divorce filing, he shared an Instagram message on Aug. 12 in which he wished Cyrus good luck on her new journey. "I wish her nothing but health and happiness going forward," he wrote.
But, on the other hand, Cyrus also recently released a song called "Slide Away," in which she seemingly alludes to his alleged partying. So it's really unclear what exactly caused their separation. However, it seems clear that Hemsworth did not like seeing Cyrus move on with Carter.
As of writing, Hemsworth has not made any additional comments on the split, and he probably won't. "This is a private matter and I have not made, not will I be making, any comments to any journalists or media outlets," the post continued.
But Cyrus is seemingly a lot more outspoken. So maybe we'll hear something from her soon.