The Ridiculous Thing Kate Middleton Had to Do After Giving Birth
The royal baby watch is over – at least, for now. Kate Middleton gave birth to her third child with husband Prince William. News of the baby's arrival sent shockwaves of joy around the world. And the ensuing hours also brought about a few surprises.
Here's everything we know about the newest member of the royal family's first day on earth, including the shocking decision Middleton made right after she gave birth (page 8).
1. The royal family has a new member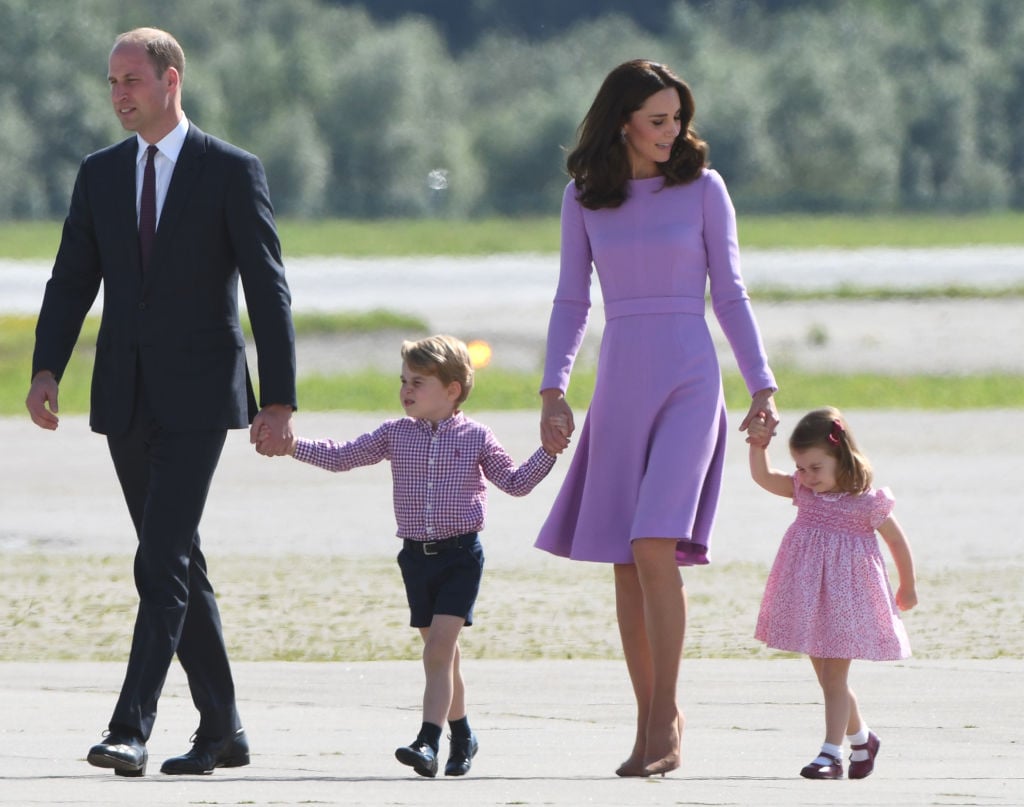 On April 23, 2018, word spread around the internet that Middleton had gone into labor. And within a matter of hours, the Duchess of Cambridge had given birth to her second son, Louis Arthur Charles.
The new prince joins a long lineage of royal Brits. And in the days and years to come, we'll start to learn more about him. But there's a lot we do know about how the newest royal and his mother made it through delivery.
Next: Buckingham Palace had good news for royal watchers.
2. Middleton and her new son are both healthy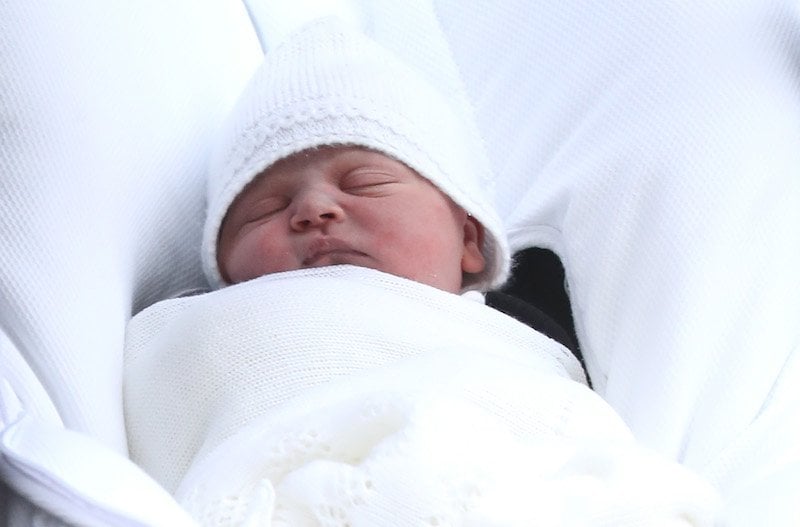 Shortly after Middleton and William's son was born, Buckingham Palace released a statement:
"Her Royal Highness The Duchess of Cambridge was safely delivered of a son at 1101hrs. The baby weighs 8lbs 7oz. The Duke of Cambridge was present for the birth. The Queen, The Duke of Edinburgh, The Prince of Wales, The Duchess of Cornwall, Prince Harry and members of both families have been informed and are delighted with the news. Her Royal Highness and her child are both doing well."
It was good news all around, especially given the complications Middleton experienced early in her pregnancy. And because all went well, it didn't take long before their nearest and dearest were able to pay a visit.
Next: The new royal's family was eager to make his acquaintance.
3. George and Charlotte made an adorable visit to meet their new brother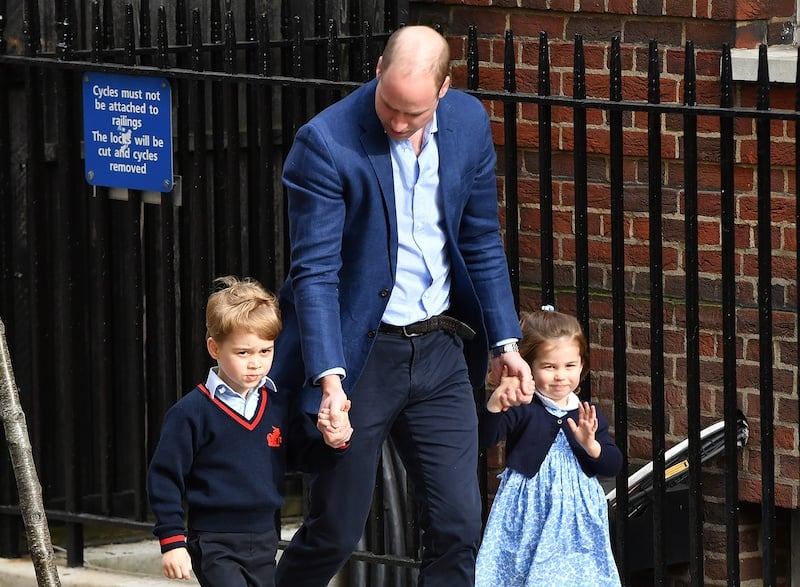 There will undoubtedly be a queue of relatives waiting to meet the new prince. But two of the first people to make his acquaintance were his older brother and sister.
Shortly after Middleton gave birth, William left the hospital and returned a short time later with the couple's two older children in tow. Prince George and Princess Charlotte were dressed to impress when they held their fathers' hand on their way into St. Mary's Hospital.
And the young royals weren't the only ones who made an appearance outside the hospital on the royal baby's birthday.
Next: Middleton stunned royal watchers with her sweet and subtle nod to family history.
4. Middleton paid homage to another royal when she debuted the new prince
https://www.youtube.com/watch?v=vFipt1oE3L8
Like her husband and two eldest children, Middleton also appeared before onlookers and photographers on Apr. 23, 2018. She and William stood outside for a brief media appearance with their newborn.
But spectators around the world weren't just interested in the bundle of joy in her arms. Many noted that Middleton's maternity dress — red, with a white Peter Pan collar – was reminiscent of the one Princess Diana donned when she introduced Prince Harry to the world.
Very little is accidental when it comes to how the royals present themselves to the public. So it's possible that Middleton was paying homage to the mother-in-law she tragically never met. And it's worth noting that Middleton's first postpartum appearance was unforgettable for reasons besides the dress as well.
Next: The question on everyone's minds when they saw Middleton was "How?!"
5. Middleton wowed onlookers with her delivery day appearance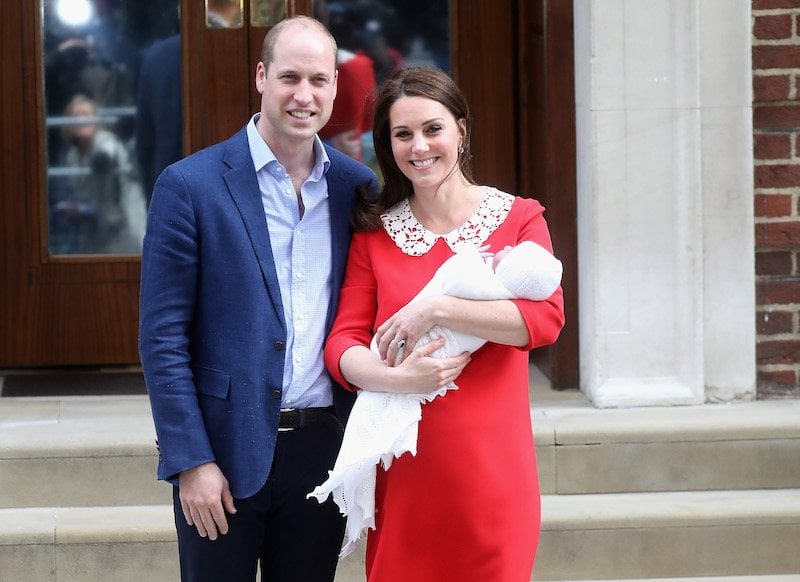 Anyone who's given birth can tell you that the last thing you want to think about immediately after is primping. But royal duties wait for no woman — so Middleton had to prepare to meet the public.
She looked, in a word, stunning when she stepped outside of St. Mary's Hospital. Makeup on, not a hair out of place, and wearing heels, for goodness sake, she was astoundingly well put together for a woman who'd just barely given birth.
So much so, in fact, that fans on Twitter couldn't help but joke about her flawless post-pregnancy appearance. They noted that she put us mortals, who can barely manage the basics of grooming when we haven't given birth, to shame.
In us mortals' defense, she probably had a full team working on making her look that good. And in her defense, she had a good reason for taking the time to clean up a bit.
Next: This is what his formal title will be.
6. He's been given a formal title
The royal baby's formal title is a long one: His Royal Highness Prince Louis of the United Kingdom of Great Britain and Northern Ireland.
According to The Sun, the royal baby has also been given the title, His Highness Louis of Cambridge. Marlene Koenig explained that his second title has been given due to his parents' statuses as duke and duchess.
Next: Fans and public figures alike are celebrating.
7. The royal family has received an outpouring of love on social media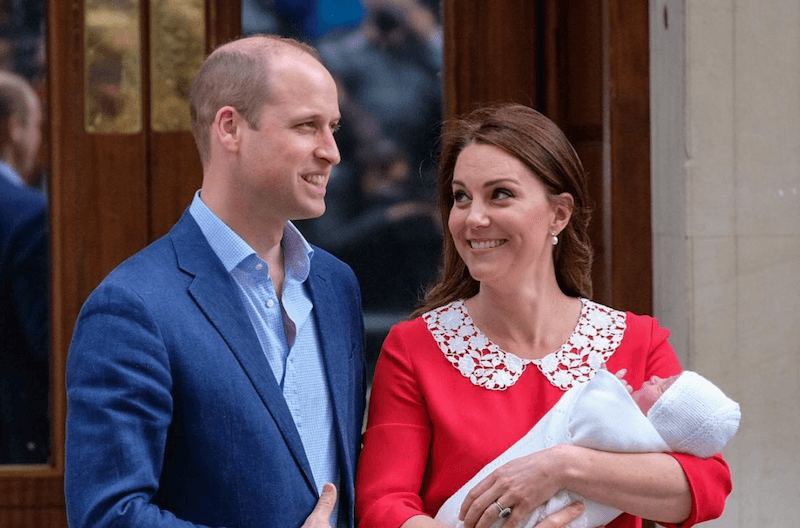 As soon as the news broke, the royal family received an outpouring of love on social media for Prince Louis. From fans of the royal family to political figures, it seems like everyone joined together to celebrate this special day.
British Prime Minister Theresa May tweeted, "My warmest congratulations to the Duke and Duchess of Cambridge on the birth of their baby boy. I wish them great happiness for the future."
Even the Twitter account for the London Eye sent their love. "Congratulations to the Duke and Duchess of Cambridge on the birth of a baby boy!," the tweet read. "We will be turning a Royal shade of red, white and blue this evening in honour of the exciting news."
Next: Middleton left royal watchers speechless with this unconventional postnatal move.
8. Middleton went home mere hours after giving birth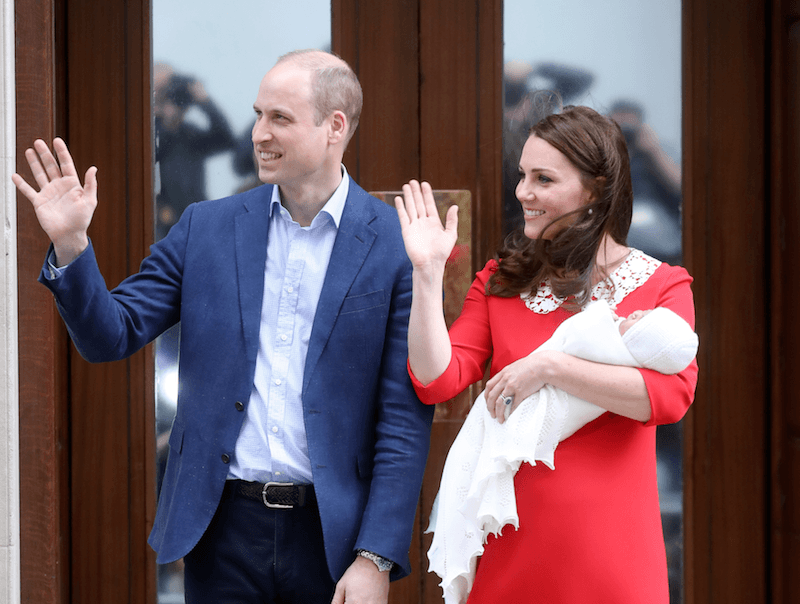 It's pretty ordinary for new moms and their infants to spend at least one night in the hospital. But Middleton made the surprising decision to discharge from St. Mary's that very afternoon. Her photo op with William and the new baby coincided with the family's departure back to Kensington Palace.
That means she was ready to go just seven hours after giving birth. It was a surprising move — especially since fans on Twitter pointed out that at that point, Middleton was still recovering from labor. Comedian Molly McNearney quipped, "Let's keep this real for the moms. The Duchess is wearing a diaper."
But while Middleton's quick trip home raised some eyebrows, it actually makes sense when you consider the unique circumstances that she was in.
Next: Middleton was thinking of more than just herself and her family when she brought her new baby home.
9. Middleton and William had a good reason to return home so quickly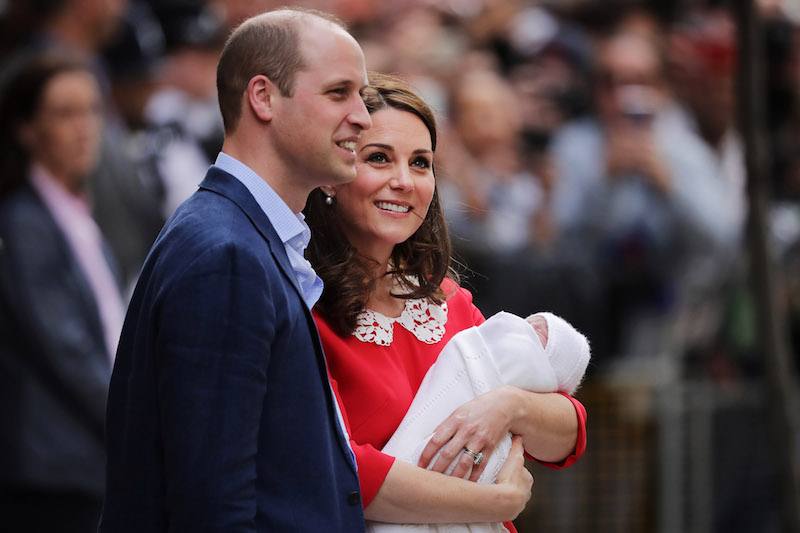 Sure, heading home hours after giving birth may sound a little impractical. But this is the royal family, we're talking about, and for them home is, in fact, a palace. So it's safe to assume that access to medical care is at their fingertips.
And Middleton and William were likely doing the staff at St. Mary's a favor. Hosting a prominent patient is almost definitely a strain on staff resources. And the entourage of photographers and well-wishers that came with Middleton likely posed logistical issues for other patients.
Besides, Middleton didn't exactly set a precedent with her decision to return home so early.
Next: This wasn't the first time Middleton was eager to get back home.
10. Middleton made a similar move when she gave birth to Charlotte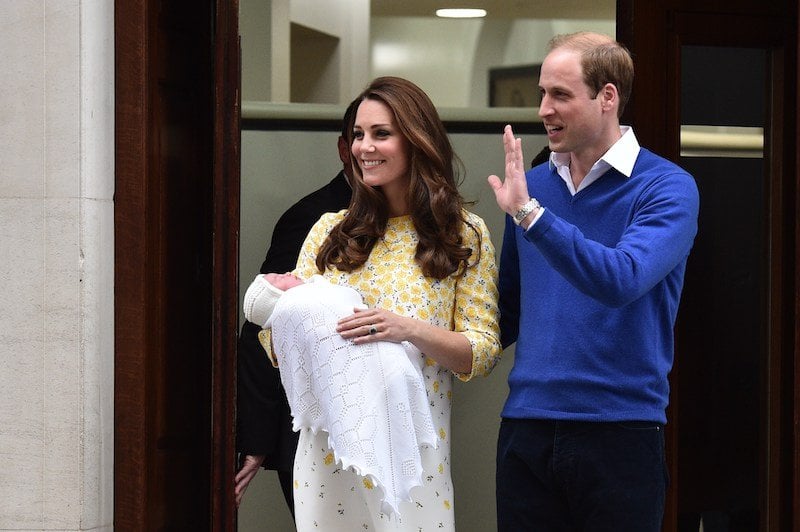 Back in 2015, when Middleton gave birth to Charlotte, she had a similarly short hospital stay. At that point, she was admitted for just 10 hours — long enough to have the baby, and get the show on the road.
And while women in the United States generally spend about two days in the hospital after giving birth, new mothers across the pond do it a little differently. According to one study, women in the United Kingdom average just a day and a half at the hospital before leaving.
Whatever the reason, it's safe to assume Middleton and the new prince are in good hands — and probably happy to already be home.
Next: Prince Louis was surprisingly born with this status.
11. He was technically born as a commoner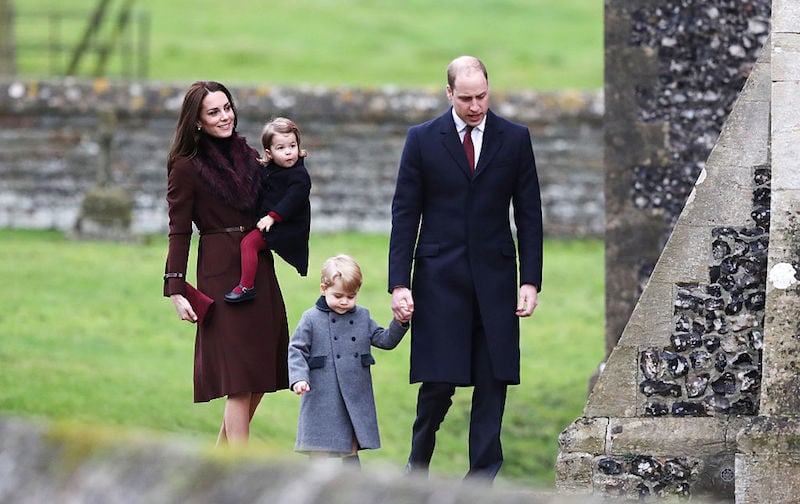 Prince Louis may be royal, but technically, he was born as a commoner. According to Historian Marlene Koenig, "It sounds complicated, but in the UK, the only people who are not commoners are the Sovereign and peers of the realm, [people with titles like] Duke, Marquess, Earl, Viscount, and Baron."
That means even Prince Harry is technically a commoner — until he earns the "duke" title by marrying Meghan Markle.
Next: This is where Prince Louis stands in line for the throne.
12. He's fifth in line for the throne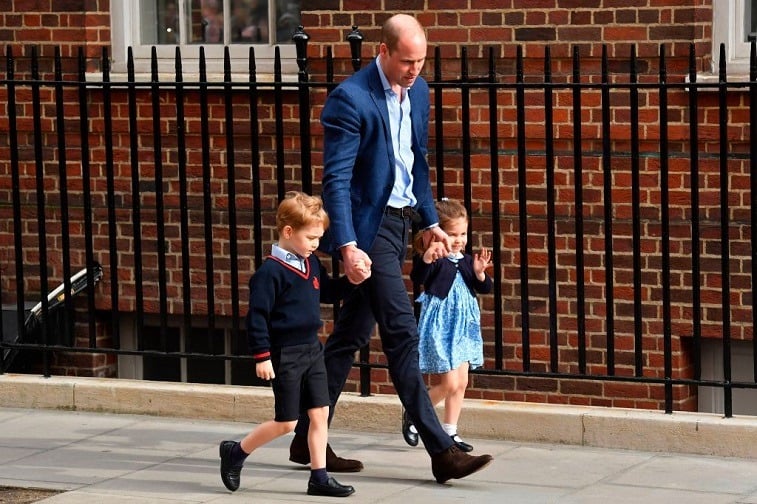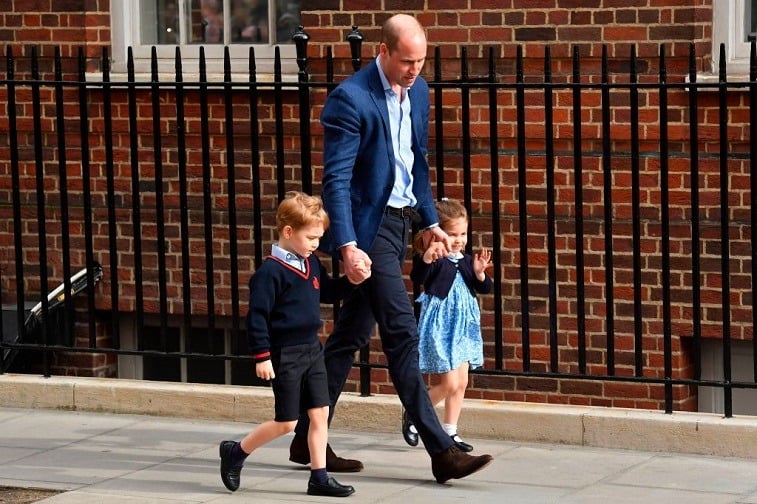 The new prince has taken Harry's place as fifth in line for the throne. Thanks to a new law change in 2013, Princess Charlotte will stay fourth in line, ahead of her new younger brother.
According to BBC, "Previously, younger royal males would have taken precedence over older female siblings."
Follow Katherine Webb on Twitter @prufrox.
Additional reporting by Chelsea Leary.
Check out The Cheat Sheet on Facebook!