The Ridiculously Funny Way Justin Timberlake Got Back at Jessica Biel for Not Knowing Any *NSYNC Songs
Jessica Biel is married to Justin Timberlake, but she doesn't know any *NSYNC songs? How is that possible? Biel knew she was in trouble after Jimmy Fallon played the clip of her admitting she was not into *NSYNC. Timberlake got back at Biel this weekend, and it was epic. Read on to find out what he did and see the hilarious pictures.
Jessica Biel shaded *NSYNC on 'The Tonight Show Starring Jimmy Fallon'
Earlier this week, Fallon called Biel out on never being an *NSYNC fan. Her excuse was that she was listening to theater productions and Motown. She just wasn't into boy bands at the time. She told Fallon, "I lived under a rock."
However, when Fallon is about to play the clip of Biel from the late 90s, she repeatedly says, "No, please." We can see why she didn't want the interview to be played on national television.
When asked about *NSYNC, Biel's younger self says, "I'm not a huge fan, but I mean cool, I guess," with a ridiculous attitude.
Fallon and Biel start cracking up after the clip, and they realize that she is in deep trouble with Timberlake.
Timberlake gets his payback with the pair's Halloween costumes
Although Timberlake already knows that Biel was never an *NSYNC fan, he had to do something to retaliate for the slack he got from the clip on The Tonight Show with Jimmy Fallon.
His epic payback came in the form of a ridiculous Halloween costume. Biel was forced to dress up as 90s era Timberlake during his *NSYNC days. The outfit is absurd with a blue jumpsuit and a curly wig. Timberlake is dressed up as her microphone!
Biel posted the photo on Instagram with the caption, "This is what happens when you admit on TV that you don't know any NSYNC songs and you're married to @justintimberlake. Well played, husband, well played."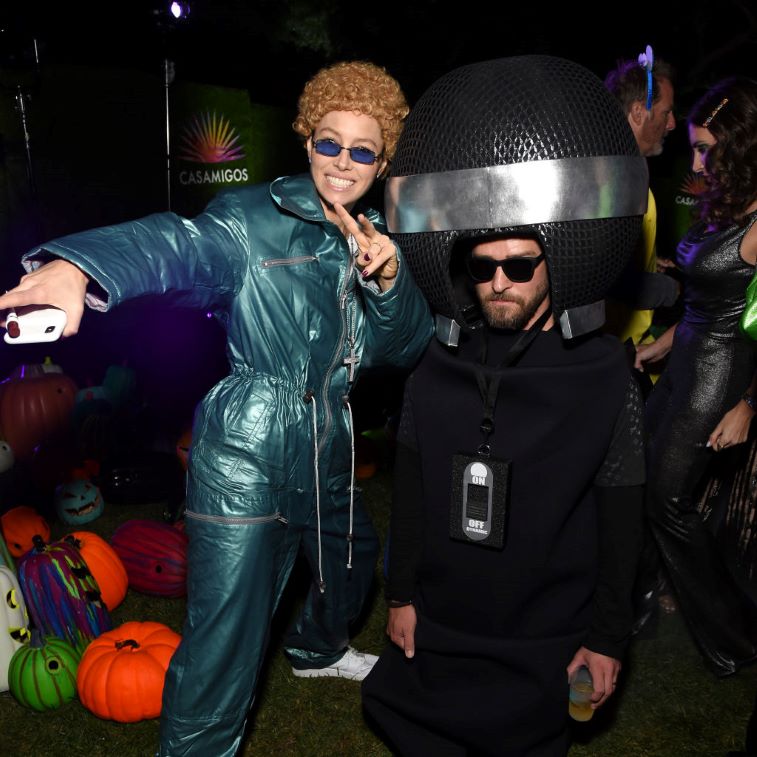 Fans absolutely love the photo and cannot stop talking about it. One Instagram fan wrote, "This is the best thing I've ever seen in my life."
Many others agree that its the best Halloween costume. They keep telling the pair that they "won" Halloween.
Does Biel really not know any *NSYNC songs?
If you watch the rest of the clip from The Tonight Show with Jimmy Fallon, you can see that Biel honestly does not know any *NSYNC songs. She tells a story about recently being dared to sing one of the boy band's songs and only knowing three words, "Bye, bye, bye."
Her friends would not let her sing, "Bye, bye, bye," so she needed her husband to coach her through a different song. She had to look up the words on her phone and felt completely embarrassed.
Not only does Jimmy Fallon and all of America get a kick out of this fun fact, but so do Biel and Timberlake's friends. It's true, Biel does not know any *NSYNC songs, even though she is married to the most famous member of the former boy band.