'The Rookie': Why Afton Williamson Is Quitting the Show
The Rookie shows Nathan Fillion playing John Nolan, the oldest rookie in the LAPD. He works to prove himself as he is being trained by Talia Bishop played by Afton Williamson. Williamson announced she is quitting the show and won't be returning next reason.
It was previously reported that Afton Williamson won't be returning for season 2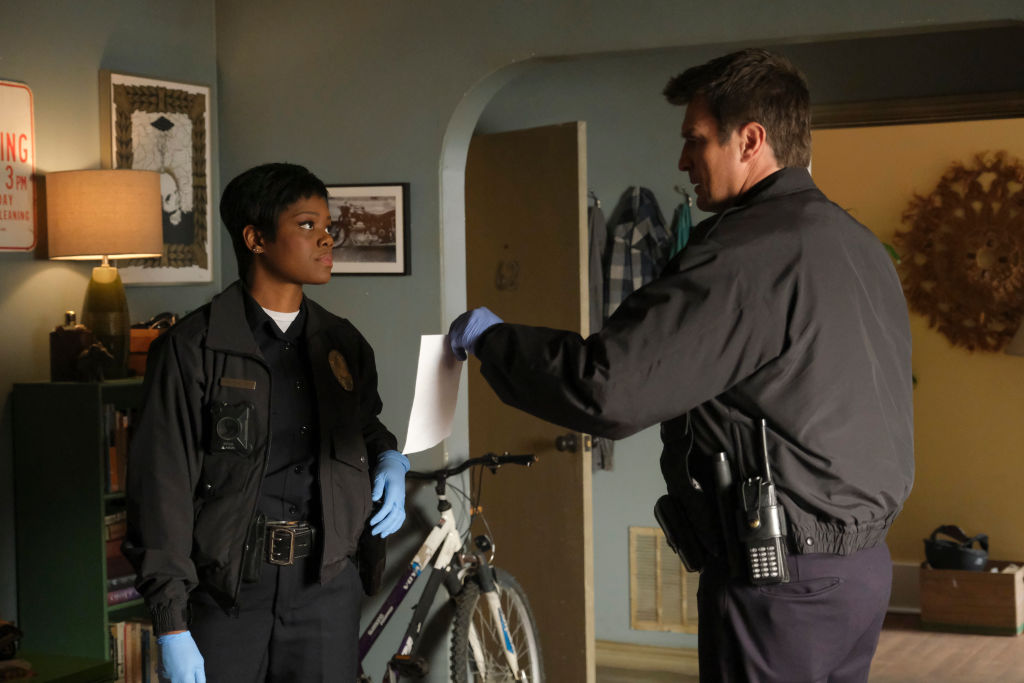 The actress played TO Talia Bishop in the first season of The Rookie. It was previously reported that she won't be returning for another season.
Nathan Fillion, Alyssa Diaz, Richard T. Jones, Titus Makin Jr., Melissa O'Neil, and Eric Winter reportedly would be back. According to TV Line, Williamson was leaving on "amicable" terms. However, she has since come forward saying that isn't the case.
Williamson claims she reported sexual harassment and experienced racial discrimination
The actress announced on Instagram that she won't be returning for season 2 of the show. She went on to talk about her experience in the workplace.
"Throughout the filming of the pilot, I experienced Racial Discrimination/Racially Charged inappropriate comments from the hair department and bullying from Executive Producers," she wrote in the caption.
"During the Season, it continued along with Sexual Harassment from a recurring guest star, Demetrius Grosse, and the racist commentary & bullying from the Hair Dept. Head, Sally Ciganovich escalated into Sexual Assault at our Wrap party," she continued.
The actress said the sexual harassment was reported to the showrunner, Alexi Hawley but it wasn't reported to HR. She was later told that Grosse would be fired, and she was asked to film with him after a meeting with the showrunner and two producers to follow the script.
However, she was written into scenes with him at the end of the season. Williamson claimed the showrunner admitted Grosse wasn't fired and HR wasn't brought into the situation.
An ABC spokesperson claims there is an ongoing investigation
An ABC spokesperson gave a statement in response to the actress' Instagram post.
"The allegations involve a production from Entertainment One. In late June, eOne made us aware and informed us that they launched an investigation that is ongoing. The safety of working environments is a top priority for us, and we take this matter very seriously," said the spokesperson according to The Hollywood Reporter.
There was also a statement from eOne saying, "We take claims of this nature very seriously. We have initiated an independent investigation which is ongoing and as such, it would not be appropriate to comment at this time."
Demetrius Grosse has yet to respond to the claims
Grosse played Detective Kevin Wolfe in multiple episodes of The Rookie. He also previously played Charleston in Frontier and Ezekiel 'Preach' Carter in The Brave. He, along with showrunner, Alexi Hawley have yet to respond to Williamson's statement.
Williamson has since posted on Instagram again with a message thanking her supporters. She ended it with, "Let's Change This Sickness. That Change starts with US. This season on The Rookie, I was sexually harassed by fellow actor Demetrius Grosse. I was Racially Bullied and Discriminated against and Sexually Assaulted by Hair Department Head Sally Nicole Ciganovich. Let's BE the CHANGE we WANT to SEE."