The Shade Gets Deeper With Kate Chastain and Ashton Pienaar from 'Below Deck'
After Ashton Pienaar from Below Deck made some salacious comments during the last episode, the bosun felt the need to apologize to fans.
Pienaar sounded contrite in his apology which he posted to Twitter. "A tough episode at the end for me to watch tonight. I am not proud of my state or the things I said tonight. Apologies to anyone offended. I will learn from this and be better," he shared. Pienaar was on the hunt during a drunken night out and graphically explained his frustrations when he couldn't seem to hook up with anyone at the end of the evening.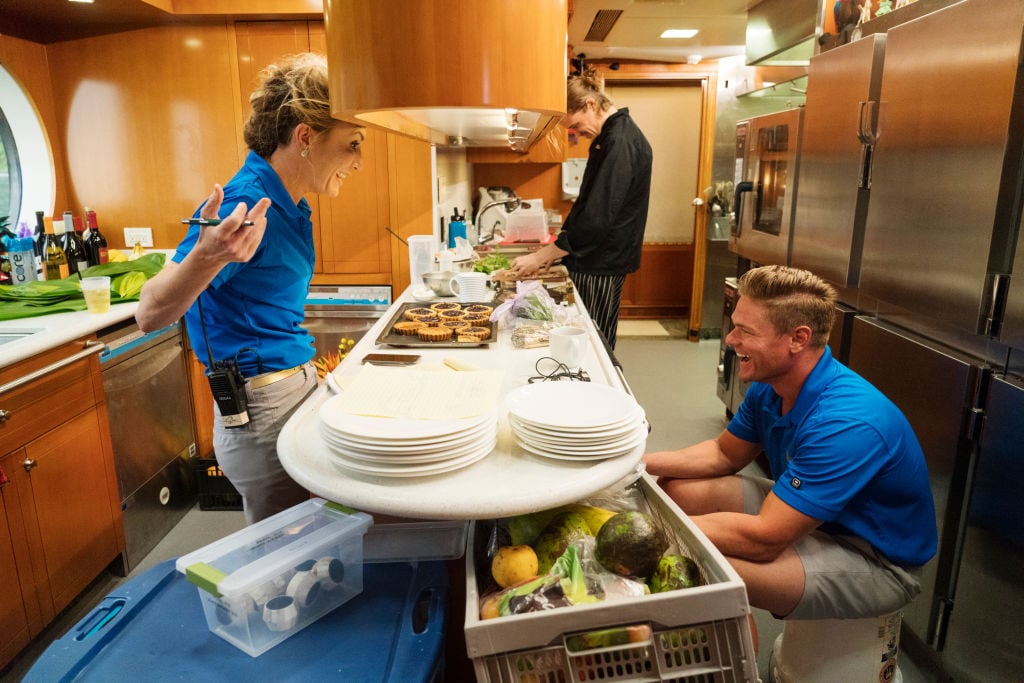 A number of fans were happy to forgive and move one. This included Captain Lee Rosbach who praised him for recognizing his behavior and taking ownership. "I bet it was pal, but way to own it and not back away from taking responsibility for your actions," Rosbach responded. Although Rosbach and a number of fans were happy to forgive, one crew member threw him some shade. And it wasn't the first time she threw shade his way either.
Kate Chastain is 'framing his quote'
Pienaar had an exchange with a fan who referred to his comments as "locker room" talk, which likely brings people back to the derogatory comments President Donald Trump made about women too. That instance was also brushed off as being "locker room" talk.
"Locker room talk," the person responded on Twitter. "Every guy does it with their mates. Only difference is Ash got caught on camera & exposed on international television tough crowd mate, all the Saffas still love you!" Pienaar commented, "What can you do, people want reality TV but can't handle seeing the truth of human behavior."
Chief stew Kate Chastain then added to the thread. "I'm framing this quote for later. And by framing I mean screenshot." She also commented on an article about how Pienaar is now apologizing for his behavior. "At least he's getting comfortable tweeting the words 'I'm sorry' now because we're only on episode 6," Chastain remarked.
She's hinted that the relationship isn't great this season
Chastain and Captain Lee Rosbach recently shared their feelings about the season with Bravo's The Daily Dish podcast. When asked about Pienaar's return, Chastain offered a cryptic response.  "I really enjoyed working with Ashton last season," she said. "So I was very excited for him to become bosun because I thought he'd be a great leader." She added, "But a leadership position is more stressful. So, I liked working with Ashton last season." Rosbach adds, "There's that telltale pause." 
She also cringed both on-screen and online about that awkward kiss Pienaar planted on her during a night out. Chastain also tweeted this comment after an episode where Pienaar (once again) tried to hook up with third stew Courtney Skippon. "Ashton the misogynistic male stripper telling Courtney she's an old soul is freaking hilarious."
Pienaar isn't the only one on Chastain's shade radar. She and chef Kevin Dobson are clashing, especially after he continued to criticize how she ran the interior. When the chef was having stomach issues, she tweeted this Home Alone inspired mock.
She shared an image of actors Joe Pesci and Daniel Stern who play cartoonish criminals trying to break into little Kevin McCallister's (Macaulay Culkin) home. Above the image of Pesci and Stern are the words, "Knock, knock, knocking on Kevin's door. who's there? I.B.S."