The Surprising Quality Miranda Kerr Was Not Attracted To of Her Now-Husband
Supermodel Miranda Kerr has an enviable career as one of the highest-earning models in the world. The Victoria's Secret beauty has expanded her business empire to include collaborations with many legendary brands, and she does it all while juggling the duties of motherhood. Kerr is happily married to Evan Spiegel, the co-founder of social media company Snapchat. However, Kerr's attraction to Spiegel was not instant, as she revealed in a recent interview.
Who was Miranda Kerr's first husband?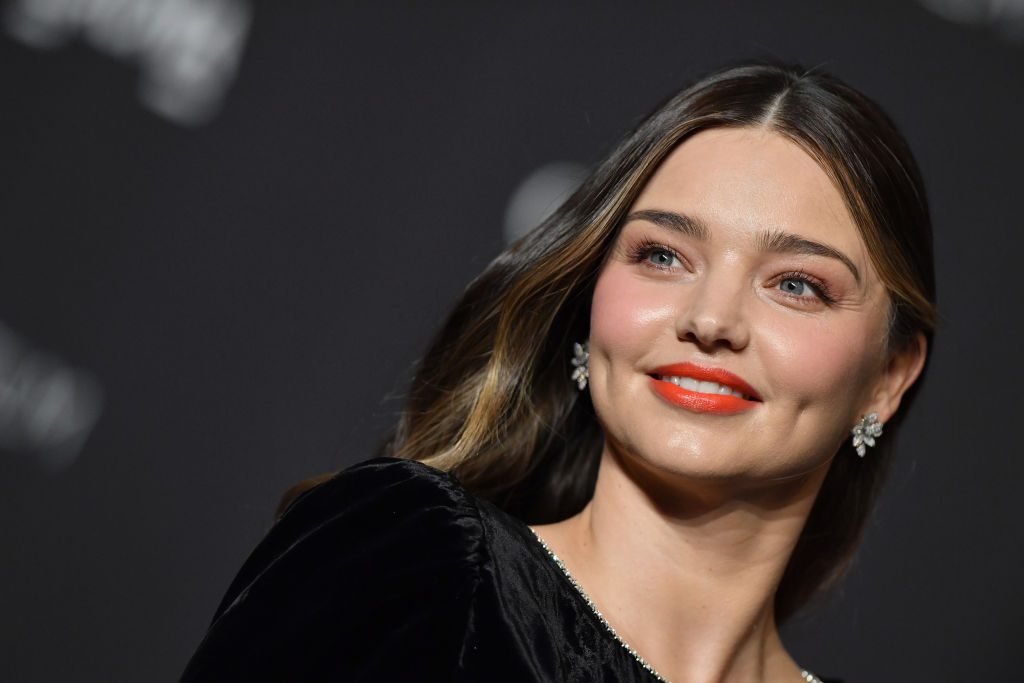 Kerr started modeling when she was still a teenager: Her stunning looks and trademark dimples making her the perfect candidate for fashion endorsements. The Australian model worked with many major brands like Roxy, Billabong Girls, and Seafolly.
After achieving fame in her home country of Australia, she relocated to New York City in the early 2000s. From there, Kerr got access to even more jobs and bigger brands, including iconic fashion houses such as Betsey Johnson, Rock and Republic, Elle, and Neiman Marcus.
In 2007, Kerr signed with Victoria's Secret and started walking the runway for the famous lingerie company. Since signing with Victoria's Secret, Kerr has gained the clout to be able to focus on her own business ventures, including her skincare line, KORA Organics.
Also in 2007, Kerr started dating the popular English actor Orlando Bloom. The two dated for several years before getting married in 2010. In January 2011, Kerr gave birth to the couple's son: Flynn Bloom. Their happiness wasn't to last, as they announced their separation in late 2013 and, by the end of the year, they were officially divorced.
When did Miranda Kerr start dating Evan Spiegel?
Following her divorce from Bloom, Kerr waited a few months before entering the dating scene again. She made headlines in 2014 when she revealed that she would be open to dating both men and women and that she "wants to explore." Still, she didn't confirm a relationship with anyone — man or woman — until 2015, although there were rumors about Kerr going out with billionaire James Packer.
Later in 2015, Kerr started dating Evan Spiegel, the CEO of Snapchat, and their relationship progressed quickly. In spite of their romantic entanglement, Kerr recently admitted that she had one small issue with Spiegel — or rather, Spiegel's skin.
She stated that she thought he was very cute but that his skin was very flaky, possibly as a result of an improper skincare routine. Fortunately, Kerr was able to give him some skincare advice (and hook him up with goodies from her skincare line) and the results were immediate. Kerr claims that his formerly bad skin "glows" now, as a result of using her KORA Organics products every day.
How many children does Miranda Kerr have?
In spite of the skin-related hiccup, Kerr and Spiegel were a perfect match. The couple got engaged in July 2016 and were married in May 2017. They didn't wait long to expand their family: In November that same year, Kerr announced that she was expecting a baby. She gave birth to the couple's son, Hart, in May 2018. In April 2019, Kerr revealed that she is expecting again — the couple has not yet announced whether the bun in the oven is a boy or girl. When the new baby arrives, Kerr will have three children in total, including her son with Bloom and her two children with Spiegel.