The Surprising Reason Terrence Howard Just Proposed to His Ex-Wife, Mira Pak
The heart wants what it wants, right?
Terrence Howard, 49, has a legendary Hollywood career, including an Academy Award win for Hustle & Flow. The Empire star may have achieved professional success, but his personal life isn't so simple.  He's been married and divorced four times to three women. Now he just surprised everyone by proposing to his most recent ex-wife again with a stunning seven-carat diamond.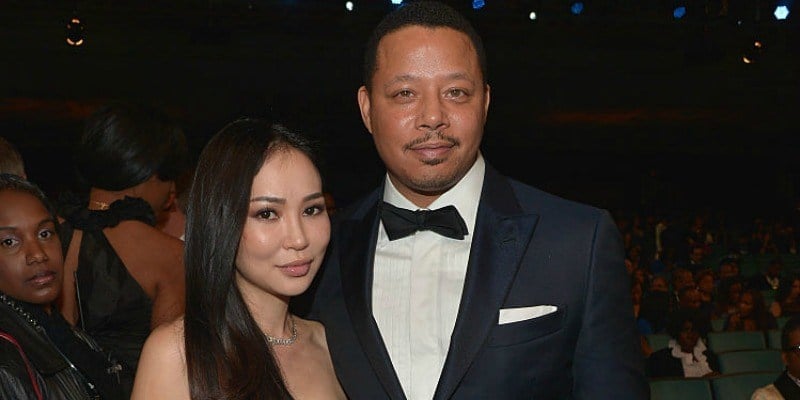 Who were Terrence Howard's wives?
Howard got married for the first time in 1994. His wife Lori McCommas gave birth to two daughters, Aubrey and Heaven, and a son, Hunter. The pair first filed for divorce in 2000 and made it official in 2003. However, that divorce didn't stick – they remarried each other in 2005. Their second divorce happened in 2007.
Still, Howard wasn't ready to give up on love just yet. He got married for a third time to a second wife, Michelle Ghent, but the pair divorced in 2013 amidst allegations of abuse. The commercial production employee said Howard sucker punched her, pushed her against a bathroom wall, kicked her, and threatened to kill her during an argument. She filed a restraining order against the actor in 2011.
Despite the negative press, Howard found love again quickly with his third wife, model and restaurant owner Mira Pak. The duo had two sons together, Quirin Love and Hero, who were born in 2015 and 2016 respectively.
The romance is still alive
Mira Pak and Terrence Howard divorced quietly in 2015. But they've been seeing each other for years now and Howard just proposed marriage for a second time in December 2018.
The pair was enjoying a romantic evening out at Crustacean Beverly Hills when Howard popped the question. "We have an idea of how long we think life is, but we do know how short it can be," he said in an emotional video he made of the proposal. "It took me 45 years to find you," he said. "But now that I have you in my 50th year, I will spend the rest of eternity at your side. And I pray that everybody finds that one that will complete them for all eternity because it means everything. I love you."
The diamond sealed the deal
It would have been a hard ring to say no to. The engagement ring, which Terrence Howard shared on Instagram, was designed by celebrity jeweler Ben Baller. The rose gold, diamond clad setting is truly remarkable. "2nd times a charm to rekindle that fire," Baller explained, including a video of the ring on their Instagram.
Why did Mira Pak say yes?
Even though Pak and Howard divorced in 2013, they reconciled the relationship a short time later. It's obvious that the pair still has love for each other and don't want to give up on the relationship. Three years was enough time to stay a couple without making it official. They've been raising their children together and they'll be planning a wedding, too.
Congrats to the happy couple!