The Surprising Way Kit Harington and Rose Leslie Told the World They're Getting Married
There's no shortage of romance on Game of Thrones. Amidst the battles and backstabbing, our favorite characters have found time to fall in love. And in Kit Harington and Rose Leslie's case, romance blossomed off-screen too.
The pair met and hit it off while filming the hit HBO series. And they did their best to keep the details of their relationship away from prying eyes. In September 2017, they announced their engagement. But thanks to their unusual relationship with the press, they chose a very peculiar way to let the world know they were making it official.
1. Their characters fell in love on Game of Thrones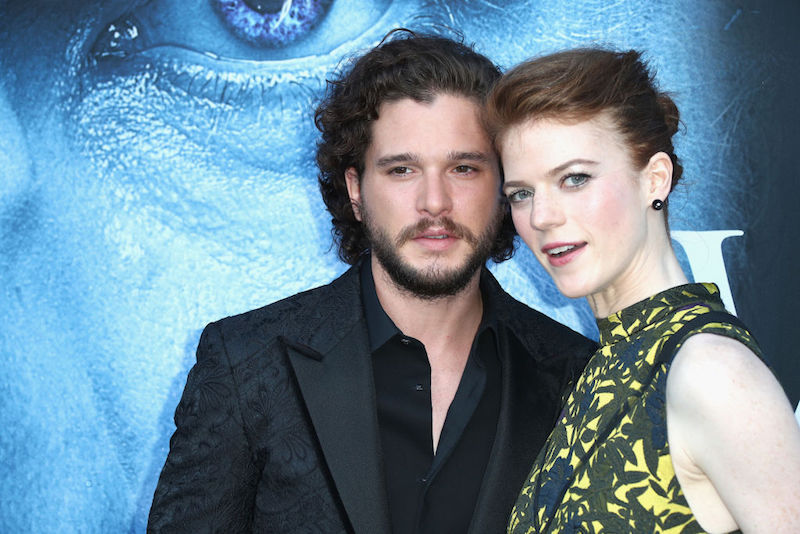 Jon Snow (Harington) was sworn to celibacy as a member of the Nights' Watch. That is, until he met Ygritte (Leslie). She was a Wildling, and therefore his sworn enemy. She initially bristled at his obvious lack of real-world experience. And she frequently reminded him that he knew nothing about really anything — especially women. But throughout Season 3, as Jon and Ygritte journeyed beyond the Wall, they grew closer to one another. Eventually, Jon decided his Night Watch vows weren't maybe all that important after all, and they consummated their relationship in a cave (it was more romantic than it sounds).
Their relationship was, sadly, not meant to last, though. Once Ygritte realized that Jon had joined the Wildlings on a reconnaissance mission, she tried to kill him. Then, when she and her fellow free folk stormed the Wall, she was mortally wounded.
It was a tragic end to one of Game of Thrones' most captivating love stories. But off-screen, the story didn't end when Ygritte died in Jon's arms.
2. Harington and Leslie started dating in 2012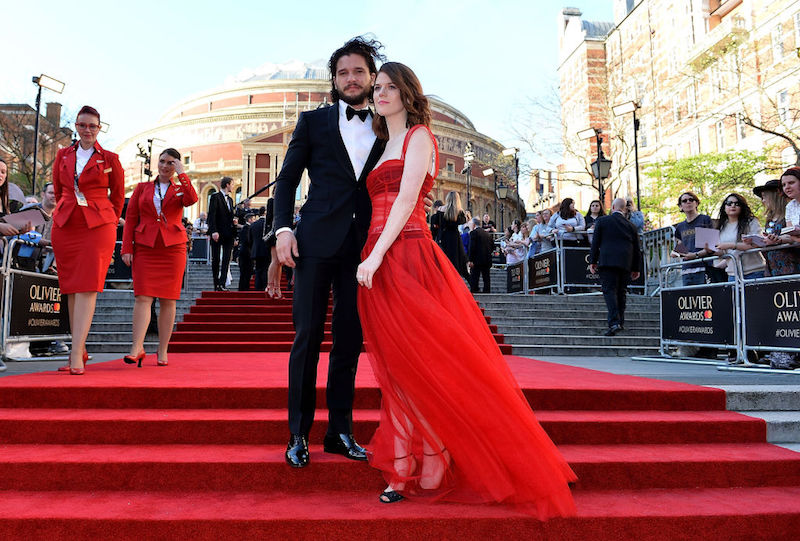 There's no way to tell for sure when Kit Harington and Rose Leslie began dating. That's because they've been pretty hush-hush when it comes to the details of their relationship. But reports began surfacing in summer 2012 that the pair could be more than just on-screen lovers.
Harington and Leslie were photographed having dinner in London in August. Though they wouldn't officially confirm their relationship,  a few months later, Harington told Winter is Coming that he and Leslie were "very, very close."
3. They broke up in 2013 (but not for long)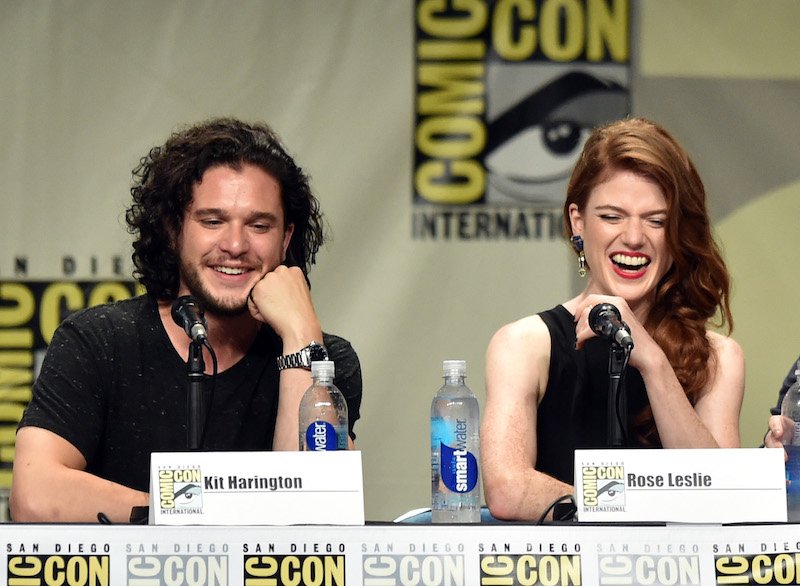 Before fans were even sure that Harington and Leslie were an item, the pair reportedly broke up in March 2013. And Harington put the kibosh on any relationship rumors, stating there was no "love affair" between himself and his co-star.
Then in summer 2013, the pair was spotted together before San Diego Comic-Con and sparked a new set of rumors. In August of that year, Us Weekly reported the pair was giving romance another shot.
At the time, sources said their relationship was just "casual." It's unclear whether they stayed together or were just friends. Fans had to wait for years to get official confirmation that they were, indeed, on again.
4. Leslie and Harington went public with their relationship in 2016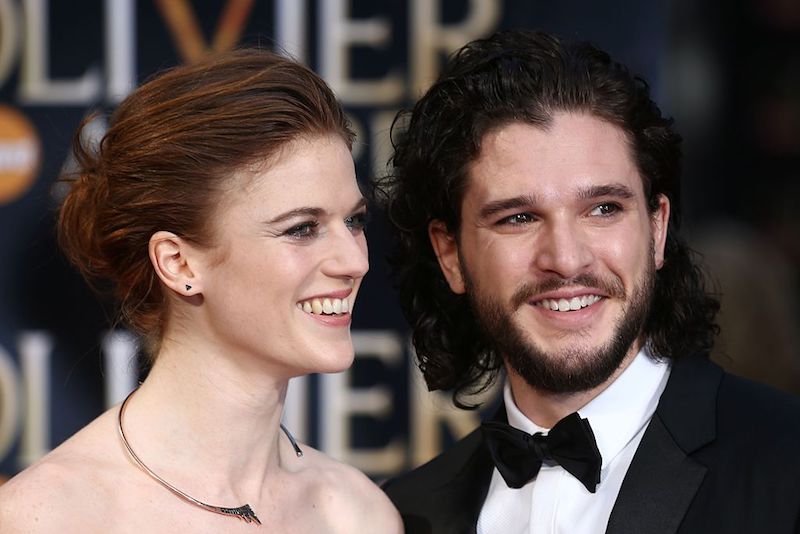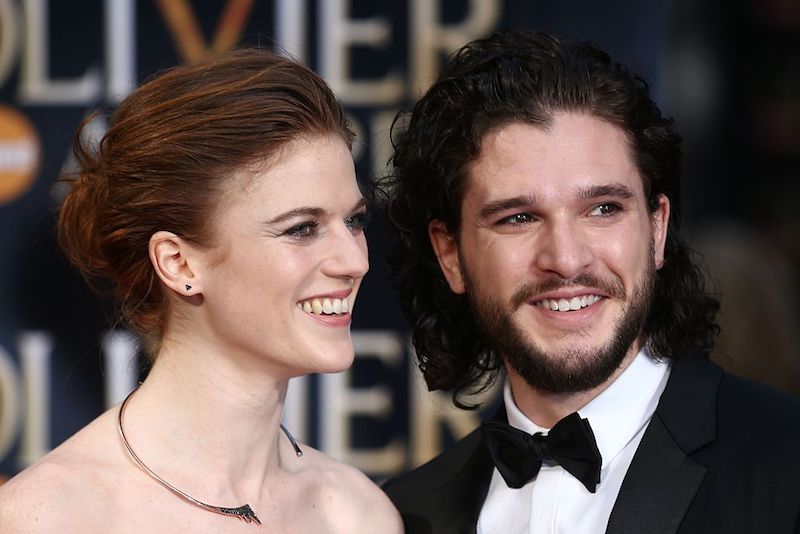 Despite the constant swirl of tabloid rumors, Harington and Leslie managed to more or less avoid the spotlight over the next couple of years.
In 2016, their relationship became considerably less low-key. First, their Game of Thrones costar accidentally confirmed their relationship when she commented on a report that they'd been canoodling in public. She told Entertainment Tonight, "There are worse things than being caught kissing Jon Snow!"
Then, in April, they finally made their first red carpet appearance together. They walked arm-in-arm and looked very much in love at the Olivier Awards. It was a big step for the pair. But before long, they made another big move in their relationship.
5. They've hinted that the relationship was getting serious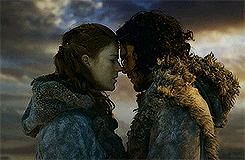 In March 2017, Kit Harington spoke with Esquire and was unusually candid about his relationship with Leslie. He told the magazine that they'd made a conscious choice to keep their private lives under wraps. But he did offer up a bit of news about their relationship: that they were "very, very happy" and in the process of moving in together.
Their cohabitation made headlines and even drew Nicole Kidman's attention. In a June 2017 interview on The Late Late Show, she asked the Game of Thrones actor if he was planning on proposing to Leslie. And Kidman, not to mention the rest of us, didn't have to wait all that long to get an answer to her extremely straightforward question.
6. Their wedding announcement was adorably unique (at least for Hollywood)
It's official! #GameofThrones stars Kit Harington and Rose Leslie's engagement confirmed with an official notice in today's Times newspaper. pic.twitter.com/MSN3dRxj4m

— lizo mzimba (@lizo_mzimba) September 27, 2017
In September 2017, rumors began to swirl that Harington had proposed to Leslie. These days, celebrities often announce their upcoming nuptials on social media. They post shots of engagement rings and glowing notes to their soon-to-be spouses on Instagram.
But Harington and Leslie aren't huge social media users. So they found a much more traditional way to confirm their engagement. On Sept. 27, 2017, their names appeared in the "Forthcoming Marriages" section of London's Sunday Times.
Images of the announcement quickly spread across social media. But there's something charmingly romantic about the couple's old-fashioned approach.
7. Their announcement was so low-key that some costars didn't even hear about it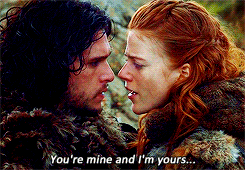 It shouldn't come as a surprise that Harington and Leslie found a unique way to get the news out about their engagement. After all, they've never been a couple that sought the spotlight. But the print edition of the Sunday Times doesn't exactly have the same reach as, say, Twitter. And as a result, some of their Game of Thrones' costars didn't get the memo about the upcoming wedding.
Thomas Brodie-Sangster, who played Jojen Reed on GoT, was certainly out of the loop, for one. He learned his castmates' news on live television during an interview with Good Morning Britain.
At least Harington can argue he's not the one who knows nothing these days. Hopefully, he and Leslie will know years of marital bliss after they've said "I do."
Follow Katherine Webb on Twitter @prufrox.
Check out The Cheat Sheet on Facebook!