The Surprisingly Thoughtful Gift Queen Elizabeth Gave Meghan Markle to Welcome Her to the Royal Family
Queen Elizabeth was reportedly very welcoming to Meghan Markle when she joined the royal family. In addition to making what one royal expert called an "unusual effort" as Markle entered the family, the queen also gave the duchess a beautiful gift.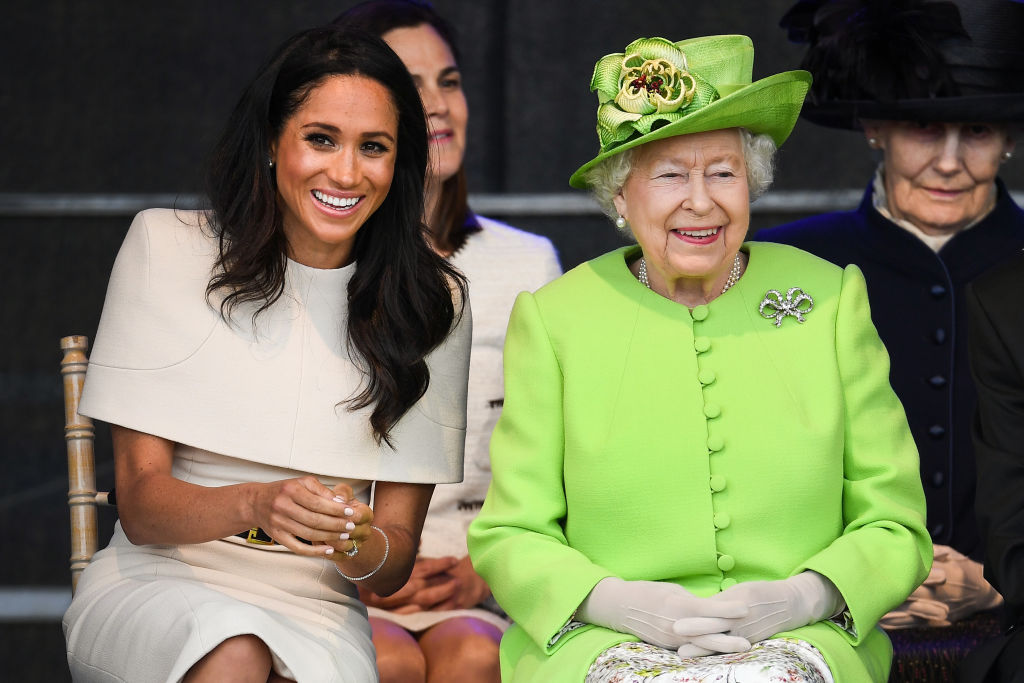 Queen Elizabeth was very welcoming
Coming into the royal family may have been an intimidating proposition, but royal commentator Duncan Larcombe told Fabulous Digital that the queen was very welcoming.
When Markle and Prince Harry were married, Queen Elizabeth helped the now duchess with the transition. Larcombe explained: "Meghan seems to have forged a particularly close relationship with the Queen if you compare that to when other people have married into the royal family."
He continued, noting: "The Queen last year in the first few months of Meghan's entry into the royal family, made a particular and slightly unusual effort to welcome her in. Unusual in the context of the trip on the royal train to do a royal engagement [in Cheshire]. I'm 99 percent sure she's never afforded that offer to Kate."
The queen's gift for Markle revealed
The queen reportedly had a special gift for Markle before they both went to their royal engagement in Cheshire — a pair of pearl drop earrings.
The interesting thing about the earrings is that they're similar to ones the queen wore during the trip. The earrings they both wore featured a diamond and a pearl, though Queen Elizabeth's were slightly larger. Markle has been seen wearing the special gift at other events.
Why was Queen Elizabeth so welcoming? One theory is that she wanted to provide Markle with extra attention so that she'd have an easier time than Princess Diana did.
Larcombe shared that there have been times when the Queen "obviously requested" Markle to join her for appearances, believing it to "signal the fact that she was welcoming her into the royal family."
He continued: "Possibly because Meghan very much burst onto the scene in a way Kate obviously didn't. Everyone got to know Kate and the family long before they got engaged."
The royal expert further noted that the queen's efforts could be a way to make a better situation for the duchess than Princess Diana experienced, explaining: "Also possibly because of the lessons of the past where Princess Diana pretty much felt like an outsider in the royal family."
Patrick Jepson, who served as Diana's private secretary from 1988 to 1996, told Yahoo's The Royal Box: "Both from her own childhood and from her experience of marriage, she felt that she was an outsider, that she had been excluded."
Did the queen do more for Markle than Middleton?
Many believe that the queen was more warm in welcoming Markle than Kate Middleton. Ingrid Seward, editor-in-chief of Majesty Magazine, shared with Fabulous Digital: "The Queen admires Kate tremendously but does not have an intimate relationship with her as they don't have much in common."
She added: "I think the Queen and Kate have a more serious relationship as obviously Kate holds all the Queen's hope for the future and she would not want to do anything to upset that. I can't see what she would have in common with Kate apart from her royal duties."