The Sweet Reason Kim Kardashian Gave North West a Puppy for Her Fourth Birthday
The Kardashian-West family has the cutest puppy on the internet. It was given to their daughter, North West, for her fourth birthday. When asked about why they decided to gift North a puppy, Kim Kardashian gave the sweetest answer. Here's everything you need to know about North's puppy.
What kind of dog did North West receive?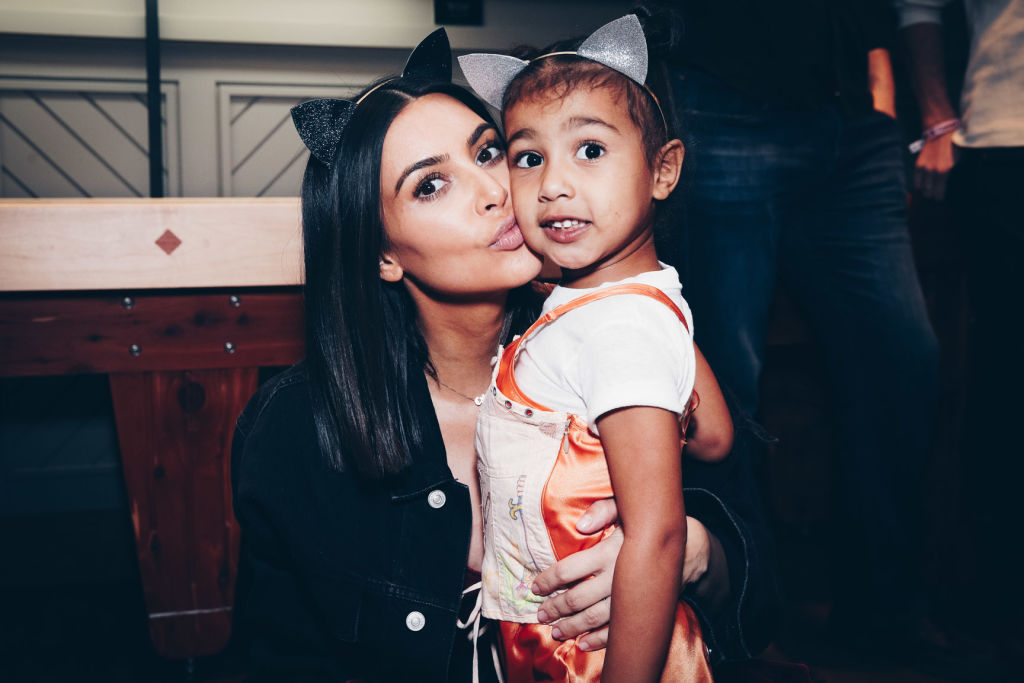 On her fourth birthday, North received a yellow Pomeranian puppy. According to BET, the pint-sized purebred dogs can run upwards of $4,000. North's cousin, Penelope Disick (daughter of Kourtney Kardashian and Scott Disick) also received a pomeranian pup on the same day. Hers was a slightly warmer golden color, so Penelope's puppy is named Honey.
What did North West name her puppy?
It seems the Kardashian-West family was having a little trouble coming up with just the right name. Kim, a social media maven, knew just what to do, though. She posted a Twitter poll asking what the name should be. The choices: Baby Jesus, Peachy Pop (Peaches), Sushi, and Goldie.
The winner of the Twitter poll was Peachy Pop, but North opted to name the dog Sushi.
However, only a month later, in a video posted by Kim on Snapchat, North tells her mother that she's renamed the puppy Diamond. In the video, Kim seems surprised at North's name choice but appears to go along with it. Still, it's unclear if the name stuck. In later interviews, they seem to be still calling the dog Sushi, so maybe this was only a phase for North.
North West's pup needed a behavior specialist
Later that year, in an episode of Keeping up with the Kardashians, Kim becomes frustrated by the pup's behavior. Mostly, it's non-stop yapping. So, she turned to a famed animal behaviorist: Cesar Millan. Millan was able to observe the dog, and offer several tips and tricks to get him on the right track. Kim commented on the help they received from Millan: "It's really exciting to know that Sushi's issues are fixable, and she's just a part of the family now, so we gotta work on it."
Why Kim Kardashian wanted to give North West a puppy
A source close to the Kardashians told People that Kim wanted to get a puppy for North in the hopes that it would teach her responsibility and prepare her for a sibling. At the time, the Kardashian-West family had recently announced that they were expecting their third baby (the first by surrogate). We hope Kim's plan worked since the family is now getting ready to welcome their fourth child. Kim seems to have a pretty good handle on parenting. She is often able to answer parenting questions that are thrown at her during interviews. But, she does have three kids to take care of every day.
How is Sushi doing?
It's been a couple of years since North welcomed the puppy into their home. Fans hadn't seen the dog for a while, and while the Kardashian's are rumored to not have a very good track record of keeping pets for long, some wondered if the dog was still around. Those rumors were put to rest after a recent Vogue photoshoot. The magazine featured a full-page photo of Kim with her three children. They stand in a gorgeous kitchen, Kim in a stunning orange dress, and North holding little sushi. So, it appears the dog is alive and well. I guess that's good news for North. Maybe she was able to learn her responsibility lesson after all.