The Sweet Reason Thomas Rhett Turned Down Reality TV
Singer Thomas Rhett is popular not just for his chart-topping music, but also for his famous family. His full name is actually Thomas Rhett Akins. He is, of course, the son of country music superstar Rhett Akins. 
Thomas Rhett is proving to be just as talented as his dad. In 2017, he snagged Male Vocalist of the Year at the ACM awards.
Rhett is now a dad himself, and he loves to post about his family on social media. 
Thomas and Lauren Akins were childhood sweethearts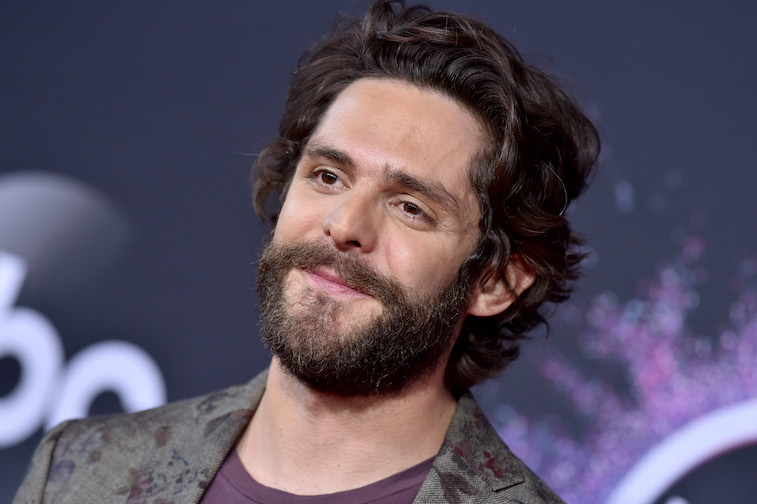 Rhett and his wife Lauren have had a storybook romance. They knew each other as children, then briefly dated as teenagers. Realizing they were meant to be together, they reunited and were married when they were both just 22. 
He and his wife Lauren have two daughters, Willa Grace and Ada James. Both girls joined the family in 2017, which proved to be a crazy busy year for the family. In May, the couple adopted Willa from Uganda. And then in August, Lauren gave birth to Ada.
Fans love to follow Rhett's family on Instagram. Many of the photos he posts include his daughters and wife.
There's another baby on the way
Lauren is pregnant with the couple's third child, due in February. The couple did a fun gender reveal which they posted on Facebook. (It's a girl!) However, they're keeping the name under wraps for now.
Between being country music royalty and having a photogenic family, a reality show seems like the next move. So why don't Rhett and Lauren have their own reality show?
Did Thomas Rhett turn down a reality show?
It turns out Rhett has, in fact, been asked to do a reality show. After considering it, he politely declined. We know it's not because Lauren is camera shy. She starred with Rhett in the music video for his song "Die a Happy Man." 
In an interview with Taste of Country, Rhett says he and Lauren feel like they're already sharing enough of their family online. While Rhett likes posting on social media, he thinks a reality show would be "too much."
Ever the family man, Rhett wants to maintain some privacy and normalcy for his young daughters.
Thomas Rhett is going on tour in 2020
Rhett may not be doing a reality show anytime soon, but he's not completely avoiding the cameras. In the same Taste of Country interview, he dropped some major hints about being on the big screen. (Hollywood directors, are you listening?)
He said that he wouldn't mind doing a cameo in a major motion picture.
Rhett is also teasing his fans by saying he'd like to get "behind the camera." Maybe this year he'll try his hand at directing a country music video or even shooting a documentary.
After daughter No. 3 is born, it looks like Rhett is taking a couple of months off. Then after a little family time, he's going to be very busy with his next tour.
According to Rhett's website, he's set to tour for much of the summer.
His tour starts at the end of April and runs through the end of August. It will be easy for fans to catch him live because he has concerts scheduled all over the U.S.
Even without a reality show, Rhett makes it easy for his fans to follow his family. He maintains active Facebook, Twitter, and Instagram accounts. And with a new baby girl on the way, fans have a lot to look forward to this year.