The Sweet Way Aaron Carter Just Wished His Fiancé a 'Happy Anniversary'
If you're a fan of Aaron Carter, then you've probably heard something about his on-again off-again relationship with Melanie Martin, his fiancé. The couple is currently together despite the drama in the past. But a lot has happened since they first started dating. The two made things public in January 2020, and there's been a lot that's happened along the way.
Aaron Carter and Melanie Martin have had a rocky relationship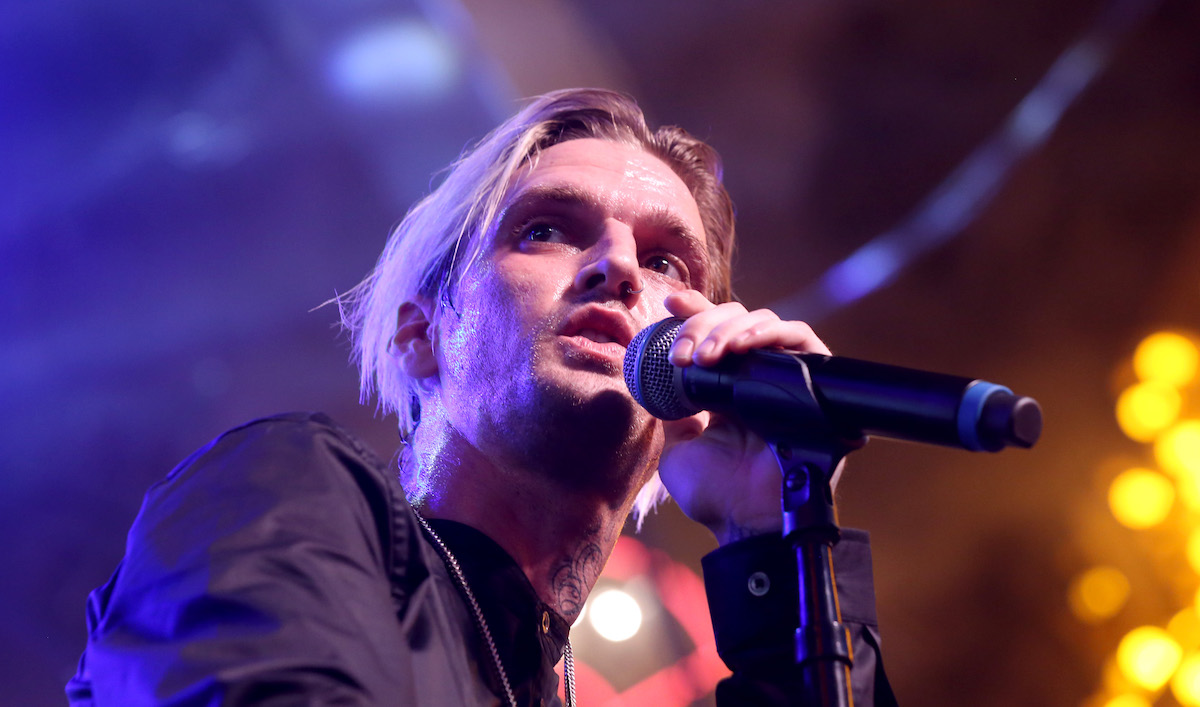 Although the couple appears all smiles in their latest picture together on social media, it hasn't always been that way. They've broken up more than once, and Martin was even arrested at Carter's home in Los Angeles in March. According to TMZ, the authorities were called out around 11 p.m. when things allegedly became physical. Martin was taken in on a felony domestic violence charge. The singer also shared images allegedly showing marks where he claimed Martin had scratched him.
Despite the drama, they managed to get back together. According to E! News, in April, Carter announced via Instagram Live that the couple was expecting a child together, and he even showed off a positive pregnancy test.
The coupe then became engaged
But by May, Carter was dating someone new, a woman named Viktoria Alexeeva, who appeared all over his social media for a while. However, things changed by the time June rolled around. Carter and Martin were back together again. They announced in a video live-streamed on YouTube that they were together, and according to Entertainment Tonight, Carter revealed that Martin had a miscarriage.
"She suffered a miscarriage due to stress conditions," Carter revealed. "We're gonna give it some time, let her heal and then we're going to try again. We both want that. I gotta take care of her."
That same month, Carter revealed on Instagram that the two were now engaged by showing off Martin's hands with a shiny diamond.
The sweet way Aaron Carter just wished his fiancé a 'happy anniversary'
RELATED: How Did Aaron Carter and Complicated Ex-Girlfriend Melanie Martin Meet?
The couple just celebrated their one year anniversary together. Carter took to Instagram this week with a picture of the two wearing helmets and most likely riding an ATV together, as Carter is known to do. They're dressed up in protective jackets, and Martin has her arm around Carter that perfectly shows off her diamond ring. Carter mentions in the caption that she's "the love" of his life, and all he needs is her, which really is a sweet sentiment.
Carter captioned the post on Instagram: "Happy anniversary to my one and only the LOVE of my life. We've been through hell and back this year but still came out on top and together. All I need is you baby. Trust me. I love my supporters but no one means more to me than my wife to be. @missmelaniemartin Have respect ✊."
Martin responded in the comments with: "Happy anniversary my baby you're gonna kill it this year 😜."
Martin actually shared the same image with her followers on Instagram as well. "Happy 1 year anniversary 😍🥰 to my Løvë @aaroncarter. We been through a lot but we end up sticking together through thick and thin and it's all worth it to be with the one. ♾ It just had to be you love you 😘," she wrote on Instagram.
Despite the rocky road these two have dealt with over this past year, they're still together and going strong. We'll have to see what 2021 holds for this celebrity couple.