The Sweetest Things Kanye West Has Ever Said About Kim Kardashian
Kanye West and Kim Kardashian are one of Hollywood's modern-day power couples. The pair are at the top of their game in their respective careers and are always looking for ways to expand. West just started his own Sunday service earlier this year. Kardashian just began following in her dad's footsteps to pursue law. The couple does all this while upkeeping their current careers and raising a family.
Throughout their hectic time together, West has said some incredible things about his wife. Not surprising considering just how perfect their relationship has been. Below are five of the sweetest things the Power rapper has said about his lady love.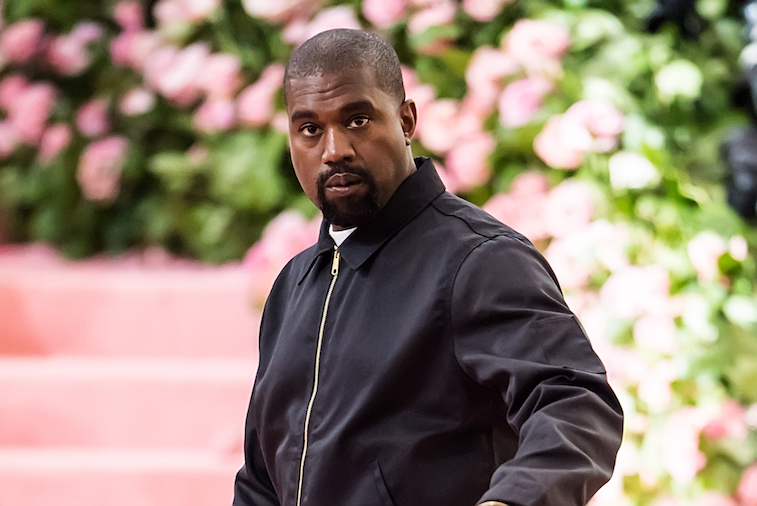 "I knew that I wanted this family, and with her, I felt like our love story's a love story for the ages."
While speaking with Angie Martinez on Hot 97, West dropped this heart stopper. Admitting that he wanted to interweave his bloodline with hers and stick by her side in a lifelong commitment takes the cake for one of the top five sweetest things West has said about Kardashian.
"I knew that I wanted this family, and with her, I felt like our love story's a love story for the ages. I felt like when we first got together, it was like a Romeo and Juliet kinda thing where it's like she's a reality star and I'm a rapper, and people were talking about how are brands connect and what doesn't fit. And I'm just so tired of the conversation of brands, why don't we start the conversation with love?"
He even went as far as to compare their once extremely complicated relationship to that on Romeo and Juliet. Talk about being a well-read romantic.
"She gave me family. She gave me a support system. She gave me everything."
In case you didn't know, Kardashian is West's everything. While talking with BBC Radio 1, he shared this extremely sentimental bit about his one true love. Not only does he looks at Kardashian as the woman who blessed him with a beautiful family, but he also sees her as his support system. An opinion that both of them share about each other.
As far as West is concerned, being with the buxom babe has resulted in him having everything he could have ever possibly needed or wanted!
"[Kim is] the most beautiful woman of all time."
Even before the two were married, West wasn't afraid to wear his heart on his sleeve. During a Hot 97 interview, West dropped this bomb of a comment. As a soon-to-be-husband, he probably didn't have much of a choice, but the declaration is one that without a doubt left the beauty mogul with butterflies in her chest.
After all, as a rapper, West has been exposed to tons of women. He's traveled the world and has seen women of all shapes, sizes, and complexions. Even still, the reality star is at the top of his list, not just for love, but for looks as well!
"I'm so happy to be with her, to live this life together, and—with our relationship with God—to be able to live forever in heaven together."
It's one thing to be riding the honeymoon phase rocking rose-tinted glasses. It's another thing entirely to stay in love. Looking at the couple, it seems like their love hasn't waned a bit. When chatting it up with KME-FM radio, West gushed about just how much he loves his life. It's pretty easy to see that Kardashian is making West extremely happy.
Not only does he plan to spend this life with her, but he's hoping they even get to live out their days in heaven together.
" I'm so happy to be with her, to live this life together, and—with our relationship with God—to be able to live forever in heaven together," Kanye gushed during a KME-FM radio interview, adding, "and also to raise a strong family that communicates truth and beauty…I love that fact that God has put her in my life—every single day." – Kanye West (KME-FM Radio)
"My wife a lawyer now! Bet you I get out this contract."
The KUWTK star's journey to be a lawyer is no secret. The move really shook things up and garnered tons of positive and negative attention. Kardashian hasn't been afraid to talk about the difficulties she's faced while studying, but things are about to get much harder.
With their fourth child, Psalm, recently being added to the mix, time in the Kardashian-West household is spread extra thin.
"The fact that he is supporting me in this journey, knowing that for the next 4 years it would take time away from him and our kids, means a lot to me," Kim relays in a confessional. "And, gives me the confidence that I really need. And that, like, extra push of someone around me to be like, 'I know you can do it. You got this!'" -Kim Kardashian
Even so, West is rooting for his wife and is more than happy to lose out on "us" time so she can work towards her dreams. Now that's sweet.