The Sweetest Things Kelly Ripa and Mark Consuelos Have Said About Each Other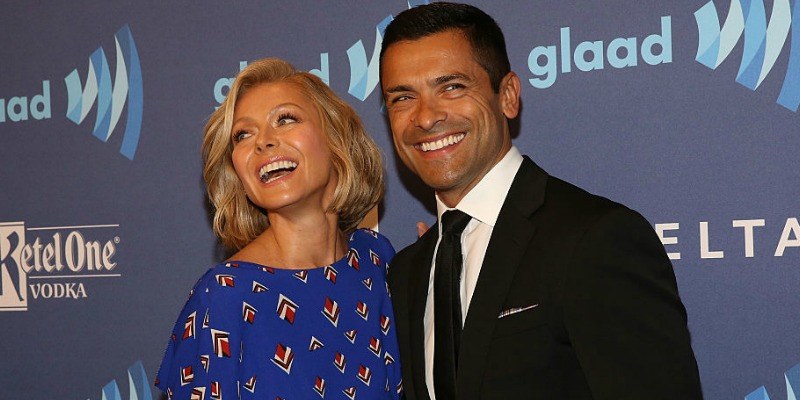 Kelly Ripa has proven to be the queen of the clap backs when it comes to criticism on social media about her marriage. However, that doesn't mean she isn't constantly saying the sweetest things about her husband, Mark Consuelos, too. Their marriage may be going more than 20 years strong, but that doesn't mean the magic of their romance has gone anywhere.
Over the years, Ripa and Consuelos have proven they just can't get enough of each other. From defending their relationship on social media to gushing about their marriage, these are the sweetest things the two have said about each other.
On how Ripa 'knew' Consuelos was the one
Ripa remembers the exact moment she fell in love with her future husband. "I saw my husband in a photograph before I saw him," Ripa spilled on the SiriusXM Radio show Lunch with Bruce in August 2018. "I knew when I saw his photograph."
She saw this photograph during her time on All My Children, when they were looking to fill a role — which Consuelos ended up landing. "When I saw him, the photograph of him, I saw my entire future with him flash before — like I saw it," Ripa explained. "And I don't believe in any of that and now I do because of that moment."
On what Consuelos thought of Ripa when they met
Even though the Live with Kelly and Ryan star immediately knew they were meant to be together, Consuelos admitted he didn't exactly have the same reaction. "I thought she was adorable, hot and sexy and all that stuff, but I was very focused," he told HuffPost Live. "I didn't really think I had a chance with her, so I wasn't really focused on that."
On what draws Ripa to Consuelos
Back in 2013, Ripa explained what she thinks makes Consuelos so attractive. "I was drawn to Mark because he was positively an alpha male, and I didn't think I would be drawn to that. But I just worship him," she told ELLE.
On being proud of her 'young, handsome husband'
Ripa received some hate on Instagram in September 2018, but she clapped back in the best way she knew how. Consuelos posted a photo in which he's holding up a sign, which reads, "I am #HeForShe Are YOU?"
Initially, Ripa sweetly congratulated her husband, writing, "You make me proud @instasuelos." Despite the loving nature, a troll stepped in to stir up some drama. "@KellyRipa yes he is so handsome but you need to go Kelly you look to old for him," the Instagram user wrote, despite the fact that both Ripa and Consuelos are 47 years old. "Sorry but you do."
Ripa responded, "You need to learn how to spell the word too sweetie. As in you're too stupid to be with my young, handsome husband," she clapped back. "Ps, he likes proper grammar as well you dope."
On Ripa's 'beautiful soul'
Ripa and Consuelos often take to social media to brag about each other. In August 2018, the Riverdale star posted a sweet photo of himself and his wife on a boat. His caption didn't contain many words, but the few words he chose were impossibly sweet.
"Love this old photo, love the beautiful soul leading the way as always," he wrote. He also added the hashtag, "#marriedabovemystation."
Fans couldn't help but gush over the sweet photo. One Instagram user wrote, "Wow that love you two have for each other is just… just amazing, blessings and much love for you two out there."
On how Consuelos supports Ripa
When Ripa was going through a rough patch with work in 2016, Consuelos knew exactly how to support her. Ripa gushed to People at the time, "Mark is such a smart guy and is always in the face of business very dispassionate. He just put it together in a beautiful package for me and made it very palatable, very matter-of-fact, and very sensible."