'The Tonight Show': Do People Really Want More of Jimmy Fallon?
Whether people want more Jimmy Fallon or not, they're about to get him, with NBC making special plans to air special episodes of The Tonight Show after NFL football.
Football is a proven ratings lead-in, which is why airing right after the Super Bowl is one of the most coveted time slots on TV. However, we're closer to the beginning of football rather than the end, so some might interpret NBC's plan as a blatant attempt to boost Fallon's disappointing ratings.
Football and Fallon: NBC's plans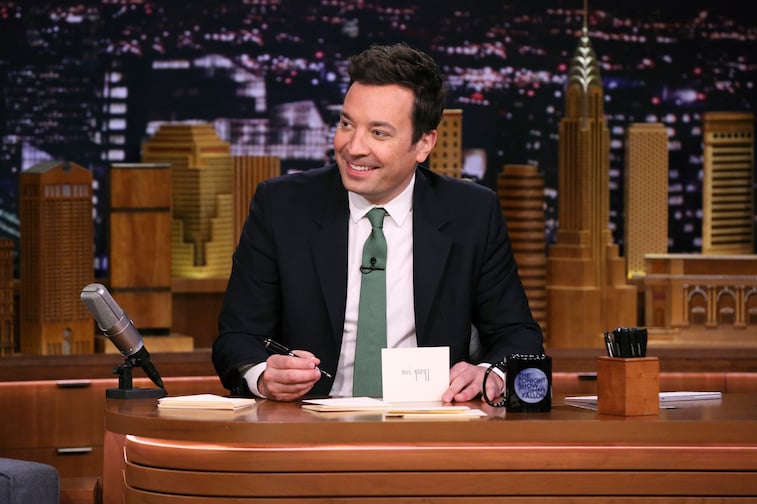 According to TV Line, NBC will air episodes of The Tonight Show after five games on Sunday Night Football, starting September 8 with the game between the Pittsburgh Steelers and the New England Patriots. These will be new episodes of Fallon, not reruns.
The four other dates for the Sunday shows are October 6, October 20, October 27 and December 1. And as if Fallon won't have enough work to do, he'll run an entire week live from Sept. 23 to 27, when the new season of The Tonight Show kicks off.
Doing the show live will certainly be nothing new for the Saturday Night Live veteran, but whether Fallon is sweating the extra work or not, NBC executives have reportedly been sweating Fallon's ratings, which have consistently dropped behind Stephen Colbert's over at The Late Show on CBS.
Ratings crisis at 'The Tonight Show'
According to The New York Post, NBC was none too pleased after finding out that Colbert had trumped Fallon for the third year in a row.
In an era where TV ratings are falling across the board, all the late-night talk shows saw declines, but Colbert's was the smallest at 2 percent, while Fallon was down 9 percent, and ABC's Jimmy Kimmel Live was down 10 percent.
Making matters worse is that for the first time, Fallon fell behind Colbert for an entire season. NBC responded that The Tonight Show "is the most-viewed entertainment program on TV across social media and the most popular late-night entertainment show on YouTube."
Fallon excels at going viral with popular routines like "Classroom Instruments" and "Lip Sync Battle," which span off an entire show of its own. However, it's all too easy to forget that social media doesn't equal the entire viewership, as the ratings demonstrate.
Can Jimmy Fallon recover?
The Daily Beast pointed to then-presidential candidate Donald Trump's 2016 appearance on the show as the moment when ratings took a bad turn. Fallon received intense criticism, specifically for mussing Trump's hair, and generally for playing too "nice" with the divisive leader. Meanwhile, skewering Trump is Colbert's stock in trade.
Fallon admitted he has had a hard time living that moment down, saying rather bluntly:
"You go, 'All right, we get it. I heard you.' You made me feel bad. So now what? Are you happy? I'm depressed. Do you want to push me more? What do you want me to do? You want me to kill myself? What would make you happy? Get over it.'"
Such controversy is tough for Fallon, who is generally seen as a people-pleaser who simply wants to get along with everybody. Mean-spiritedness just isn't him. While such an attitude is commendable, some might argue Fallon can be generous to a fault.
Commenters on TV Line have taken note of NBC's NFL gambit, with one saying "Trying to get viewers back he lost during the whole trump debacle. Doubt it will produce a lasting effect."
Another mused. "How about them (insert football team here)? I haven't seen numbers so low since (Political Person here)'s approval ratings."