The Touching Impact Megan Thee Stallion's Mother Had on Her Career
Megan Thee Stallion's mother had an impact on her music and education.
Megan Thee Stallion's career is on fire!  The Houston bred rapper is topping the charts with her hit singles "Big Ole Freak" and "Hot Girl."
But unlike many of her rapper peers who have been a product of disenfranchised backgrounds, Megan comes from a solid background, with her mother turned manager Holly Thomas as her inspiration.
Thomas encouraged her daughter to pursue an education, which Megan continues while her rap career rises. However, Megan inherited more than a passion for education from her mother. They both share a love of hip hop.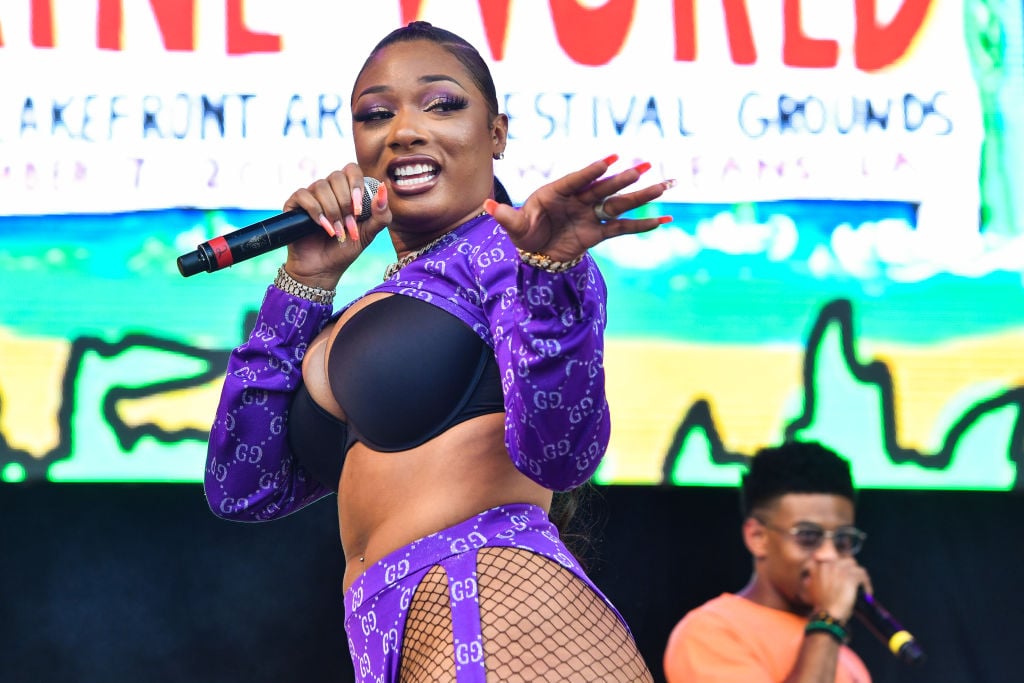 Megan Thee Stallion's mom was a rapper herself
It's not every day that a female rapper and her mother share the same talent. Megan's first introduction to the rap world was growing up and watching her mom, who went by the stage name 'Holly-Wood.'
In an interview with VIBE Magazine, Megan reflected on getting a crash course in rapping from her mom.
A young Megan accompanied her mom to late-night studio sessions often. Inspired by her mom's work, she began secretly writing her own raps before revealing her talent to her mom. They soon began working on her career together and, when Megan's career took off, Thomas was right by her side. Megan would even ask that her mom perform with her occasionally.
"Sometimes when we're in the studio, I get her so hyped that she's like, 'Megan, I'm about to get in the booth and come out with another mixtape," she explained. "I don't think that will happen because we bump heads, and we would definitely bump heads trying to write together."
But before Megan became the star she is, it was her mom who demanded that school came before rap.
Megan Thee Stallion works toward her college degree
Thomas supported Megan's passion for music early on, but she made sure her daughter knew that she needed a formal education to have something to fall back on. So, she insisted that Megan hold off on pursuing her rap dreams until she turned 21. 
Once Megan was officially legal, she had her mom's full support in the form of a manager.
Though Megan had her mom's full support to pursue music, the now 24-year-old megastar from continuing her studies. Keeping her promise to her mom, Megan is enrolled in the health administration program at Texas Southern University. She admits that it has not been easy balancing life as one of the most popular female rappers and a college student.
Megan told Billboard Magazine in 2018, "I'm still in school and at first, I'm not going to lie, it was kind of easy, because I wasn't so booked," she said. "I only have to go to school two days out of the week, but I'm there all day long. But now that I have something to do almost every day, it is pretty difficult. So I'm just doing my best. I'm trying to tell my classmates, "Look y'all, send me my homework!"
While Megan does not plan to use her degree to become a nurse as most would do within the health administration trade. She does plan to use it to open assisted living facilities in her hometown of Houston post-graduation. 
"Once I started getting super popular with my music, I knew I probably wasn't going to go to medical school," she explained. "And then blood kind of makes me a little squeamish, so I was like, "I don't want to touch nobody." But I want to run the hospital. I don't want to do the dirty work, but I definitely want to put it there for people to come and help others."
Megan Thee Stallion continues to make her mom proud
Sadly, Megan's mom Thomas passed tragically in March of 2019 before seeing her daughter fulfill all she promised. In a touching Instagram post, Megan announced her mom's death with a throwback photo of the two and a heartfelt caption.
"The best mom in the whole world," she reflects. "The strongest woman on the planet. I can't even put complete sentences together rn RIP mama."
Megan later revealed that her mother passed after succumbing to a cancerous brain tumor that she had been dealing with for some time in her Instagram posts' comments. 
Megan allows her mother's legacy to be the driving force in her success.