The Unexpected Reason Anna Chlumsky Returned to Hollywood
Those who've enjoyed Emmy-nominated actress Anna Chlumsky's performances on television shows like Veep, Halt and Catch Fire, and Hannibal may have wondered "where have I see her before?" There's a good reason Chlumsky looks familiar. As a child actress, she was in several films in the early '90s like Uncle Buck, My Girl, and My Girl 2.
Recently nominated for a 2019 Emmy for her performance as Amy Brookheimer on the final season of the award-winning Veep, Chlumsky has been around for a while.
She had a successful acting career as a child then gave it all up to have a normal life and start a family. She came back after viewing an intentionally surreal play centered around bestiality.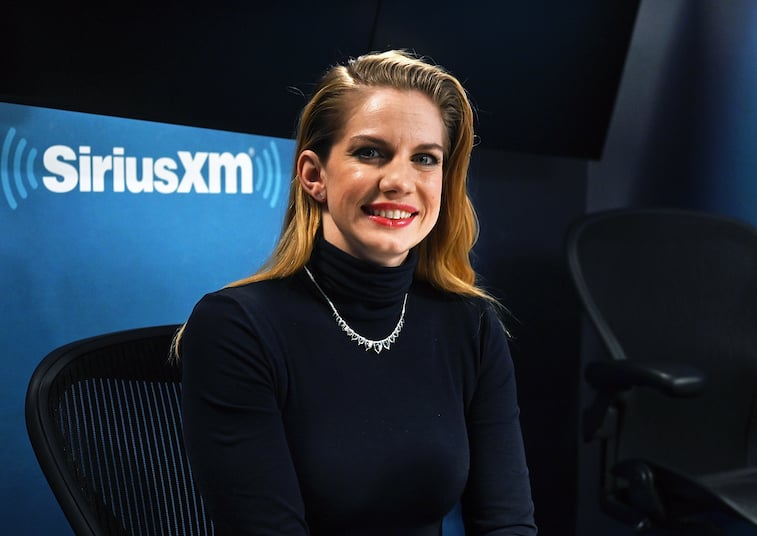 From child actor to normal life
The now 38-year-old Chlumsky landed her first major role when she was 10. She played the lead in 1991's critically-acclaimed My Girl opposite Macaulay Culkin. It taught her a valuable truth about people on screens large and small: they are just people. She learned early that the world of Hollywood can warp a younger actor's sense of self.
Chlumsky was doing international interviews on television for movie press junkets before the age of 11. Her tale of being a child actor is unique.
"When you're a kid, other people are making decisions for you, and you're just doing it for adults' approval. … It's your parents' egos," she explained to Bustle's Samantha Rollins.
Chlumsky went on to do My Girl 2 and Trading Mom along with a handful of other movies. Then she hung up her acting career to attend college. She studied at the University of Chicago and earned a BA in International Studies in 2002. She met her future husband there during that time.
The new graduate worked various office jobs after college. One was a position at HarperCollins Publishers as an editorial assistant.
She'd put acting behind her. She even let her SAG membership expire.
The bizarre play that changed her mind
It seems unlikely that an absurdist play on a sordid topic would be the thing that convinced the talented young woman to return to acting. But that's exactly what happened. After seeing Oscar-winning actress Mercedes Ruehl in Edward Albee's The Goat, she made the decision to return to acting.
"She just made this absurd topic make complete sense, and actually touch me in her story in such a real way," she explained to Rollins.
It wasn't an easy path given that she had thought she'd given acting up completely. And she was 24 by then.
It didn't hurt that Chlumsky is a huge fan of the stage. She has several Broadway and off-Broadway credits to her name. Her latest turn on stage, the off-Broadway Cardinal, had her starring alongside Adam Pally. Her performance as Lydia, an ambitious woman returning to her hometown with the hope of saving it, has been widely regarded as "tirelessly upbeat" and likable.
"I wake up every morning wanting to be on stage," Chlumsky went on to say. "I crave it."
But Chlumsky didn't just return to the stage.
Chlumsky's return to Hollywood
Chlumsky likely wouldn't have believed anyone who tried to tell her that nearly two decades after her first film, she'd return to Hollywood. She probably wouldn't have believed anyone who told her she'd spend seven years on a top-rated HBO comedy as a regular. And that she'd be supporting one of the most talented comedians in Hollywood today?
It was a bit of a change from the serious dramatic work that makes up most of her acting resume.
Chlumsky explains that part of the brilliance of Veep was placing characters in a variety of crazy and absurd onscreen situations that weren't supposed to be funny. The fact that the actress didn't have a history of comedy wasn't exactly a problem. The lack played perfectly into the show's style.
The political comedy ended with its seventh season. Fans loved it for its honest moments that imitated real-life political events with eerie accuracy at times. Chlumsky enjoyed playing second-in-command to Julia Louis-Dreyfuss's less-than-stable egomaniac.
Over the course of the show, Chlumsky received six Emmy nominations for Outstanding Supporting Actress in a Comedy Series.