'The View': Meghan McCain Takes Savage Jab at Ana Navarro During Sensitive Discussion
Meghan McCain has no chill on The View and she demonstrated it on Friday's episode. The Republican pundit took another savage jab at Ana Navarro while the latter was sitting at the table. If that wasn't enough, McCain took the inappropriate dig in the middle of a sensitive discussion about breast cancer awareness.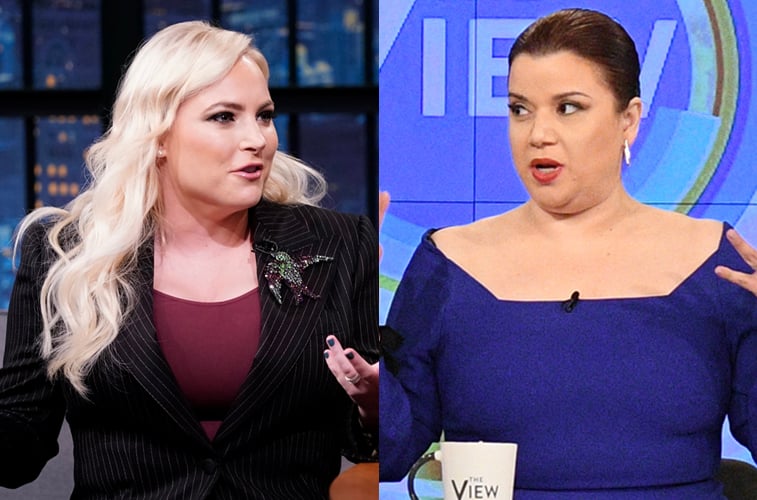 Meghan McCain shades Ana Navarro…again.
Friday's episode of The View was particularly sensible as Greta Monahan opened up about her breast cancer diagnosis. The "View Your Deal" segment host appears every Monday to talk about the hottest sales online.
When it was McCain's turn to ask Monahan a question during the interview, she showed how petty she could be.
"Greta, I always think of you as like our sixth host," McCain said. "You're such a wonderful presence on this show and you always have such a beautiful attitude. And we all really love you and I don't love everybody everywhere as you know."
Calling Monahan the sixth host was endearing because she does have a regular presence on the ABC talk show, but officially Navarro is the sixth host. The latter appears on the opening credits every Friday when Joy Behar takes over as moderator when Whoopi Goldberg is away.
McCain's other remark about not loving everybody is also another poke at Navarro as the two have been at odds on multiple occasions before.
How are viewers reacting?
When we first heard McCain's remarks we might have thought we were looking into it too much. We did a search on social media to see if anybody else had caught McCain's shade toward Navarro and we were not alone.
"How does Meghan McCain make such a moment for Greta Monahan talking about breast cancer about herself and who she doesn't like?" a fan questioned on Twitter. "Please get rid of [McCain]. Bring Ana full-time."
"Greta isn't the sixth host on The View, that would be Ana Navarro," another Twitter user mentioned McCain. "You can't ignore her out of existence. America disagrees with you. We actually like Ana. I don't understand why it's so difficult to just be a decent human towards Ana. #petty."
"Does Meghan McCain understand that rudeness and side pokes at Ana makes her look REAL thirsty? This is Greta's moment, no rudeness needed," a viewer also posted.
The View fans knew exactly where McCain was going with her comment and called her out on social media. The contrast of Monahan pouring her heart out about her bravery in facing cancer and McCain's pettiness is contrasting and severe.
Second shade in a week.
Friday's shade was the second rude comment McCain made toward Navarro in the same week. The last time, the CNN contributor was not even at the table to have a proper comeback.
It was on Monday's episode (September 30) that the ladies were talking about Donald Trump's impeachment possibilities. As more information came to light regarding the exchange Trump had with Ukraine, the more damning the evidence is.
McCain had opposed the impeachment inquiry at the beginning but now is leaning towards going through with the procedure. To make her point she took a swipe at Navarro along the way.
"This is why it's so important for conservatives on tv to not just go on tv every day and scream, 'President Loco', over and over again," she said.
Navarro, who like McCain identifies herself as Republican, has used the term "President Loco" to refer to Trump. McCain has questioned Navarro's loyalty to their shared political party in the past as she's always been vocal against Trump's actions.
"It's important that we're honest about what's happening in real-time because right now when people are asking me what's going on… I'm saying 'one wheel just fell off' and people are listening a little more closely," McCain added.
McCain and Navarro are constantly at odds and their difference are most likely going to continue. The impeachment talks continue to sizzle and the presidential election in 2020 will heighten everyone's mood. The View airs weekdays at 11 a.m. ET and 10 a.m. CT/PT.