'The View': Why Meghan McCain is Scared of Donald Trump Coming After Her
Meghan McCain is one of the conservative voices of The View. Her role on the panel is to represent the Republican point of view and that means explaining Donald Trump. The co-host has a difficult job in that the President of the United States has personally attacked her family on several occasions.
Nonetheless, McCain fulfills her role by creating controversy on the "Hot Topics" table with her opposing views. During a discussion on the morning show, McCain expressed that she's scared of Trump coming after her.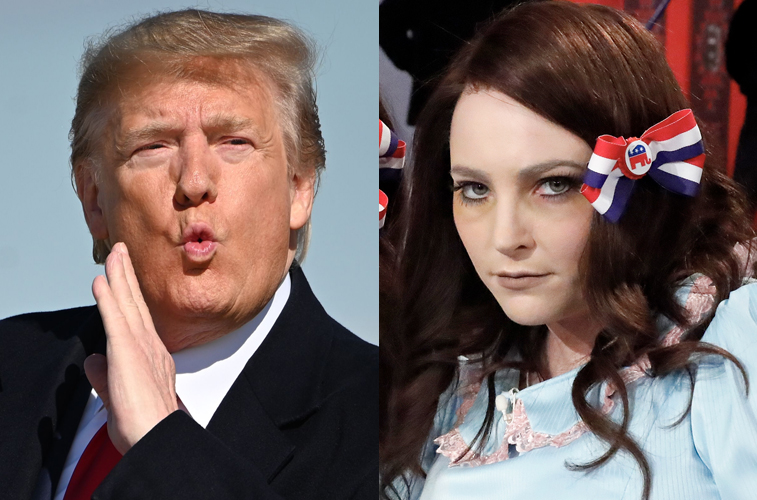 Why is Meghan McCain afraid of the POTUS?
The ladies were discussing the moment Senator Rand Paul demanded the media expose the name of the whistleblower, who is at the center of the impeachment inquiry against Trump. Abby Huntsman brought up the fact that what the Kentucky senator was doing is called witness intimidation.
Huntsman noted that U.S. Ambassador to Ukraine Marie Yovanovitch felt "threatened" by the president.
McCain intervened to recall a moment where Trump blasted her on social media.
"I haven't been threatened by the president but I've certainly been…" she said. "When I worked at Fox he asked me to get fired. He tweeted for me to get fired [because] I was so terrible."
"When President Trump says something about you and zeroes you out, it is very scary and I know from experience it is very intense," she added. "His supporters come out just like heaves of zombie apocalyptic people coming to get you and it's very, very scary."
McCain was referencing a tweet from Trump back in 2015 from when she made an appearance on The Five.
"Meghan McCain was terrible on The Five yesterday," Trump tweeted. "Angy and obnoxious, she will never make it on T.V. Fox News can do so much better."
McCain knows what it's like for Trump putting you on blast and his supporters further blasting you on social media.
Meghan McCain calls out body-shamers
A day before, McCain stood up to body-shamers and called out people that give back-handed compliments. The conservative co-host says that she doesn't like it when people come up to her and say, "you look less fat in person."
"Can people please stop coming up to me on the street and telling me that I look less fat in person? It's nasty," she said on the show. "It happens all the time. It's so mean. I don't have body image issues."
McCain assured everyone that she doesn't have any body-image issues that would make her take drastic measures.
"Try to be kinder to people," she added. "It's a miracle that I haven't had some kind of problem with eating up until this point. I have not, I do not, I will not… but it's like not helpful."
Joy Behar gave McCain advice on how to come back from an insult like that.
"When they say you look less fat you say, 'I can't say the same for you,'" the comedian quipped.
Meghan McCain is also scared of being fired
McCain is feisty and is not afraid to talk over people to make her point. Her passion for politics is grand and she shares her insight every day on the show. Although she is able to hold her own up against the likes of Behar, she does keep in mind she can get the boot at any given time.
"I go in assuming I'm going to be fired every day," she said on Watch What Happens Live. "Every single day. Yes, every day."
"It's more the tone we are [at] culturally, people get canceled so easily," she added. "And by the way, Joy has this same thing, because we are the most honest and raw. And we're always going to say something that is going to be too far one way. So I say it sort of jokingly, but sort of not."
The View airs weekdays at 11 a.m. ET and 10 a.m. PT/CT on ABC.